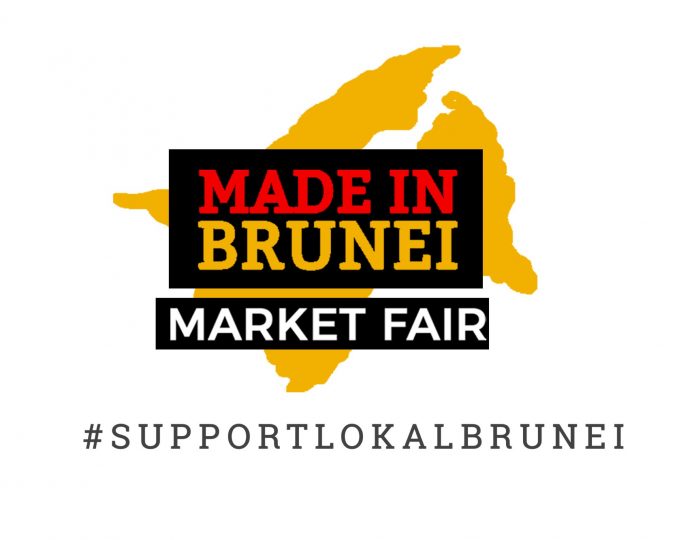 The Energy and Industry Department at the Prime Minister's Office (EIDPMO) and Darussalam Enterprise (DARE) will host the first Made in Brunei Market Fair (MIBMF) starting Saturday next week at Bridex in Jerudong.
MIBMF – which is the first micro, small and medium enterprise (MSME) exposition jointed organized by EIDPMO and DARe in collaboration with The Brunei Economic Development Board (BEDB) and the Ministry of Foreign Affairs and Trade (MOFAT) – will also run alongside a conference on MSMEs accessing the digital economy.
Adding to MIMBF and the conference will be a third event, the Brunei China-ASEAN Expo (CAEXPO), which will see Chinese and other foreign vendors participating, as part of a lead-up to the CAEXPO in Nanning, China this September 12 to 15 where Brunei is expected to hold the distinction of being the 'Country of Honour'.
The public can visit the conference and expo from 10.30am to 9pm on the first day, as well as on the following two days from 9am to 9pm.
The MSME Innovation Conference, titled "Enabling MSMEs' Access to the Digital Economy", will run on the first day, with prominent entrepreneurs from the region deliberating on how smaller businesses can leverage on the digital economy to scale and grow.
For more information visitt www.mibmf.gov.bn. Below is a list of the MIBMF participants – which range from food to fashion to ICT.
HALAL CONSUMABLES
Food Processing
Website/Social Media
1.
Aisy Berjaya Company
Facebook: Aisy Berjaya
2.
Alpersha Enterprise
3.
Amal Hadizat Enterprise
Instagram @amalhadizat_ent
4.
Aseana Taste
Instagram @aseanataste
5.
Asli KTM
www.facebook.com/aslitktm
6.
BMC Food Industries Sdn Bhd
www.bmcfood.com
7.
Eman Enterprise
www.facebook.com/eman.biscuits
8.
Foodmobbers Enterprise
Instagram @foodmobbers
9.
Ghanim International Cooperation Sdn Bhd
www.brunei-halal.com
10.
Golden Corporation
www.golden-corp.com
11.
Khaslih Food
12.
Koperasi Samakaya Dengan Tanggongan Berhad
www.samakayadtb.com
13.
Maanggaris Enterprise
www.facebook.com/madumaanggaris
14.
Marimin Sdn Bhd
15.
MK & Company
Instagram @mkseaweed
16.
MyClos Fren Bakery & Cooking Studio
Instagram @pumpkin.ruby
17.
MZNA Enterprise
Instragram @zahreen_mzna_enterprise
18.
PDS Abattoir Sdn Bhd
www.pdsgroupbn.blogspot.com
19.
Pertanian Tropikal Utama
20.
Perusahaan 46 Seri Mulya
Instagram @astana.foods.bn
21.
Planets Sports Café
22.
PURPLE & Me Enterprise
Instagram @dkD_collection
23.
Rans Coffee
Instagram @ranscoffee
24.
RRN Enterprise
25.
Sabli Food Industries (B) Sdn Bhd
www.sablifood.com.bn
26.
Sahamada Corporation Sdn Bhd
27.
Seri Pekatan Sdn Bhd
www.facebook.com/pekatan.sdn.bhd
28.
Siong Tung Company
29.
Syanisah Enterprise
Instagram @butiksyanisah
30.
Syarikat Aliaa Sdn Bhd
www.aliaagroup.com
31.
Syarikat Rizqussalam
Instagram @rizqussalam.bn
32.
Syarikat Taman Kelulut Baitun Na'aimah Al-Wafirah
33.
Tasbee Meliponiculture Farm
Instagram @tasbyamit
34.
Usahawan Madu Lebah Kelulut SS930
35.
Zaren Chocolatier
Instagram @zarenchocolate
36.
ZM Conflakes
Instagram @zmhomemadecornflakedelights
Mineral Water
37.
Hab I Water Hi Tech Enterprise
38.
IBIC Sdn Bhd
www.sehatwater.com.bn
Pharmaceuticals
39.
Simpor Pharma Sdn Bhd
www.simporpharma.com
40.
Simvolous Consultancy & Medical Supplies Sdn Bhd
www.simvolous.com
Bakeries
41.
A.I.W Enterprise
Instagram @juniehk_
42.
Baking Obesession Home Bakery
Instagram @bakingobessionbn
43.
Chef Salleh Corporation
Instagram @chefsalleh.bn
44.
Dream Makers Services
Instagram @drm_mkrs
45.
Etcetera Deli
Instagram @xarascupcakes
46.
Glory Indah Home Bakery
Instagram @shazdlahhomebake
47.
Goldlink Sdn Bhd
Instagram @themunchingbunny.bn
48.
HKH Fast Food & Take Away (MOKAM)
www.mokamhkh.blogspot.com
49.
Mahmoud Rushdee Bakery
Instagram @mahmoud_rushdee_bakery
50.
Noraini Restaurant and Bakery
Instagram @norainibakery_brunei
51.
NurNaela Kitchen
Instagram @nurnaela_kitchen_kb
52.
Perusahan Nona
53.
Puncak Rezeki Trading Company
54.
SotoRindu Bakery
Instagram @sotorindubakery
55.
Syarikat Dayang Samah@Salmah & Anak-Anak
56.
Syarikat Hapsiah Bte Satu
57.
Syarikat Nurul Hikmah
58.
Syarikat Rizqah Raqiah
Instagram @rizqahraqiah
Food Catering Services/Food Vendors
59.
Ajwa Kitchen
Instagram @ajwakitchen
60.
Amayusaqa Enterprise
61.
Asyiqah Enterprise
Facebook: Asyiq Homemade
62.
Cravings & Beyond Eatery – Genji Onigiri
Instagram @geamam

njibrunei

63.
D Valley Food Industry and Packaging Company
64.
Danish Dania Enterprise
danishdania.enterprise
65.
Dapur Umi / Umi's Kitchen
Instagram @dapurumi202
66.
Dessert Lab
Instagram @therollingicebwn
67.
Green Kitchen Enterprise
Instagram @greenkitchen.bn
68.
Happy Cream & Co
Instagram @happycream_bn
69.
Ideal Food Industries Sdn Bhd
www.idealgroup-co.com
70.
Kyna Enterprise
Instagram @kyna.bn
71.
Marzu Enterprise
72.
Mix Coco Enterprise
Instagram @mix.coco.brunei
73.
Perusahaan Hybrid.BN
Instagram @Hybrid.BN
74.
Rumah Gelato Frozen Treats Sdn Bhd
Instagram @rumahgelato
75.
Santan Ice Cream
Instagram @santanicecream
76.
Syarikat Amirul Syfaiq
77.
Tasconi's International Sdn Bhd
Instagram @tasconispizza
78.
The Banana Leaf Restaurant & Catering Services
Instagram @the_banana_leaf_catering
79.
Wing-it! Foods
Instagram @wingitfoods
ARTS AND CRAFTS INDUSTRY
| | | |
| --- | --- | --- |
| 80. | Aini Enterprise | |
| 81. | Ani Nah Industry | Instagram @ani.nah |
| 82. | DIY Retro Furniture | Instagram @diyretrofurniture |
| 83. | Juste Leather | Instagram @justeleather |
| 84. | Mahkota Crystal Sdn Bhd | www.mahkotacrystal.com.bn |
| 85. | Ridah Handicraft | www.ridah.wixsite.com/craft |
| 86. | Sutera Memento Company | Instagram @suteramemento |
| 87. | Syarikat Ampuan Ali Omar Bin Ampuan Mayasin dan Anak-Anak | |
PRINTING, PUBLISHING AND PUBLICATIONS
| | | |
| --- | --- | --- |
| 88. | Ammara Muammar Enterprise | |
| 89. | Confex Training Services | www.confex-mice.com |
| 90. | Juta Jaya Printing Company Sdn Bhd | www.facebook.com/jutajayapc |
| 91. | Normezan Enterprise | Instagram @normezanenterprise |
| 92. | PPA Drafting Services | |
| 93. | PrintMartz | www.facebook.com/stickerfactorybyprintmartz |
COSMETICS, BEAUTY AND HEALTHCARE
| | | |
| --- | --- | --- |
| 94. | Ash Syifa' Enterprise | www.facebook.com/ashsyiifaa/ |
| 95. | Beauty and Health Establishment Betye Kuan | Instagram @betyekuan |
| 96. | Bellary Enterprise | www.bellarynature.com/ |
| 97. | Dear Daffodils Enterprise | Instagram @deardaffodils |
| 98. | Establismen Kecantikan dan Kesihatan Zahra Callista | Instagram @zahracallistahomemade_official |
| 99. | Golden Aswad Aroma Enterprise | www.oudhalaswad.com |
| 100. | IHSAN OUD Enterprise | Instagram @ihsan_oud |
| 101. | IMBRU Essential Oil Enterprise | Instagram @imbruessential |
| 102. | KZ Meliponines Paradise Enterprise | Instagram @kz.meliponines.paradise |
| 103. | Perusahaan Imanputera | Facebook: Iman Putera Produk tempatan kitani Brunei |
| 104. | Safaa Enterprise | Facebook: Azzahraa Soap Flower |
| 105. | Syarikat Wira Bina | Instagram @vcobrunei |
| 106. | The Natural Bar | Instagram @thenaturalbar |
GREEN ENERGY
| | | |
| --- | --- | --- |
| 107. | RAB Global Green Sdn Bhd | |
HOUSEHOLD PRODUCTS
| | | |
| --- | --- | --- |
| 108. | Asialine Sdn Bhd | |
| 109. | Hasaco Company | Instagram @hasaco.bn |
| 110. | Woodwork Play | Instagram @woodworkplay |
| 111. | Yameen's Custom Made Enterprise | |
SERVICES
| | | |
| --- | --- | --- |
| | Seminar & Training | |
| 112. | Nur Cahaya Indah Services | www.hbmnciresources.blogspot.com |
| | Education | |
| 113. | Al-Huffaz Management | www.alhuffazmanagement.wixsite.com/alhuffazbn |
| 114. | Teach Me Guru (CT Learn) | www.teachmeguru.org |
| | Wedding | |
| 115. | Ahza Izzati Enterprise | |
| 116. | Amirun's Boutique & Tailoring | Facebook: Amirun's Boutique & Tailoring |
| 117. | Geemz Love Bridal & Boutique | Instagram @iigeemz |
| 118. | Kern & Hani Dream Wedding Boutique | www.facebook.com/kernhani/ |
| 119. | Majalis Bridal Boutique | Instagram @majalisbridalboutique.official |
| | Tours & Travel | |
| 120. | Anthony Tours & Travel Agency Sdn Bhd | www.anthonytours.com |
| 121. | Borneo Trekker Tour & Travel Services | www.borneotrekker.com |
| 122. | Poni Divers | www.ponidivers.com |
| | Coating | |
| 123. | Smart Coating Technologies (B) Sdn Bhd | www.coat-guard.com |
| | Contractor | |
| 124. | Bundayana Contractor Sdn Bhd | Instagram @bundayanacontractor |
| | Korban | |
| 125. | Korbankitani.bn | Instagram @korbankitani.bn |
| 126. | Mulaut Abattoir Sdn Bhd | |
| | Audio System | |
| 127. | WB Audio System Management Services | www.wbbruneikaraoke.com |
| | Management | |
| 128. | Avertu Management Services | Instagram @avertums |
| 129. | Battle Pro Marketing & Management Services | www.battleprogroup.com |
| | Chauffeur | |
| 130. | Silverkars Rental | www.facebook.com/silverkarsbn1 |
| | Human Capital Management | |
| 131. | GroMinda Group | www.tagafield.com |
| | Showcase | |
| 132. | Politeknik Brunei | www.pb.edu.bn |
ICT
| | | |
| --- | --- | --- |
| 133. | Bag Networks Sdn Bhd | www.bagnetworks.com.bn |
| 134. | BruGPS Technologies Sdn Bhd | www.brugps.com |
| 135. | Bruvera (Xtraria Enterprise) | www.bruvera.com |
| 136. | Buddyman Enterprise | |
| 137. | ITSYBYTES Company | www.itsybytes.com |
| 138. | Mindplus Education Sdn Bhd | www.mindplusedu.com |
| 139. | Otter Company | www.theotter.co |
| 140. | Sribuza Company | www.sribuza.com |
| 141. | Storkitani Enterprise | www.storkitani.com |
| 142. | ZenEco Solutions – TheFarmIQ | www.thefarmiq.com |
FASHION AND CLOTHING
| | | |
| --- | --- | --- |
| 143. | Aewon Garment & Embroidery | www.aewon.com |
| 144. | Afeera Enterprise | www.afeera.com |
| 145. | Amam Collection | Instagram @amam.collection |
| 146. | Anggun Advanced Apparels | www.anggunapparels.com |
| 147. | Aniq Gallery | Instagram @aniqgallery |
| 148. | Batik Desa Mas Company | www.batikdesamas.com |
| 149. | Begonia Enterprise | Instagram @begonia_flowerbn |
| 150. | By LadyD | Instagram @by_ladyd |
| 151. | Clazel Exclusive | Instagram @clazelexclusive |
| 152. | Covered by AnNisa | |
| 153. | Eve's Loft Company (Syarikat Loft Hawa) | Instagram @official_eves_loft |
| 154. | Hananishah Enterprise | Instagram @hananishah.dressmaking |
| 155. | Hikmah Enterprise | |
| 156. | Jaizs Fashion Sdn Bhd | Instagram @jaizs_bn |
| 157. | KAVA Streetwear Enterprise | Instagram @kava.bn |
| 158. | Lagenda Clothing & Co. | www.lagendaclothing.com |
| 159. | L'Orient Company | Instagram @l'orient |
| 160. | Mumtaz Collection | www.mumtazcollections.com |
| 161. | Nor Ammanie Enterprise | Instagram @norammanie |
| 162. | Qafa Haus Enterprise | www.qafahaus.com |
| 163. | Rozai Tailoring Fashion & Design | www.facebook.com/rozai.tailoring |
| 164. | RRUHI Enterprise | www.rruhi-brunei.com |
| 165. | Simplylover Couture | Instagram @simplylovercouture |
| 166. | Syarikat Khadeeja Towards Modesty | www.khadeejabutik.com |
| 167. | Uzma Choice | Instagram @uzmachoice |
| 168. | ZEDFAM Enterprise | Instagram @zakiyahzaini_scarves |
VILLAGE AND MUKIM CONSULTATIVE COUNCIL – MPK/MPM
| | | |
| --- | --- | --- |
| 169. | MPK Amo | www.mpkamo.wordpress.com |
| 170. | MPK Batu Apoi | www.mpkbatuapo.wordpress.com |
| 171. | MPK Bebuloh | www.facebook.com/mpk.bebuloh |
| 172. | MPK Jerudong | www.mpkjerudong.blogspot.com |
| 173. | MPK Kapok | www.facebook.com/mpk.kgkapok |
| 174. | MPK Kawasan 2, RPN Mentiri | |
| 175. | MPK Lepong Baru | www.mpklepongbaru.wordpress.com |
| 176. | MPK Limau Manis | Perundingankamponglimaumanis.blogspot.com |
| 177. | MPK Lumut 1 | |
| 178. | MPK Lumut 2 | |
| 179. | MPK Masjid Lama, Pekan Muara, Sabun dan Pelumpong | |
| 180. | MPK Mumong | www.facebook.com/mpkmumong.kualabelait |
| 181. | MPK Piasau-piasau | www.mpkpiasau2.wordpress.com |
| 182. | MPK Putat | |
| 183. | MPK Rataie | www.mpkrataie.wordpress.com |
| 184. | MPK RP Bang Taung @ Apak-Apak, Mukim Sukang | www.mpkgsukang.blogspot.com |
| 185. | MPK RP Mendaram Besar, MPK Labi 2 | www.facebook.com/mpklabi1 |
| 186. | MPK RP Teraja, MPK Labi 2 | |
| 187. | MPK Rumah Panjang Julangan Titah Kg Melilas | |
| 188. | MPK Sengkurong A | |
| 189. | MPK Sg Bunga Management Services | Instagram @mpksungaibunga |
| 190. | MPK Sg Liang | www.kampungsgliang.blogsport.com |
| 191. | MPK Sg Teraban | www.teraban.blogspot.com |
| 192. | MPK STKRJ Lambak Kiri | www.stkrjlambakkiri.blogspot.com |
| 193. | MPK STKRJ Lorong 3 Selatan, Seria | www.kampunglorong3selatanseria.blogspot.com |
| 194. | MPK Sumbiling | www.mpksumbiling.wordpress.com |
| 195. | MPK Tanjong Bungar | www.mpktanjungbungar.wordpress.com |
| 196. | MPK Tanjong Maya | |
| 197. | MPK Tungku/Katok | www.facebook.com/mpktk.bn |
| 198. | Produk Kampong Kiulap (MPK. Kiulap) | |