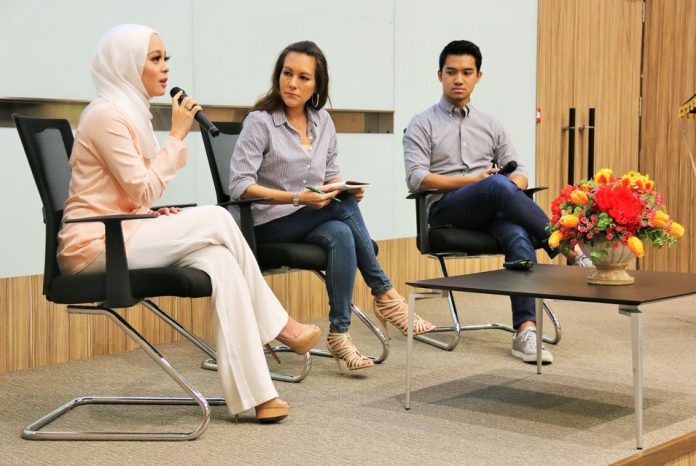 It comes as no surprise that reservations to Fashion Valet's (FV) first talk and meet up in Brunei were full within hours – the Malaysian e-commerce company is making waves within the region, at a pace only matched by the growing celebrity of its founder Vivy Yusof.
The 29-year-old joined her husband, Fadzarudin Shah Anuar, FV's CEO, in sharing their entrepreneurial journey with Bruneian designers and entrepreneurs at the Design and Technology building earlier today, as part of a collaboration with Bank Islam Brunei Darussalam (BIBD) and Darussalam Enterprise (DARe).
In case you weren't able to make it – here are the couple's five key messages during today's session.
1. Game-changing businesses address and champions a wider, broadly held issue
Fans of Vivy have all heard the story of Fadza being forced to drive mall to mall in Malaysia for clothes. Having both studied int he UK, they sat down for a chat to mull over if they could bring the convenience of shopping online they experienced abroad to their homeland. It was 2010.
"We realized at the time that it wasn't just a shortage of online shopping options, but also a shortage of local designers selling online," said Vivy. Many established designers did not delve into making ready-to-wear lines, preferring to do custom work. Their preference was partly justified, as making ready-to-wear clothing is one matter, but finding a outlet to sell it is another.
When translating an idea into action, set a target and work a timeline backwards, Fadza says, while always remaining mindful that the tasks being carried out are indeed building towards your larger goal.
"Really focus on one thing at a time, and get that done properly, then move onto the next," said Fadza. "Build that momentum. Otherwise if you take it all on at once you might get overwhelmed and give up thinking it's impossible to do."

2. It's your responsibility to convince others to buy into your idea
"When we began approaching designers to house their lines of FV, most turned us down," said Vivy. "Most pointed to the fact that we were two, unproven 22-year-olds trying something they weren't familiar with."
"We approached maybe 50 to 100 designers, and initially only 10 came on board," Fadza added. "It will be tough. It is critical that you believe in your idea wholeheartedly, so that you will not lose faith, even after you endure rejection after rejection."
Fortunately, the couple were able to convince a few established names – including Datuk Radzuan Radziwill – to launch the website with. The couple kickstarted the company with RM100,000 that was bootstrapped from personal saving and borrowings.
"As we grew, more vendors came on board and more customers began to buy into the brand," said Fadza (pictured below). "But when you get started you cannot wait for everything to be perfectly on your side. Sometimes people need to see it moving, running first before they make their decision."
3. Combining personal branding and social media to make an impact

With an Instagram following more than double her own company, Vivy epitomizes a new wave of social media savvy entrepreneurs that leverage on their own identity and personalities to define and carry their brand.
Through her social media, she gives her followers an intimate look into her life, as she shops for groceries, takes care of her kids and hustles at work – everyday experiences that are instantly relatable to the average person. And she does it while sporting FV brands or her own line dUCk.
"For Vivy it was only natural since she was a blogger before she was ever businesswoman," said Fadza. In a globalized world with an seemingly endless line anonymous clothes and fashion, it's important to stand out. And tying your brand to your personal journey and story, is one way to do it.
4. When competition arrives, resist diluting your approach
In 2012, multinational e-commerce companies came to Malaysia, threatening to squeeze the young startup out.
"When we started we were in our comfort zone," said Vivy. "No one was really doing what we were doing. Two years in that all changed. I thought, 'Oh my god, they've got more money, more investors and more experience. I thought that this would be it. Fashion Valet would be gone. What are we going to do?'"
Panicking, FV began to house more and more brands, as they panned to their competitors' websites housing thousands of vendors.
"We lost our way, lost our focus in what made us unique," said Fadza. "Yes we are all selling online – but FV has a specific focus; selling quality, curated local brands. But in our attempt to compete, we decided to loosen the criteria, and we paid the price when we struggled for a while. Only when we returned to our focus did things start to click again."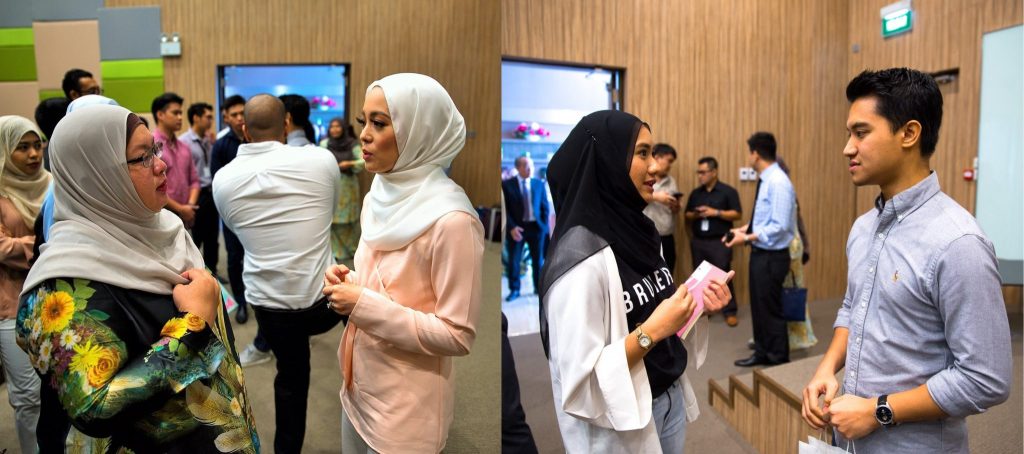 In today's world, anyone can set up an e-commerce retail marketplace, but its success will very much depend on what your products, services and brand stand for.
5. Distance from entitlement; stay humble
"A misconception people have is that if they're a local brand, they automatically expect that you support it," said Fadza. "Having this entitlement is what will prevent you from looking at your product or service critically and improving on it. Yes we want to support local. But what you are offering, and what you should always be striving for is to meet and exceed the desires and needs of your customers."
And while the couple widely agree on the power of personal branding and gaining a following, they point out that entrepreneurs should always stay grounded, especially when the media come calling after your first semblance of success. Vivy says she makes it a point to mingle and greet her employees every time she enters the office – regardless of her mood.
"We are very fortunate to get all the (media) coverage that we get," said Fadza. "It has really helped built up the brand of FV. But at the same time we cannot lose ourselves to the hype. We have to remind ourselves that there are always others out there better, more successful. We do not have all the answers. So my parting advice would be to stay humble and to work as hard as you possible can. Do what you know is right. Stick to your principles. And when it gets hard, remember its these challenges that will build you up. Find comfort in being uncomfortable."