It's past 11am, when a 24-year-old with a bushy head of hair, simply known as Afy to family and friends, gets on his trick bicycle and heads to Jambang's Barbershop.
He arrives at the furthest block of the Tanjung Bunut commercial area about ten minutes later, hauls his bike up a flight of stairs, and takes a short breather before he dons his apron, plugs in the clippers, and takes his first customer on the swiveling barber seat.
"Assalamualaikum boss," Afy greets his customer, with an air of familiarity, suggesting the two had met before. "Apa ada?"
To his left, he's joined by Labuan native Al-Hafizh, who appears to still be quite green to cutting hair, frequently checking in with Afy, on what the best approach is to get his customer the right fade.
A year ago, both were unemployed and both without a clue or desire to cut hair. One had scrapped through A-Levels with a solitary pass, and in his own words, was languishing around, neither studying nor working, while the other was from across the pond, working sales in oil and gas, but was laid off in the industry's downturn.
The common denominator between the two – Md Khairul Abdul Kayum (main picture R).
Strengthening an old relationship
"He's my uncle," said Afy of Khairul, who had dropped by Afy's house last year, a few months after he opened Jambang's Barbershop in Tanjung Bunut, with a proposition. "He came in and had a chat with my dad."
After, Afy was called in and offered a job – to work as a barber. At the time, Khairul found himself in a predicament of being the sole employee of his business, having recruited and trained two locals when he opened in May 2016, but both had left and started their own businesses just months after.
"I had never once thought of being a barber before that," said Afy. "I wasn't against it. But it was never in my plan. To be honest, I probably would've never started cutting if Khairul didn't stop by my house that day."
There was no time however, to send Afy to barber school. Instead, he learned directly from Khairul, at the same time inviting his friends over, who would be willing to let him have a go at their hair.
"It never bothered Khairul that I didn't have experience," said the 24-year-old. "He reminded me, that he himself was self-taught. He told me, if I was open to learning and be willing to work, that I could make it."
Kg Burung Pingai
In between residential compounds, there's a plot of land in the little known Burung Pingai that's been developing into a small haven for grassroots businesses.
Using recycled wood and hard metals – Kabin Kafe combines the aesthetics of the industrial and antique to stunning effect.
It's still a work in progress but once it's fully up, you'll be able to wash your car, grab a bite, have your hair cut and even shop for some hip merchandise – all in one spot.
Khairul has recently opened his second branch here – and while he certainly cuts an imposing physical presence as we sit down to talk, his frank manner of speech and absence of pretense, has endeared him to a growing clientele who look forward to the small chats that warm the experience of each and every hair cut.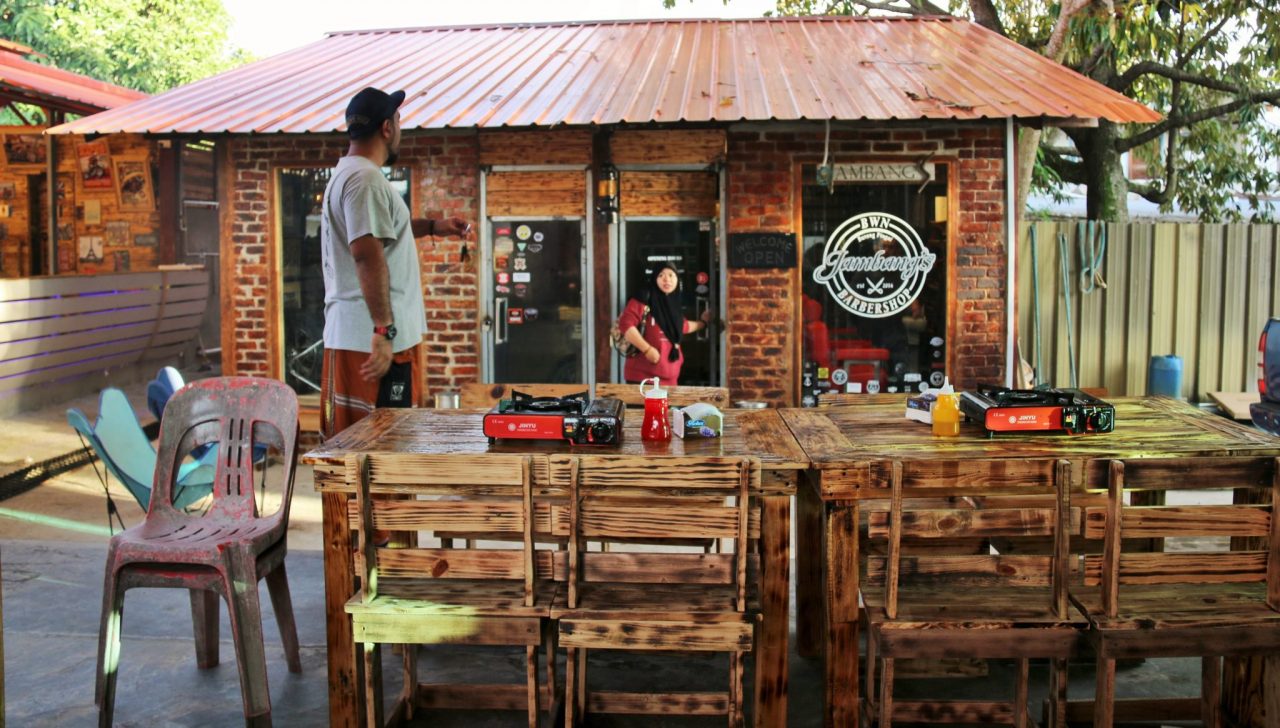 "We call ourselves the uncertified kampung barbers," says the 32-year-old with a touch of humour that contrasts his deep, booming voice. "We are all self-taught."
Jambang can arguably be grouped amongst a growing scene of self-anointed savvy, gentleman barbers, that are some four times more expensive that the standard $4 haircuts given by Indian barbers located around every shop corner in Brunei, but still less costly than a high-end unisex saloon.
But Khairul's approach is a little different. He prices standard shaves and hair cuts between $5 to $10 and ultimately wants to have small barbershops, no more than two to four seats, near residential areas or kampongs across the country, instead of having mega-sized saloon branches in malls.
"The Indian barbers have been very successful this way," says Khairul. There are about 10 such barbershops in Tanjung Bunut alone, and while Jambang doesn't disregard them as competition, Khairul argues there's still a market for the service of a haircut – if customers judge the establishment as one of quality.
"For us our strength is in being able to understand exactly what the customer wants," he adds. "A haircut isn't something you go and get every day, or even every week. So when you do decide to get one, you want it to look good, and most of the time if you can get this guarantee – you don't mind paying a little extra. We don't have a language barrier in communicating with our clients, and we always make sure to keep up with the latest trends, whether it's the latest fades or beard styling."
Picking up the clippers, oilfields and the Labuan connection
When Khairul studied marine engineering at the Malaysian Maritime Academy in Kuala Lumpur back in 2002, there wasn't a single barbershop on campus.
With the nearest one several miles away, Khairul borrowed a friend's clippers and began to experiment, first on himself and later on course mates. Not long after, purely by word of mouth, students came knocking looking for a haircut. Since Khairul wasn't accepting money, customers sometimes brought food, maybe a pack of smokes, in exchange.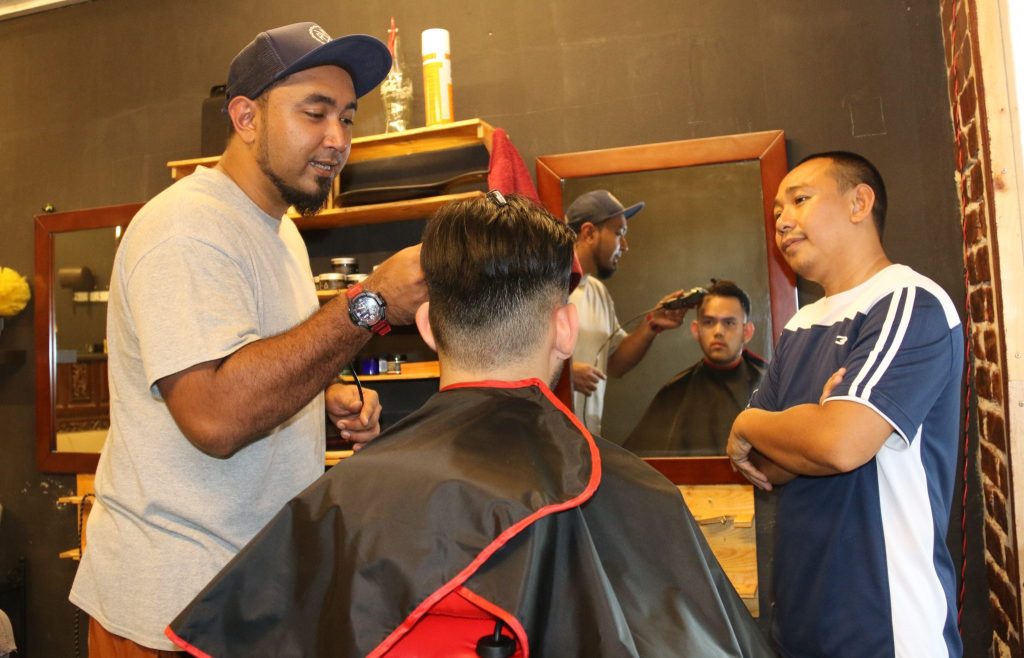 After graduating, he worked for a regional oil and gas company for several years, before landing a job with a multinational oilfield services firm, where he was recruited as a mechanical technician overseeing drilling and measurement, on the terms as an international commuter.
"I was based in Labuan for about five years," said the 32-year-old. "It was demanding but also rewarding. When the oil prices dropped, and companies were laying people off left, right and centre, my company began to do the same. My team, initially of nine, was cut down to just me and one other person. We were told that it was because our project scope would be getting smaller. But as time passed we found ourselves maintaining the same scope."
Feeling that they were not upfront about the situation – Khairul handed in his resignation, packed his bags and returned to Brunei.
"I got a call from Khairul one day," said Al-Hafizh, who was laid off by a Malaysian company that provided services for Khairul's former company in Labuan. "He told me that he had opened a barbershop, and it was doing quite well. He talked about the possibility of opening a branch in Labuan, and asked me if I was interested in coming on board."
Marshalling a team
Hj Nizam celebrated his 40th birthday not too long ago. Like Al-Hafizh and Afy, cutting hair was the last thing on his mind.
"I'm bald after all," he jokes as he points to his head. "What do I know?"
Khairul is more staunch than he is sentimental, but he finds it difficult to mask his soft spot for Hj Nizam (pictured below), as I ask how a 40-year-old with zero experience as a barber ends up in his store.
"He's my brother," says Khairul, with no further clarification other than it's not a bond by blood. "When I heard that he was no longer working, I reached out to him to see if he would be interested."
With the exception of Al-Hafizh, Jambang's team of six are all local, exactly how Khairul envisions it to be.
While not shying away from championing the cause of hiring locals – the 32-year-old also refuses to mince the truth to suggest that he's got a perfect solution to the predicament of Brunei's unemployment which breaches over 10,000.
"We have to be realistic. Even though I do believe they deserve it,  I cannot pay all the barbers a monthly salary of a thousand dollars each," he says. "But what I am doing is planning for the future. Making sure that they have a career progression is the most important thing to building a team."
Khairul shares that barbers get recruited as trainees, before becoming junior barbers, paving the way to progress to the rank of senior barber before being able to take the mantle as a branch manager.
Al-Hafizh, Afy and Hj Nizam have all been earmarked by Khairul to lead their own branches, and now only time – and the effort they decide to put in – will separate them from managerial positions.
"If there's one thing I believe, is that you cannot be successful, if the people around you are stuck staying the same," said Khairul. "If we're going to progress – we need all need to move up together. If we're serious about making this happen, then this has to be the way."
Jambang's Barbershop is located on the first floor of Block A (same building as DST), Medan Tanjung Bunut and at Kabin Cafe, located near the end of Jalan Pahlawan Bunga Gadong which is accessible through Jalan Pertahanan (opposite the old ISB).
Regular operating hours are from 12pm to 12am, Tuesday to Sundays. You can book an appointment by messaging or calling +6378894057.