Md Hapiz Abd Wahab and Hj Md Mu'inuddin Hj Saidin (main picture L) must be pinching themselves a little.
The fresh-faced pair, 26 and 29-years-old respectively, find themselves representing Brunei in a new sprawling community complex called the Tampines Hub located on the East of Singapore, where they've sold almost 500 packets of Sambal Tahai – a fish paste that's almost become a forgotten Brunei delicacy – in just a few days.
Their largest buyer – a teacher looking to showcase international food products at a school event – picked up 40 packets, while a representative from the ASEAN Trade Show approached the duo about joining a regional expo later this year.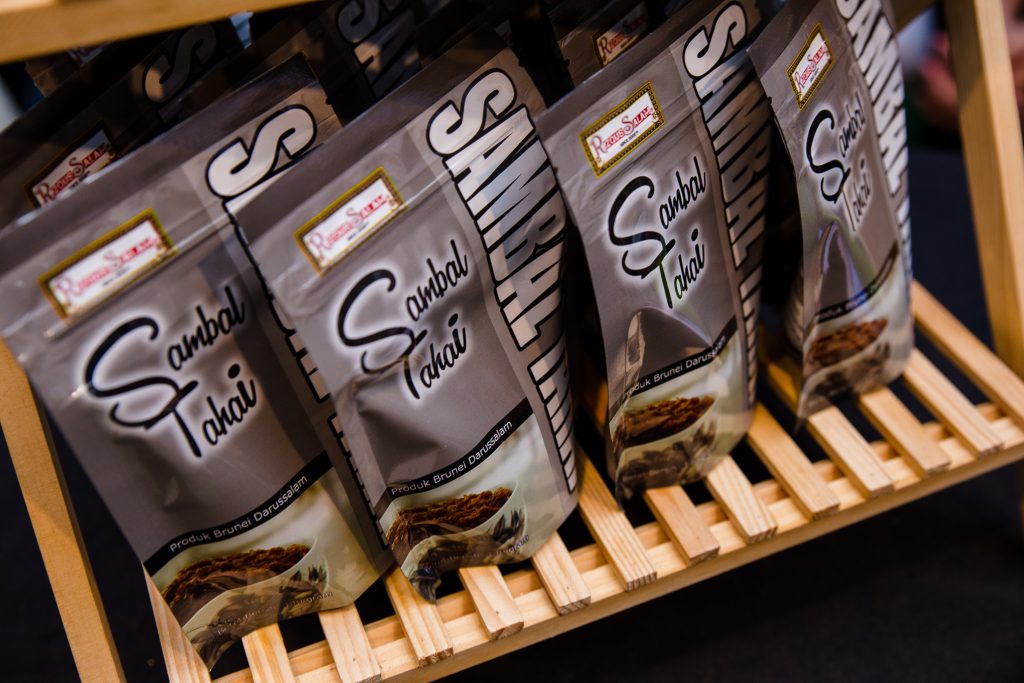 It's been just over a year since the team behind Rizqussalam walked up to convenience stores in Bengkurong, asking shop managers if they'd be interested in taking on bottles of Sambal Tahai, blended and fried from their home from Kg Kasat in Lumapas.
Today, they supply to over 20 stores – mostly mini marts – in Brunei-Muara, Tutong and Belait, and made their first foray overseas by joining an ASEAN fair in South Korea last November, before setting up at the Tampines Hari Raya Bazaar in Singapore last weekend.
"We're humbled to even be selected," said Mu'in. "A year ago, an opportunity to test and sell our product in a foreign environment like this seemed like many, many years away."
A homage to their late mother's recipe, the story of Rizqussalam really begun when Mu'in's elder sister Zuhairah decided to try out making sambal at the beginning of 2016. Rizqussalam was registered as a business two years prior to that, but had no significant commercial activity.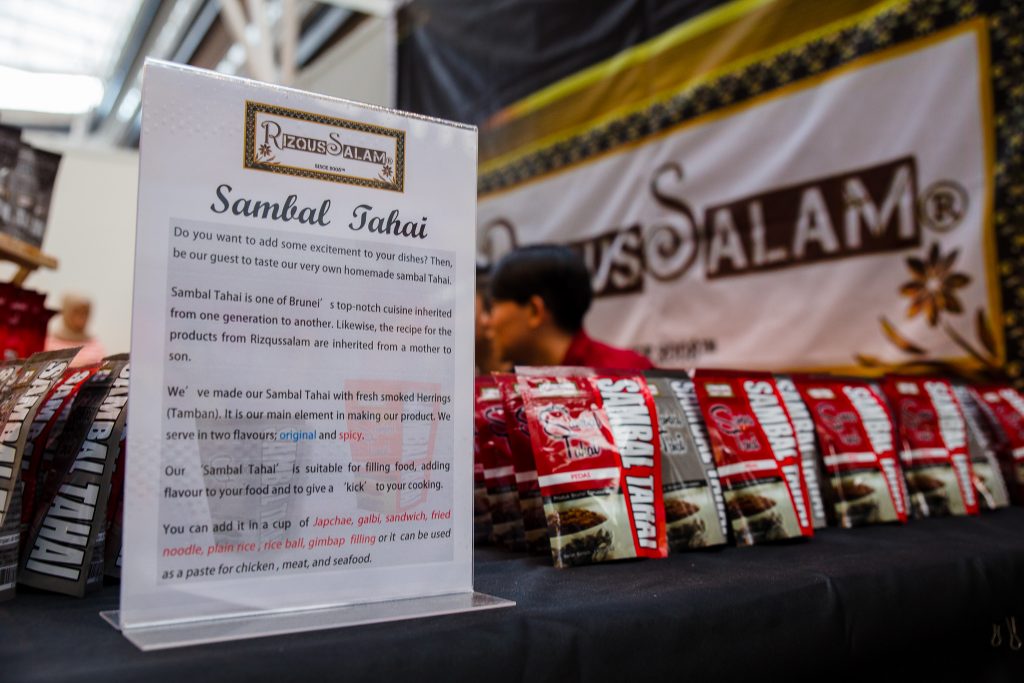 Backed financially by her husband, an offshore oil and gas worker, Zuhairah began to make trial batches; buying tahai – smoked, dried herring (ikan tamban) – and de-boning it by hand, before blending it into a paste to be fried with onions, garlic and tamarind (asam jawa).
At the time, her brother Hj Md Mu'inuddin was 10 months into his first formal job as a receptionist at a hotel after graduating from Universiti Islam Sultan Sharif Ali in 2013.
"I had struggled to land a job until my post as a receptionist. But I was looking for something more," said Mu'in. "When my sister told me of her plans, I decided I wanted to help."
He eventually roped in his friend Md Hapiz, and together with their other sister, they moved the sambal-making operation to a refurbished store room located outside their house, turning it into a mini kitchen and packaging room.
With Zuhairah primarily the chef in the initial days, Mu'in devised an ingenious plan to figure out which stores he would supply to. This would be a much needed upgrade, instead of relying on delivery, meet up points with customers and home pick ups, which taxed and scattered the team's limited resources.
"I figured that the very big supermarkets would be harder to convince," said Mu'in. "Our product at the time didn't have the best packaging; it was a simple plastic cup that was covered. So we decided to go to the kadai runcit (convenience stores) first."
Identifying convenience store then became the question – since there are hundreds, if not thousands around the country. So whenever an order came in – whether it was to be picked up from their house, delivered or handed over at a meeting point – Mu'in took note of their address. He would then scope out the nearest, most visible convenience stores within a radius where most of their buyers resided.
Then he would simply show up with a small amount of product to these stores, and try to convince the manager to take the product on.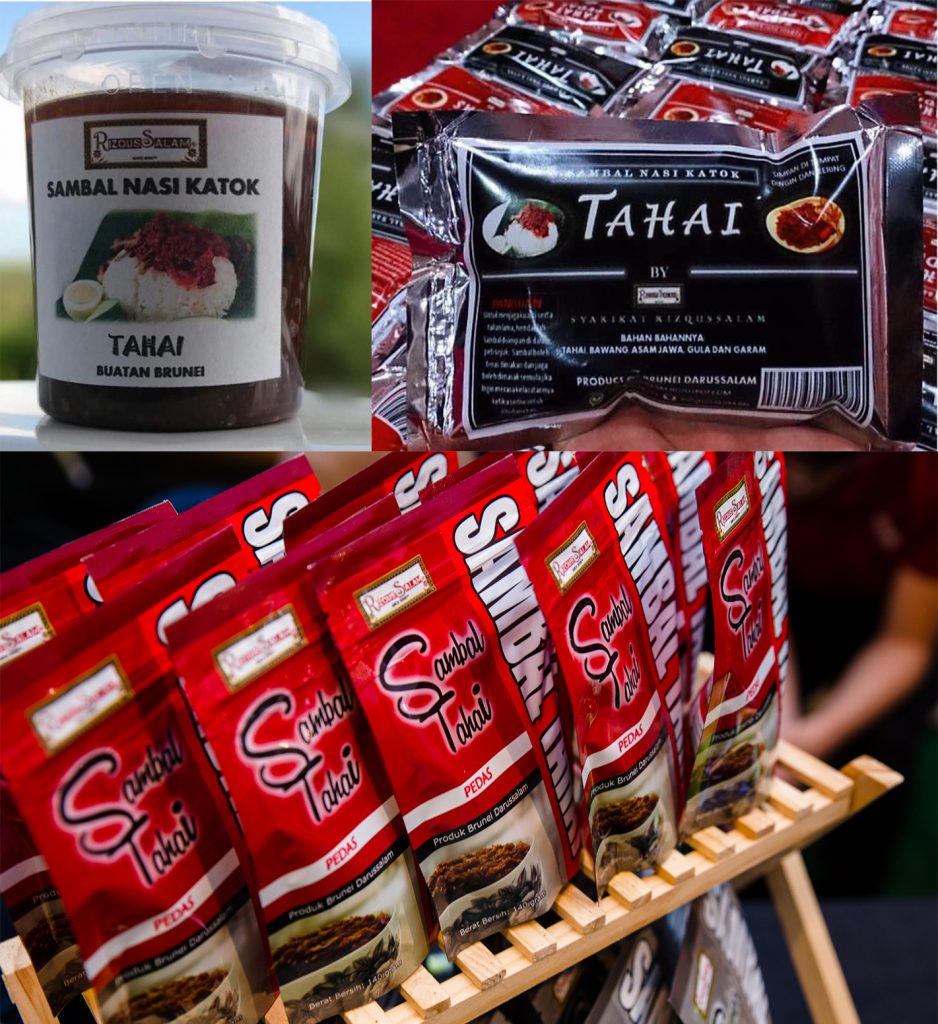 "On average we're supplying twelve (140 gramme) packets – six regular and six spicy – to the smaller stores every week," said Mu'in. "For the handful or larger supermarkets like Teguh Raya or Ya-Nur, if demand is higher we supply twice that amount."
Not including personal orders which they still do if in bulk, Rizqussalam is selling nearly 400 packets of Sambal Tahai a week. They've invested about $5,000 to get three separate machines that churns the sambal as it cooks, dispenses the sambal out, and seals the plastic packaging designed by Mu'in's brother-in-law.
Local supply of tahai is currently not enough to meet their demand, so they make monthly trips to Lawas, Limbang where the dish is especially popular.
"We're are also in the process of getting food quality certifications and nutritional information to make our products more ready for the mass market," says Mu'in. "And if we find packaging that can extend the current shelf life of three weeks (at room temperature) and six months if chilled, we can seriously look at starting export channels. Joining the Made in Brunei Market Fair, the ASEAN-Korea Expo and the Tampines Bazaar has opened our eyes to new opportunities. There is a demand for local products overseas."
Two packets of nasi lemak are stacked on a table behind Mu'in and Hapiz's seats before 7pm, bought from a nearby food court.
Even as they break their fast, they don't intend to leave. I ask if they'll be around tomorrow, their seventh and final day, before a new pair of Bruneian companies arrive for the following week.
"We'll be here until mid-day," said the pair. "But we'll have to pack up quickly after, because we've got to catch an evening flight back to Brunei. We've got our Halal certification inspection tomorrow morning."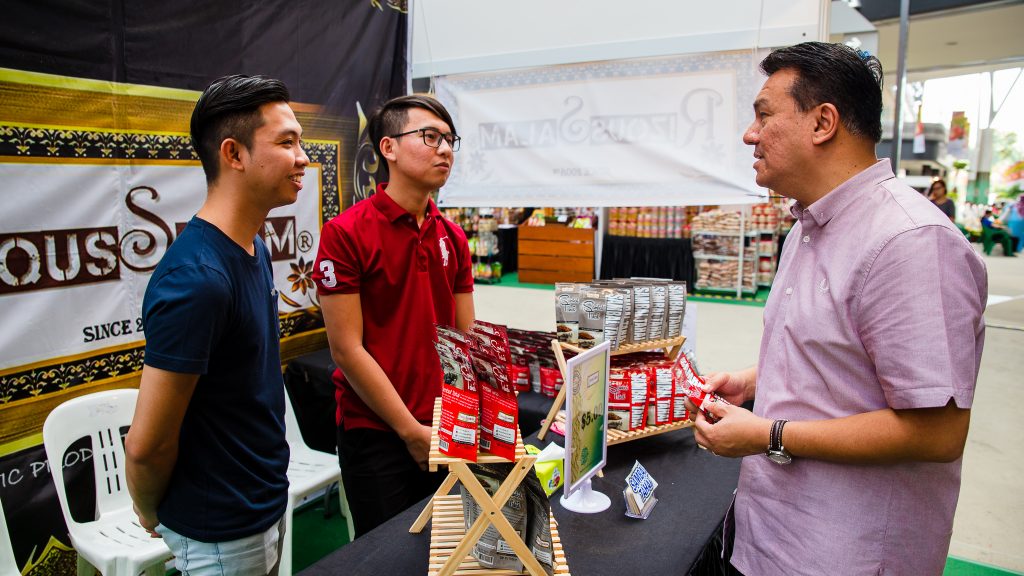 You can find Rizqussalam's Sambal Tahai at the following locations by district:

BRUNEI-MUARA
Noorfathima Supermarket Sdn Bhd (Mentiri)
Noorfathima Deparment Store (Mentiri)
One Station Supermarket (Mentiri)
Asiq Aisyah Minimart (Bengkurong)
TM Majeed Supermarket (Kilanas)
Atlanta Supermarket (Kg. Katimahar)
Fairozdin Minimart (Jerudong)
Syarikat Halimun Bersaudara (Kg. Mata-Mata)
Hama Department Store (Kg. Tungku)
Syarikat Labisah Sdn. Bhd. (Kg. Tungku)
Syarikat Labisah Sdn. Bhd. (Kota Batu)
Faizee Trading Co. (Rimba)
Saimajaya Trading Co. (Lambak, berhadapan Sri Azlina)
Teguh Raya Department Store (Serusop)
Orbit Supermarket (Salambigar)
TUTONG
Teguh Raya Department Store (Bangunan Baru Depan Dst)
Usaha Tasbih Mini Mart (Kg. Keriam)

BELAIT

Perusahaan Yazid Bersaudara Sdn Bhd (Jalan Setia DiRaja)
Ya-Nur Trading Company Sdn Bhd Supermarket (Jalan Pandan 5)
Ya-Nur Trading Company Sdn Bhd Supermarket (Lumut)
Ismaco Sdn. Bhd. (Lumut)
JE Enterprise Sdn Bhd (Lumut, berdekatan Masjid Zainab)
Ashaafika Mini Mart Sdn Bhd (berdekatan dengan stesen minyak Lumut).
You can also find their products on www.cubejunction.com – an online marketplace that has local and international shipping. To stay up to date follow @rizqussalam.bn on Instagram and Rizqussalam Bn on Facebook. To get in touch contact +6738638173.