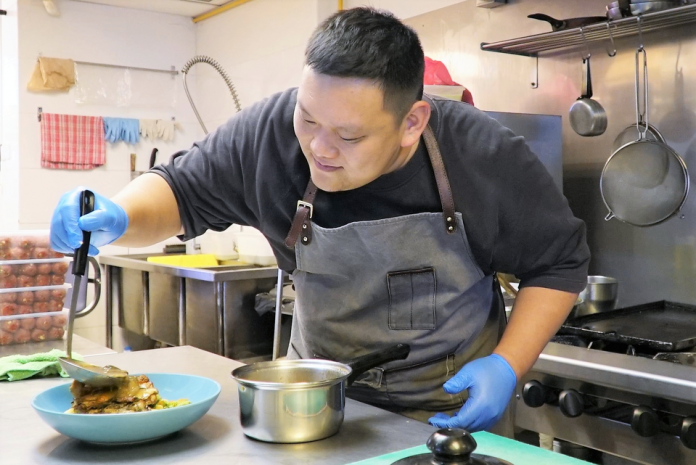 It's not often that on a weekday evening – in the middle of December – that a small eatery tucked away in Menglait can expect to be seated at full capacity.
Now in its second year, Flour and Butter continues a gradual ascend with its single-page menu of hearty – and undoubtedly stylish – western food with a novel and sometimes Asian twist.
A house favourite is the Pasta Di Granchio, inspired by Singapore's sweet and savoury chili crab delicacy. Pasta is tossed in a tomato-chili gravy with a whole deep fried soft shell crab placed atop.
Their only burger has three patties; two 100g layers of beef and a third layer of breaded macaroni and cheese. To complete the decadence, it's doused in a rich 'mac n cheese' sauce, served with a side of fries sprinkled with ground coffee.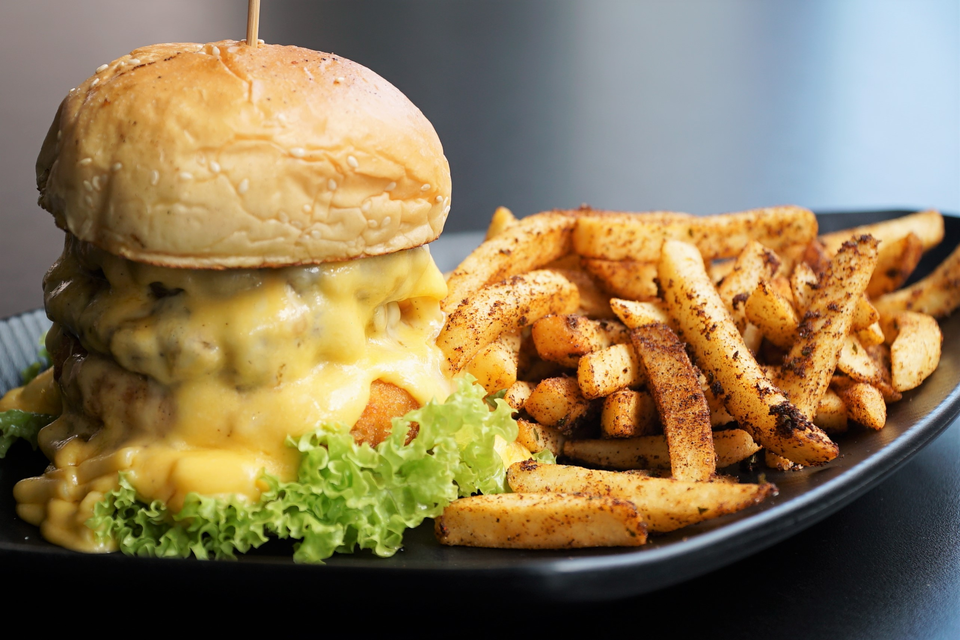 "The menu is what me and my wife and been inspired by; whether it's browsing online, through our travels or what we see in local restaurants," says Flour and Butter's founder Alex Chua. "What we try and do is then bring everything together – to try and offer something a little different for Brunei."
The 33-year-old's technical base comes from studying at the Sydney campus of Le Cordon Bleu – part of the world's largest network of culinary and hospitality schools. But what drives him is his mother's legacy.
"My mother founded Le Apple more than 20 years ago," says Chua. With no formal training, Lucia Lee – now in her 60s – began baking from the kitchen of their flat. Today, Le Apple is one of Brunei's most prominent bakeries, operating in Tanjung Bunut and Menglait, where they've gone from renting a single unit to owning several shophouses.
"Her intentions were always family first. She started the business to give us a better life."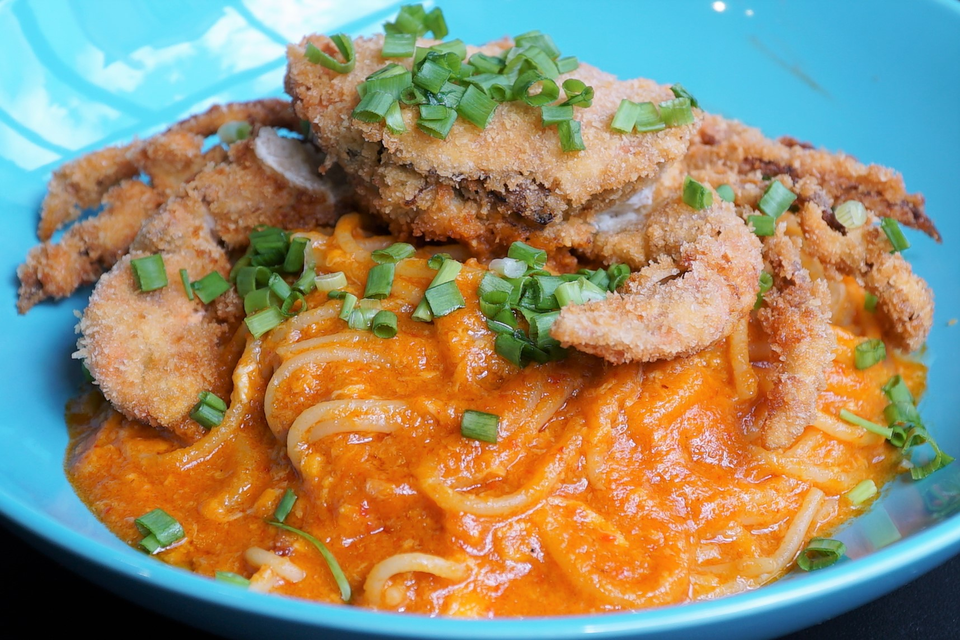 Chua now oversees production at Le Apple and is never short on effusive anecdotes about his mother's entrepreneurial journey. But the 33-year-old himself was initially hesitant about getting into the food and beverage industry.
After failing to excel academically, Chua, at the age of 20, decided it was time to give back to the family's business. The problem was that he didn't have the experience or the skills and would need to begin from the ground up.
Across five years, he worked as a general kitchen staff for the Empire Hotel & Country Club, studied pastry-making in Singapore and completed a diploma in hospitality management from Le Cordon Bleu.
After returning to Brunei in 2010, he began as a pastry chef at Le Apple and even started a small side business selling macarons. Still, it was only several years later that he seized the opportunity to open his own cafe – after hearing that the corner lot next Le Apple in Menglait was being vacated.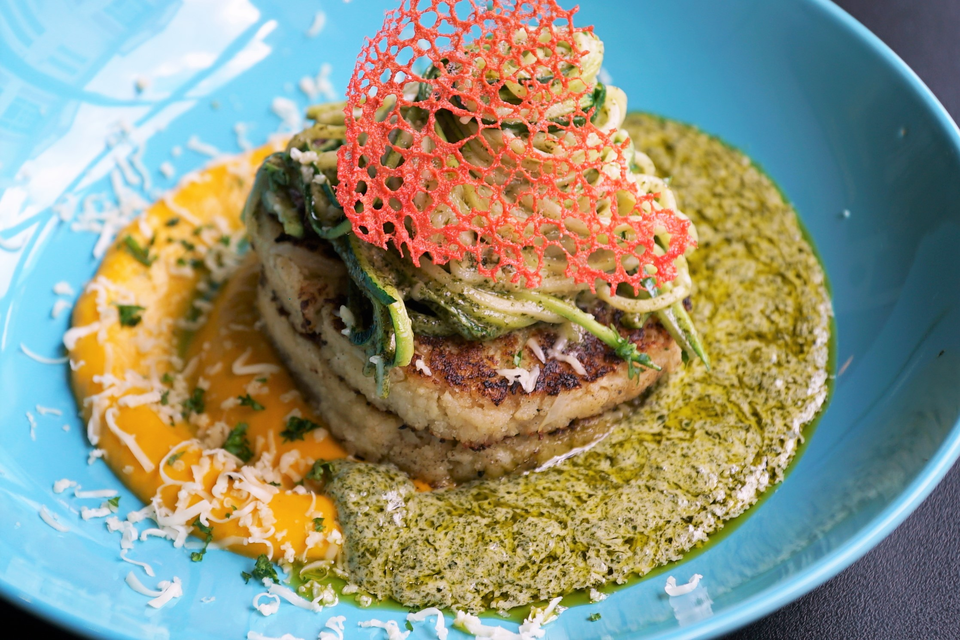 "For us, the timing and location was right," said Chua. "I still work at Le Apple, so having it next door means I could easily go back and forth. When we started (July 2016) it was just drinks and desserts. The idea was to serve up more unique, smaller batches of baked items like naked cakes that you wouldn't find at Le Apple."
After consulting with local chefs, Alex began working on a full menu which he rolled out at the end of 2016. "We've kept it to one page ever since," said Alex. "We keep our focus on using wholesome ingredients and making as much of it as possible ourselves."
An alarming, often regurgitated statistic is that the majority of eateries in the US don't make it past three years. There isn't data readily available to draw similar conclusions for Brunei, but Alex is wary that keeping momentum and positive cash flow – very often the undoing for restauranteers – is easier said than done.
"Of course we would like to see Flour and Butter expand, maybe even open overseas one day," says Alex. "But right now we have to work hard to make sure this (outlet) works not just for the next few months, but for many more years to come."
Following in his mother's footsteps, Alex hosts cooking and coffee making classes, shutting Flour and Butter on Mondays and Friday mornings to accommodate students, from foodies to aspiring entrepreneurs looking to start their own small businesses.
"We don't need to look far for inspiration," adds Alex. "My mum is proof that it's possible.
Watch: Alex showcases Flour and Butter's menu
Flour and Butter is located at No. 29, Ground Floor, Bangunan Hj Hassan Abdullah, Jalan Gadong, Menglait (next to Le Apple). To get in touch contact +6732422323.