Tucked away in a residential area along Jalan Bunga Gadong, on a plot of land no more than half an acre, is a thriving community of small local businesses running in a strikingly unique compound called the Kabin.
While the word entrepreneur has today become synonymous with high-tech startups running out of fashionable open spaces the Kabin has been thriving on the complete opposite.
Combining recycled wood, used glass and steel beams, a motley group of bikers, small-time contractors and oil and gas workers have combined to produce a small complex with a stunning retro aesthetic that sees most first time visitors unable to resist the urge of snapping photos when stopping by.
There isn't a need for lengthy reasoning or elaborate analysis to figure out why this space is fast becoming an underground hit with the public and local businesses.
Simply put – there's nowhere else quite like the Kabin in Brunei. This is the blue-collar, working class turning on their creative genius.
Friends before partners
As we walk up the steel steps leading to the Kabin's mezzanine floor to talk about its early beginnings, we're greeted by the sight of a rustic handmade chandelier hanging by chains.
Iskandar Shah, the co-founder of the Kabin and a vice president of a motorcycle charter, points to a varnished wooden table with short seats – that much like the rest of the furniture and the open air building itself – is made from discarded materials taken from construction gigs.
"We're missing Hj Elmy, our partner," says Iskandar, as we sit down with the different business owners at the Kabin – which currently consists of the Kabin Cafe itself, primarily a steamboat joint, three food and beverage vendors, an antique pawn shop as well as a motorcycle merchandise store and a barbershop.
A bearded man with a shaved head in his late 30s, skin weathered from the sun and hard labour, arrives soon after. He extends his arm out, sporting a thick metal bracelet around his wrist, introducing himself as Hj Elmy Esmady.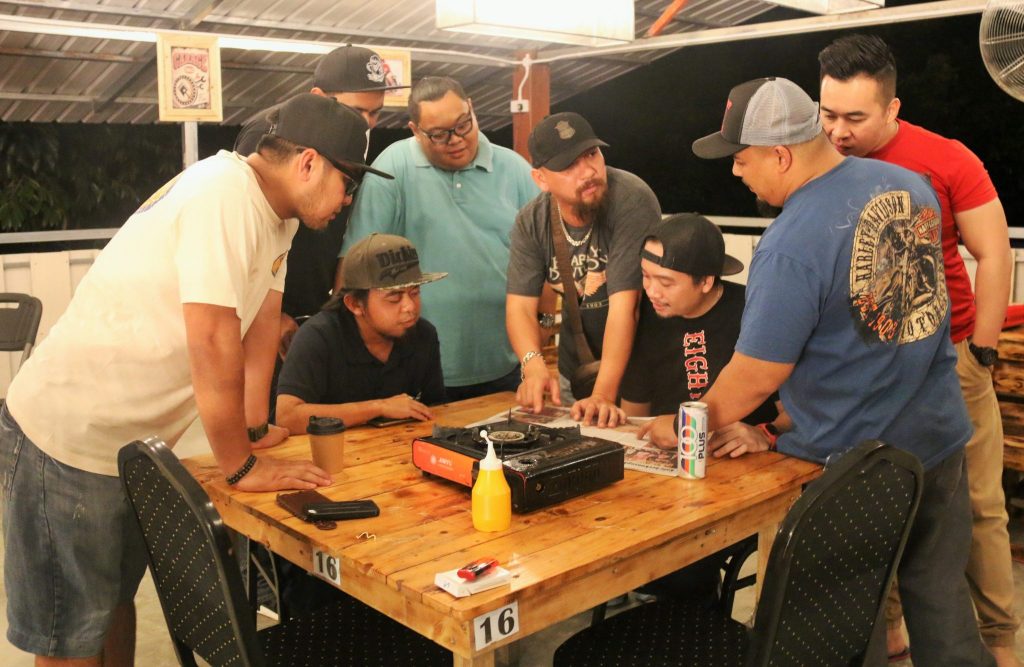 "So where do we start?" Iskandar says with a laugh, perhaps surprised at the attention the humble establishment has received. "I guess we can start with the first Kabin Cafe."
Long-time friends who first came to know each other in construction, Hj Elmy and Iskandar are very much cut from the same cloth – working class Bruneians whose skills and knowledge don't come from office seats or academic degrees, but from experienced gained on the field and in the trenches, that's molded a disposition towards taking action.
"Kabin Cafe really started as us making cucur (fried fritters) and doing salai (barbecuing) near the roadside," said Iskandar. The small operation began next to Hj Elmy's house, which he moved into just over a year ago.
"There's good foot traffic around the area, and we all like to hangout together and relax after work. But instead of just sitting around doing nothing, why don't we make some money while spending time together?"
Instead of hiring chefs, the pair and their friends did the cooking themselves. Eventually they decided to build up a cabin with shelter for customers to have better seating, and introduced the steamboat concept, where customers can freely select their ingredients into a soup broth of their choice, while also grilling their meat and seafood on the side.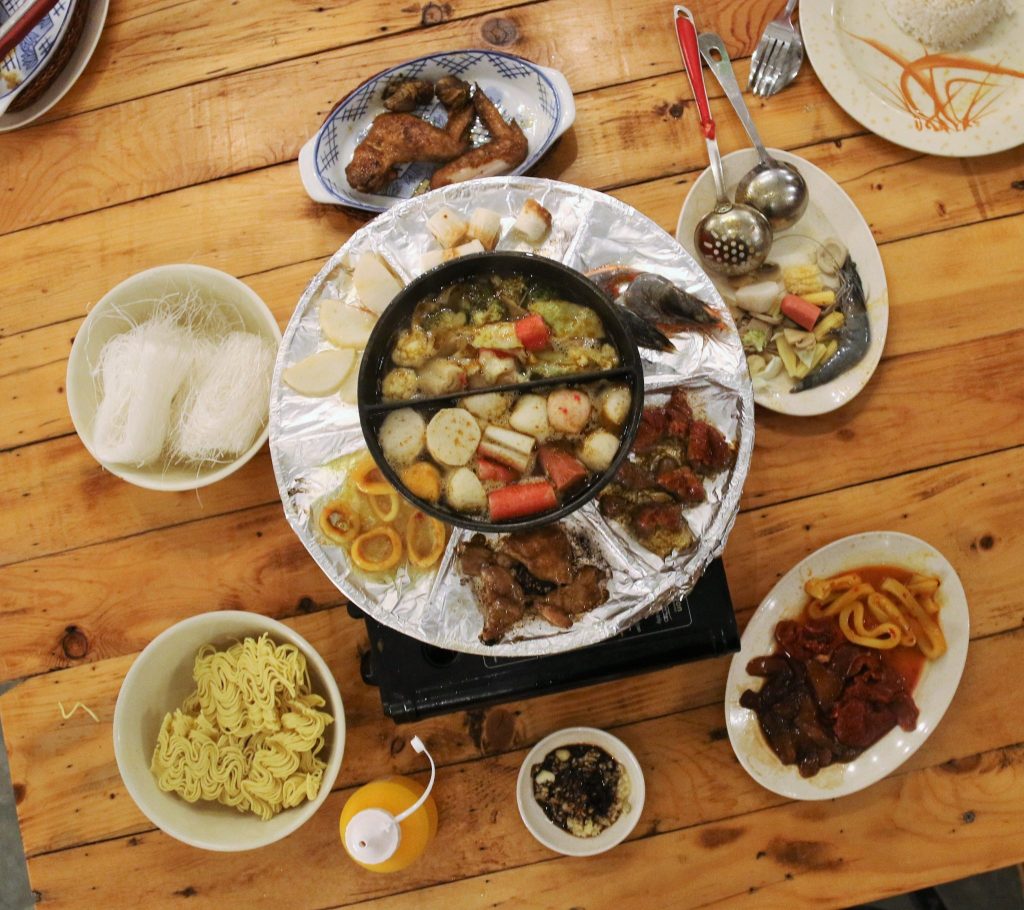 "But we knew it wasn't a long term solution," says Iskandar of the first site. "We were only renting the land, so we knew we would have to move eventually."
A do-it-yourself, do-it-right now philosophy
As Hj Elmy and Iskandar sat down to discuss plans of relocating last year, the idea of building a small community for local entrepreneurs to have an affordable space to do business, away from the pristine commercial lots in the capital, began to grow.
Inspired largely by Bangkok's Chatuchak Weekend Market – a huge marketplace for clothes, art, food and all manner of merchandise – as well as biking trips to Bandung, Indonesia, Iskandar suggested to Hj Elmy to have a similar concept in Brunei.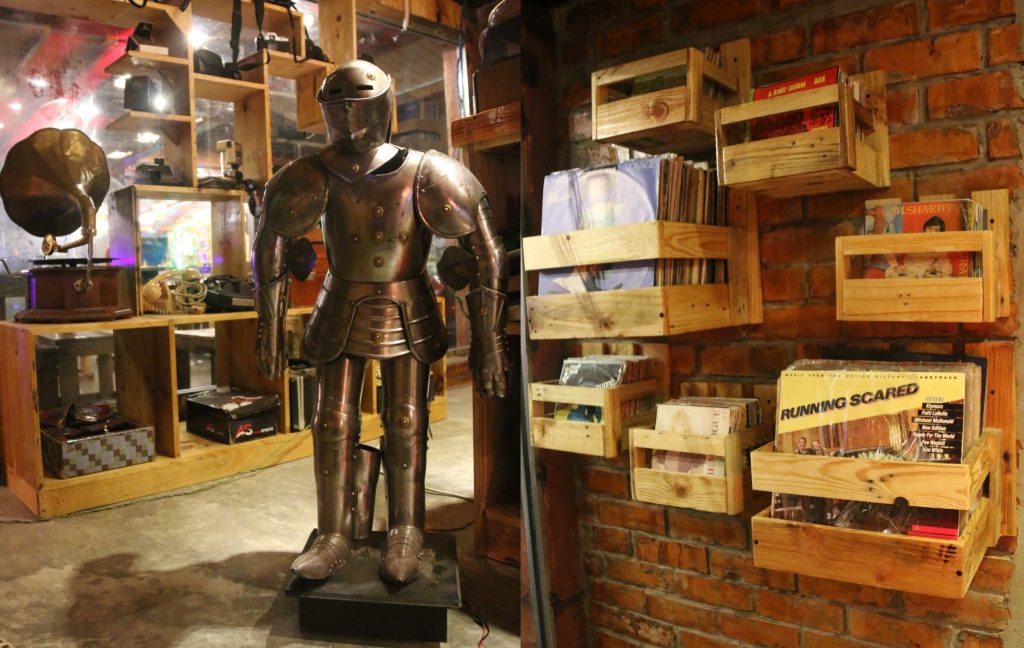 But without hectares of land to their name, no investors, financing or government support – they had to start modest.
"I had a bit of land to the right side of my house," said Hj Elmy. "It's about half an acre, so I told Iskandar, let's do this."
They built the centre piece – Kabin Cafe itself – in just over a month, relocating their business at the start of the year.
The response was positive, and so a few months later, they began to build up the area adjacent to it, opening three slots for food vendors, and converting an old foreign workers quarters into a barbershop and motorcycle workshop and merchandise store.
Hj Elmy has borne the brunt of construction costs, but together, they've managed to pool almost $100,000 to build up the area.
Each vendor has their own unique story, but there's a universality in their mission to supporting locals.
It's perhaps rare in the Sultanate to see such businesses, who require staff to do jobs typically regarded by many in society as menial – including dish washing and hair cutting – to be taken up completely by Bruneians.
"There are about 20 people – all locals – who keep this place up and running," says Iskandar.
Building a community
Md. Zailani Hj. Zainal or Lini (pictured below) as he's more commonly called, has been running an antique shop since he retired from the military in 2013 in Lambak.
On a late Saturday night, he's unpacking boxes of Spanish swords, vinyls, aged bedils (cannons) and a painting of the Architect of Modern Brunei – Al-Marhum Sultan Haji Omar Ali Saifuddien Sa'adul Khairi Waddien III.
"I'll be setting up at the Kabin within a week," he says with a sense of contentment and is more than happy to share the old stories behind his thousands of items, each which he can recall with uncanny clarity.
Two large gentlemen – one with a culinary degree from Malaysia and the other who used to own a small pawn shop – take up the food cabins in front of Mistik Antique, and from their boisterous, light-hearted interactions with customers, you wouldn't have guessed that not too long ago both were struggling to find employment or a place to do business.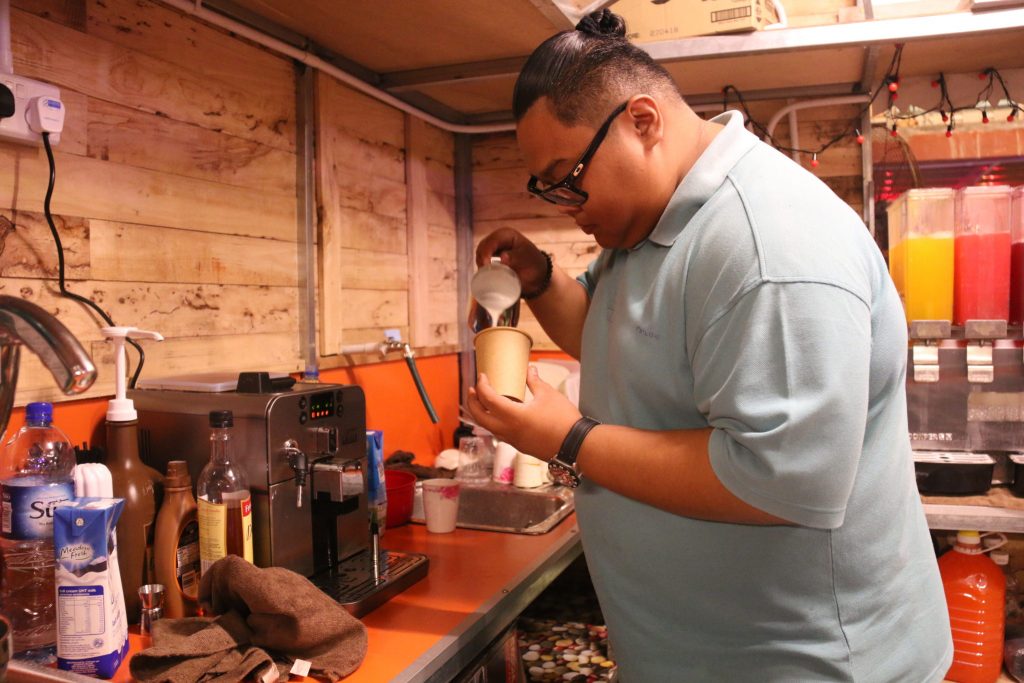 Hadi (pictured above), Kabin's resident barista, returned from Kuala Lumpur a few years ago and developed the drinks and pastries menu that carried the popularity of a local cafe – but now wants to pursue his own business.
Hj Elmy pulls out a folded, slightly crumbled paper with a pencil drawing of the Kabin's expansion plan, and points to a seating area that's typically vacant by the side of Mistik.
"We'll let Hadi run this. We'll set up a bakery together with a coffee and ice cream bar," says Hj Elmy, adding that an all-local car wash will also follow.
"I owe them," says Hamadi of Iskandar and Hj Elmy, as he grills skewers of lamb and chicken wings. "When things weren't quite working out and I closed down my pawn shop, they came through and offered me an opportunity to try something new."
Will the real supporters please stand up?
When Asmalee Hj Ariffin and Iskandar organized the second Borneo Kustom Show (BKS) last year at Bridex – an automobile showcase with the aim of drawing enthusiasts from the region – they found themselves in an unusual position.
They were handing out flight tickets, sponsored by Tourism Malaysia, as prizes for the best custom cars judged at the event, which also drew participants from neighbouring Malaysia and Indonesia.
"We had no local sponsors," said 31-year-old Lee, who owns a small motorcycle merchandise store and workshop at the Kabin called Indies Cycles. "We approached many companies and our tourism officials. Nothing ever came from it."
Support or not, Lee – who together with Iskandar also head a local motorcycle charter – are unabashedly moving forward with plans for a third BKS next March.
"There were at least 10,000 paying visitors (entry fee of $5), including those outside Brunei, who came by to the showcase," says Iskandar. By being part of an regional circuit – including Kustom Fest Jogjakarta and Art of Speed Malaysia – BKS is looking to draw more visitors from outside Brunei with each edition.
"Maybe the huge corporations and authorities that sit and plan multi-million dollar projects are so far and high up there that they don't see any worth in what we are trying to do, and what we're trying to create for Brunei."
It's 15 minutes past 6pm on a cool Saturday evening, as customers wait patiently for the call to Azan to signal the breaking of the fast.
Kabin Cafe is catering to a capacity crowd. Almost 100, mostly large groups of friends and family, have booked several tables to share the communal steamboat and grill experience.
In this month of Ramadhan, while the rest of the industry shifts into another gear with a barrage of sungkai promotions and advertisements, the Kabin has none.
No billboards, no radio or newspaper ads, no digital marketing campaign. And when your site of business is near to the end of a road leading to a quiet residential area, expecting to catch traffic through drive bys or walk ins – are a near impossibility.
"Alhamdulillah it is the people that have rallied to support us. And at the end of the day – that is all that matters."
To visit Kabin Cafe, turn into Jalan Bunga Gadong along Jalan Pertahanan (opposite the old ISB) in Berakas and drive 400 metres straight in where you'll be greeted by the sight below.
To stay up to date follow @thekabincafe_brunei on Instagram, or get in touch directly by calling or messaging +6738127177 or + 6738159489.