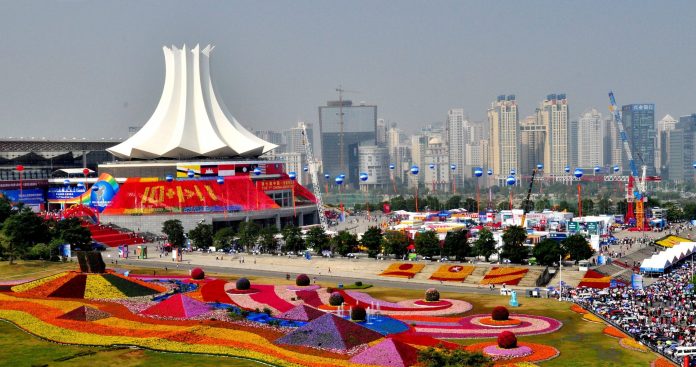 Brunei Darussalam is expected to mark a milestone next month as final preparations are made for more than 100 companies – the Sultanate's largest delegation to date – to participate in the 14th China-ASEAN Expo (CAEXPO) in the city of Nanning, China next month from September 12 to 15.
Brunei will assume Country of Honour status this year's CAEXPO, which was an initiative born out of the 7th China-ASEAN Summit in 2003 to facilitate economic and trade cooperation. With the 11 participating countries part of the Chinese ASEAN Free Trade Area (CAFTA) – which covers 1.85 billion consumers and a combined Gross Domestic Product of USD 2.5 trillion – CAEXPO provides a unique opportunity for businesses to gain access to new markets without tariffs and trade barriers.
The Country of Honour distinction means Brunei will take centre stage at the two pavilions at the Nanning International Convention and Exhibition Centre; one which showcases companies from ASEAN and China called the Commodity Pavilion, and the other the City of Charm Pavilion – where the 11 participating countries select a city of theirs to showcase.
The honorary distinction was launched at the 4th CAEXPO back in 2007, with each ASEAN country invited annually to take on the mantle, in a rotation based on the alphabetic order of their country's names. Brunei was the first to receive the honour, and this year's edition marks the second time it will receive the distinction.
The Bruneian companies participating range from startups to established enterprises in the sectors of food and beverage, healthcare, cosmetics, fashion and textiles, education and service industries, while Bandar Seri Begawan will be showcasing its culture and history through traditional performances, displays and exhibitions.
With 2017 marking ASEAN's 50th anniversary of formation, CAEXPO is carrying the theme "Co-building the 21st Century Maritime Silk Road, Promoting Regional Economic Intergration through Tourism."
Aside from offering an opportunity to showcase Brunei as a tourist destination as well its products and services, CAEXPO has also provided a platform for large-scale foreign investment between Brunei and China. This includes the establishment of the Brunei-Guangxi Economic Corridor (BGEC) – an agreement signed in 2014 that establishes a strategic supply chain link between Brunei and Guangxi, that covers investments into manufacturing and export from both countries, especially those focusing on the halal market, as well as upgrading logistics.
Here are the list of participating companies.