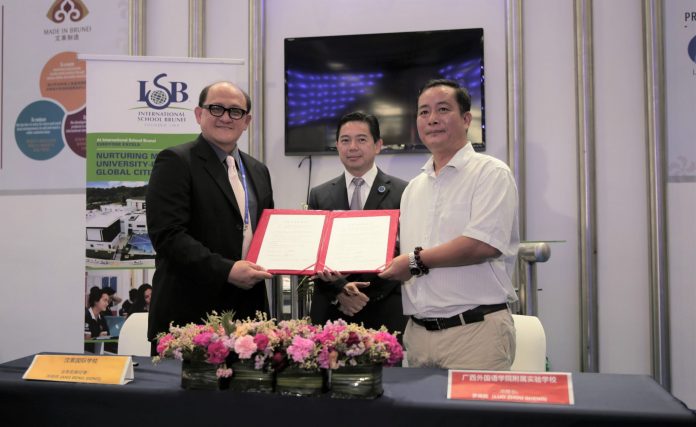 International School Brunei (ISB) is looking to gain access to the Chinese market after signing an agreement of cooperation with Guangxi Foreign Language School at the 14th China-ASEAN Expo (CAEXPO).
ISB's business development manager Ang Beng Siong said the agreement with Guangxi Foreign Language School – who have a network of six schools with more than 3,000 students – will translate to student exchange programmes in the short term, which will attract more students from China in the long-term.
"We're delighted to sign this arrangement to promote cultural exchanges, shared education resources and people to people relationships," said Ang, who shared that ISB's new 22 acre site in Sungai Hanching, which was officially opened last year, can house 100 boarding students, with room for constructing further accommodation if demand rises.
"These exchanges can begin with programmes like summer camps and visits. And then from experiencing that, awareness will be built that can provide for student enrollment into each others schools."
Ang explained that ISB, who provide education from Kindergarten up to the International Baccalaureate, were able to make the connection with Guangxi Foreign Language school, who are primarily based in the city of Nanning, through setting up a booth and networking at Brunei's commodity pavilion at CAEXPO.
"This is our second consecutive year participating, as well as our second agreement signed (from CAEXPO). We are very happy with the opportunity it provides to showcase education tourism," said Ang.
He added that out of the over 1,200 students the school has, only 58 stay at the boarding facilities, three of Chinese nationality, a figure they are keen to expand.
"Our presence at these expos help us build awareness of our brand and will put ISB on the regional map as a destination for quality education. China, in this respect, is a key market."
Head Principal of Guangxi Foreign Language School Luo Zhou Sheng signed on behalf of his school yesterday with Deputy Minister of Finance Dato Seri Paduka Dr Awang Haji Mohd Amin Liew Abdullah present as a witness.