In a nondescript, mostly unoccupied commercial building in Kg Sengkarai, Tutong, a small movement is beginning to take shape.
The venue is calm, meditative, as 27-year-old and recent IT graduate Adib Sulaiman opens its doors at 7am.  At 5'5" and about 140 pounds, his build is lean and compact, his disposition, reserved and demeanor, humble.
Unmistakably a fighter, Adib – or Deep as his friends and students call him – is now taking on an unexpectedly new role: head instructor and pioneer of Tutong's first mixed martial arts (MMA) gym, Wolfpack Brunei.
With two wins in two amateur fights under his belt, the most recent by knock out at the Singapore Fighting Championship last September 23, Adib is one of a handful of local talents hoping to fight in MMA professionally.
"In all the chaos that people see in MMA is great skill," says Adib. "Getting (skills) there calls for patience and discipline."
Like other MMA gyms, classes at Wolfpack are interdisciplinary, generally separated into stand up fighting or striking, which include boxing, kick boxing and muay thai, as well as ground fighting or grappling, taught through jiu jitsu (pictured below) or wrestling. And while fighting in MMA competitions certainly comes with risks, learning and practicing the different martial arts can be done safely, says Adib.
On weekday evenings, a frenzied energy hits the gym, as up to 20 people – including those taking their first fighting class and those with years of practice – fill up the gym, which takes up the ground floor of a standard-sized shop house unit.
Izzat Azmi and Richard Lim, close friends and colleagues in an oil and gas company, are part of the group, but their involvement runs deeper; they pooled together their savings to back Adib to open Wolfpack earlier this year, not long after hearing news of his first MMA fight.
"We're from Tutong and have been following MMA, but there was nowhere for people to really go to train, learn and develop here. We had to drive down to Bandar or to Belait," said Richard.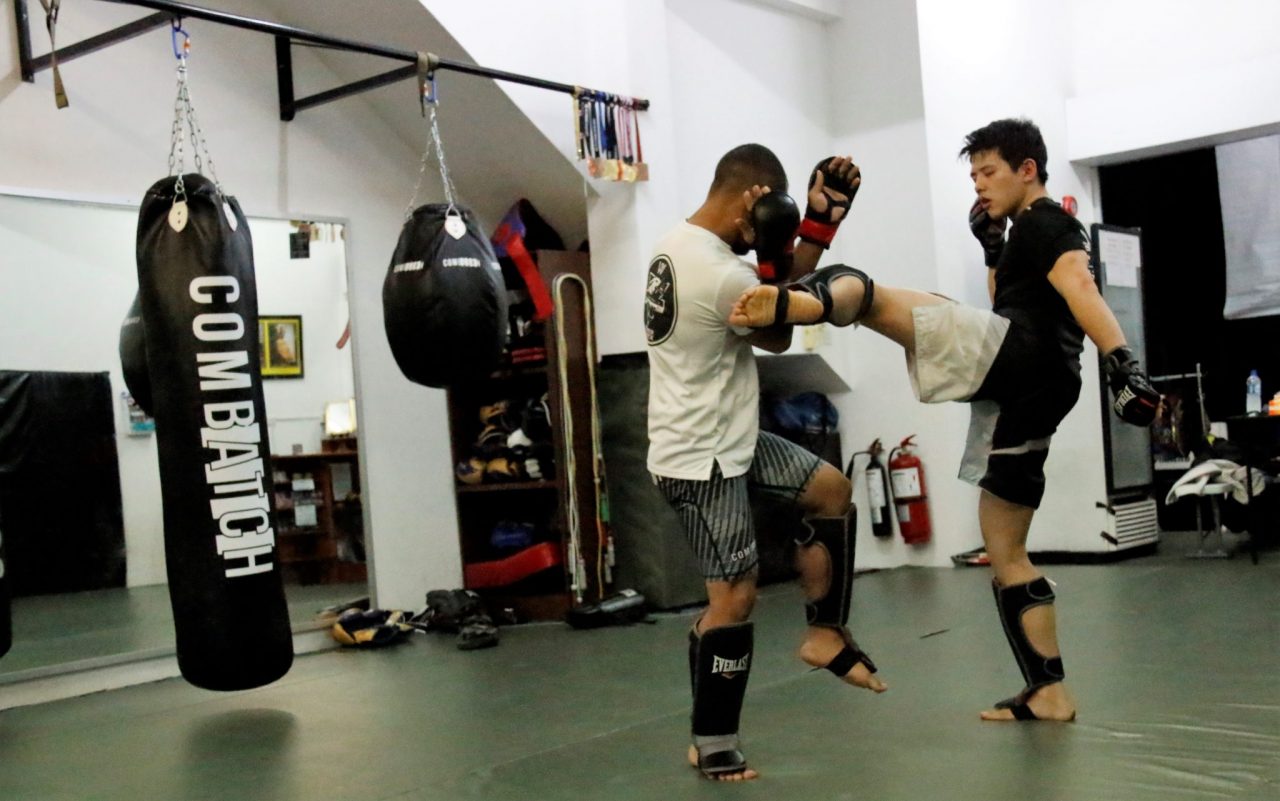 "At the time Adib's debut win (in March) was the talk of the local MMA community," added Izzat. "Me and Adib were classmates back in secondary school (Sayyidina Othman), so we quickly met up to see how we could partner together."
The trio were able to find a location with a $600 monthly rental, and without fuss they padded the floors, installed four striking bags and welded pull up and dipping bars. Within a month, Wolfpack was ready for the public.
While the trio's venture understandably needs to make money to be sustainable, profit isn't the solitary objective. Wolfpack has forked out to partially sponsor 10 aspiring fighters to compete at four regional events, believing that the organic growth of MMA within Tutong and Brunei, is what will ultimately determine the business' survival.
"With MMA gyms, more equipment doesn't always translate to more results," says Richard. "It is the quality of instruction and how you treat your clients that will build a community. That's what we believe in and are trying to prioritize at Wolfpack."
As Adib shifts around a class, he commands his students' respect, including some men far greater than him in size. The 26-year-old is composed in his delivery, clear in his instruction and sees it unnecessary to conduct himself in the manner of a brash drill sergeant, a stereotype that I perhaps mistakenly assume comes standard of a hardcore gym.
"The idea of our gym is to openly welcome anyone looking to learn and improve," says Adib after the night's lesson.  "Like a wolf pack, we are hungry, but to be better. And we will be on the hunt – together."
Wolfpack is located on the Ground Floor of Unit 3, Block A, Bangunan Seri Petani Jaya (behind Pizza Hut), Simpang 61, Kampong Sengkarai (the second entrance into Tutong when traveling from the highway from Brunei-Muara). Evening classes run from 7pm to 9pm Monday to Thursday and on Saturday. To learn more and see full schedule, follow @wolfpack.bn on Instagram.