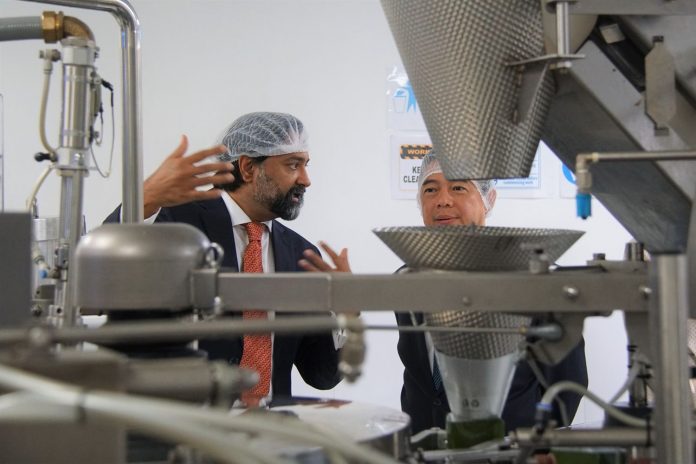 Saahtain Asia doubled its annual production capacity of halal ready meal products to eight million packs in 2019 by acquiring five new processing machines for its Salambigar factory.
Saahtain Asia – a joint venture between UAE's Saahtain Group and Brunei's Strategic Development Capital Fund under the Ministry of Finance and Economy (MOFE) – now has six product lines targeting general retail and specific customer groups including security personnel, vegetarians, the elderly, and those needing humanitarian aid.
The increased production is expected to meet growing demand for ready meals for humanitarian relief in the Middle East and Southeast Asia and emerging halal markets in the United Kingdom, Australia, and Japan.
Saahtain Asia employs 17 Bruneians, accounting for 70% of their total workforce. The company's signature lines are Al Gourmet – marketed for general retail, Tayyib – designed for humanitarian aid and disaster relief, and TheFoodPouch – utilized as military grade ration packs.
Managing Director of Saahtain Group Zahra Mahmood said the company is also helping Brunei F&B businesses as an Original Equipment Manufacturer (OEM).
"These product lines are not only for the use of Saahtain but also can be offered as OEM products for various Brunei start-ups during their incubation period. Effectively, we are increasing the capacity of the food industry within Brunei Darussalam", she said.
Minister at the Prime Minister's Office and Second Minister of Finance and Economy Dato Seri Setia Dr Hj Mohd Amin Liew Abdullah said Saahtain Asia's incorporation represents another successful foreign direct investment in the country's growing halal industry.
"I encourage Saahtain to continue to expand its operations in Brunei Darussalam, to further increase its exports and to continue to develop employment opportunities for Bruneians," said the minister during his visit to their Salambigar site last year.

The majority of Saahtain's products are exported to more than 10 countries and are labelled as wholly natural, non-GMO with an average shelf life of three years without refrigeration.
The Saahtain Group chose Brunei as their second production site in 2017, citing the sultanate's high standard of halal certification and stable socio-economic environment.