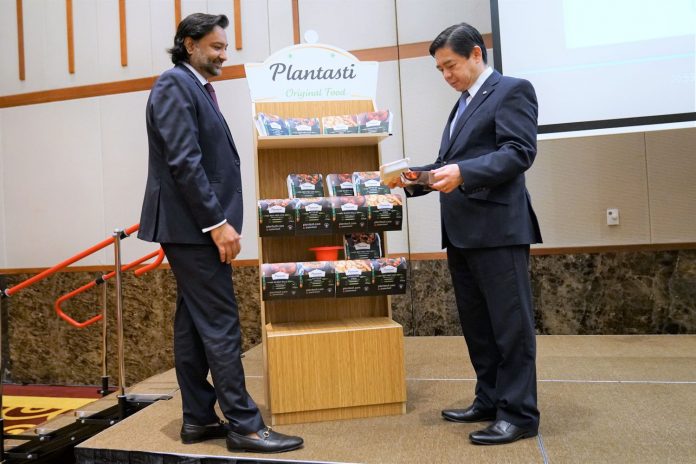 Brunei-based Saahtain Asia has laid claim to be the producer of the world's first halal plant-based meat ready-to-eat meals with the launch of Plantasti which will be available locally and first exported to Sweden.
The Plantasti line will debut four 220g ready-to-eat meals; beef-free stew, butter no-chicken, no-meat balls and chicken-free strips which are made from soy, mung bean and wheat proteins.
CEO and founder of Saahtain Adeel Khan said the company has worked with experts and technicians from Japan and Germany for the past eight months to develop the range which retains freshness at room temperature using specialised, long shelf life retort trays.
"Although plant-based products have been around for some time, it is only now that companies are putting deep focus on texture and taste," said Khan in a statement to mark Plantasti's launch and their third year anniversary in Brunei.
"Without that people would rather prefer (wholly) vegan (marketed) products. In that context, plant-based meat product development is cutting edge food technology."
Plantasti is being produced at Saahtain's factory in Salambigar, which has a capacity to produce eight million meals annually and has been certified with HACCP and GMP.


Saahtain's products are labelled as wholly natural, non-GMO with an average shelf life of three years without refrigeration. In Brunei, their products can be found in major supermarkets and are also supplied to the RBAF and RBPF.
Saahtain Asia – a joint venture between UAE's Saahtain Group and Brunei's Strategic Development Capital Fund under the Ministry of Finance and Economy (MOFE) – now exports to over 10 countries.
The company has six brands and 250 products targeting general retail as well as specific customer groups including security personnel, vegetarians, the elderly and those needing humanitarian aid.
Their flagship retail line Al Gourmet's rice and quinoa has been listed on theUK's Amazon's Choice for ready meals for high ratings and pricing since being introduced in 2019.
Saahtain hopes to be a pioneer in growing Brunei's halal industry, which was valued at $88 million 2016 and ranked eighth internationally for halal food export and development according to the Global Islamic Economy Report 2019/2020.
The Saahtain Group choose Brunei as their second production site in 2017, citing the sultanate's high standard of halal certification and stable socio-economic environment.