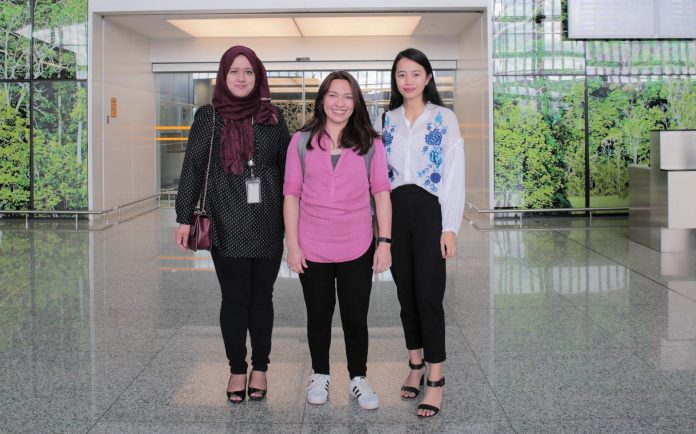 Local tech entrepreneur, Aimi Ramlee, the co-founder of Tyne Solutions, is looking to build networks with businesses in ASEAN and Japan as she represents Brunei at the ASEAN-Japan Women Entrepreneurs' Linkage Program 2017 (AJWELP) held in Jakarta, Indonesia from December 3 to 6.
The program, now in its second edition, is part of the ASEAN-Japan Centre's (ASEAN Promotion Centre on Trade, Investment and Tourism) initiative to promote women entrepreneurs through enabling capacity building, developing market access and teaching branding and packaging.
It aims to empower ASEAN women entrepreneurs who wish to improve the life of their community by developing and/or installing new products, service or system by assisting them in building networks with established companies, connecting them to female entrepreneurial mentors as well as introducing them to other fellow women entrepreneurs.
Aimi will be joining 8 other female entrepreneurs representing other ASEAN countries in AJWELP 2017. The women entrepreneurs come from a variety of business sectors comprising of traditional textile, television, books, transportation, and technology.
"There will be a lot of sharing with other participants about how they do business in their own countries and hopefully we can get potential collaboration with each other," said Aimi, whose IT startup Tyne provides system development and software including mobile applications, websites and management systems, and have previously served The Australia and New Zealand Banking Group Limited and Glim Consulting.
AJWELP's four-day program will include workshops on entrepreneurial skills and ethics, sessions connecting participants to mentors and supporting companies as well as participants' business presentations of their scopes, plans and challenges.
The program will also include visits to established social enterprises in Indonesia such as Go-Jek and JAVARA. Go-Jek, a motorcycle ride-hailing service, has grown from one call centre in Jakarta and a fleet of 20 riders to international branches, multiple industry expansions and a fleet of more than 200,000 riders. JAVARA grew from a community-based agribusiness to working with over 50,000 Indonesian farmers and selling over 600 premium artisanal food products.
The mentors involved in the program are Pacita Juan, the chair for the ASEAN Women Entrepreneurs Network (AWEN), Vice President of the Cambodia Women Business Federation (CWBF) Chenda Khay and Sandy Montano, the first recipient for the ASEAN Women Leader award and Vice-President of the Philippines-based Community Health Education Emergency Rescue Services (CHEERS).
The Chair of the ASEAN Coordinating Committee of MSMEs (ACCMSME), Norlela Suhailee, from Darussalam Enterprise (DARe) will also accompany Aimi at the program.
AJWELP 2017 is co-organised by the ASEAN-Japan Centre, the Indonesian Chamber of Commerce (KADIN) and the Indonesian Ministry of Cooperatives and SMEs.