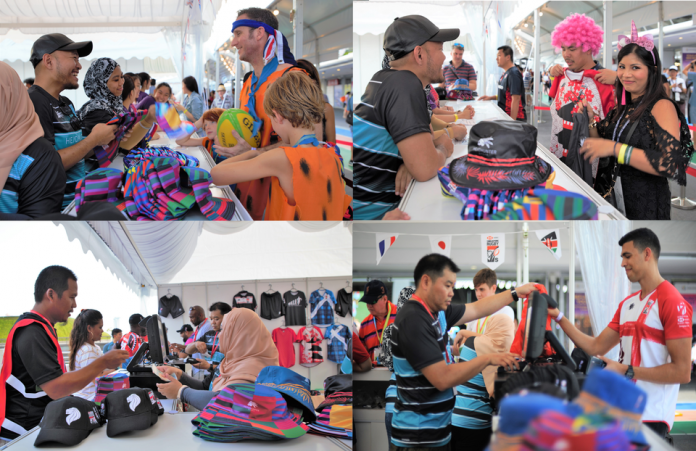 From a dining table operation into a factory within 12 months, Bruneian apparel startup Headhunter Sport (HHS) has bootstrapped its way to securing – and selling out – as apparel partner of the HSBC Singapore Rugby Seven Series last weekend.
With the Singapore Rugby Union (SRU) reporting a 55,000 turnout across two days at the Singapore National Stadium, former salesman and HHS founder Yusuf Flynn – backed by his team of six Bruneians – was at his boisterous best as they capped off their debut with 4,000 items sold at the event and through their website.
"The response has been humbling," said Yusuf after the event. "This being our first major contract and our first international event, it was a big test for us and the perfect opportunity to seek market validation. As a startup, we had a lot of questions leading up to this – would people take to our designs? Would they like the material? Would they buy them?"
HHS designed a custom line of 20 different tops for the Singapore Sevens, including seven jerseys, seven polo shirts, four singles, two t-shirts – priced between $40 to $60 – as well as caps and bucket hats for $30 to $35.
HHS' signature "warrior" aesthetic featuring striking, tribal designs were a hit with rugby fans, with the commemorative Singapore Sevens jersey and the peranakan singlet selling the quickest.
"We really sought out to capture Singapore's values of nation and community as well as its landmarks – from the Merlion to the Sir Stamford Raffles statues," said lead designer for HHS' Singapore Sevens project Nur Amnani Hj Awg Md Taib. "And we've been able to meld that with the vibrancy of rugby to create designs we believe are truly unique to the sport."
All Headhunter jerseys are currently manufactured in Brunei, which begins with a digital design that's printed onto a sheet of high-release paper that's heat pressed onto fabric which is then sown together.
HHS made an ambitious bid for the Singapore Sevens contract last year after pitching to SRU a design for the Singapore national rugby team – which was accepted last December.
"Singapore has become a pioneering hub for developing and hosting rugby in Southeast Asia," said Yusuf. "Being within this space allows us to be at the heart of a growing the sport in the region and offers a platform for new brands like us to connect to world rugby."
Yusuf, a third-generation rugby player, is intimately familiar with the challenges of developing the sport of rugby – especially within the Sultanate – which can often be traced back to a lack of funding.
Three years ago, the 37-year-old came to his wife Aziemah, who works full-time as a business development manager, with an idea to manufacture rugby kits locally, building up a brand that would ultimately be able to give back to the sport in Brunei; not just by sponsoring wear, but by creating developmental teams that would house local talents.
Rugby gear, Yusuf says, is typically pricier than other traditional jersey-based sportswear, as it has to be resistant to tearing and losing shape from all the scraps – from tackles to shirt pulling – that are the standard part of a rugby game. The price range for made-to-order or custom kits retailing in UK for example, typically range from 60 up to 120 pounds each.
"If you're in high school, university or just a casual player, that's very expensive," said Yusuf. "Having played rugby in several countries across the world, I can vouch for the fact that finding affordable rugby kit is a market that hasn't fully been tapped into yet."
Yusuf claims that rugby wear hasn't seen much in the way of innovation either, with material commonly used meeting the need for robustness, but ends up being too thick for warmer climates, and overall "quite constricting".
After spending the better part of two years experimenting with 25 prototypes, HHS developed a range of proprietary microfiber blends with reinforced stitching that the brand claims is just as tough as the mainstream brands, but is more flexible, breathable and fits better.
Without loans, external investments or grants, Yusuf has got Headhunter off the ground with his family's support and by forking out his savings to buy fabrics, printers and pressers. Backed by the creativity of more than 10 Bruneian designers under the i-Ready apprenticeship programme, HHS is determined to disrupt – and wedge its way – to the forefront of the rugby market as Yusuf envisions Headhunter growing into a global sportswear brand.
"Right now we are aggressively working towards expanding our reach internationally, supplying to more teams as we look to put Headhunter Sport on the map," says Yusuf. "This is just the beginning. Mark my words, one day, you will see Headhunter IPO."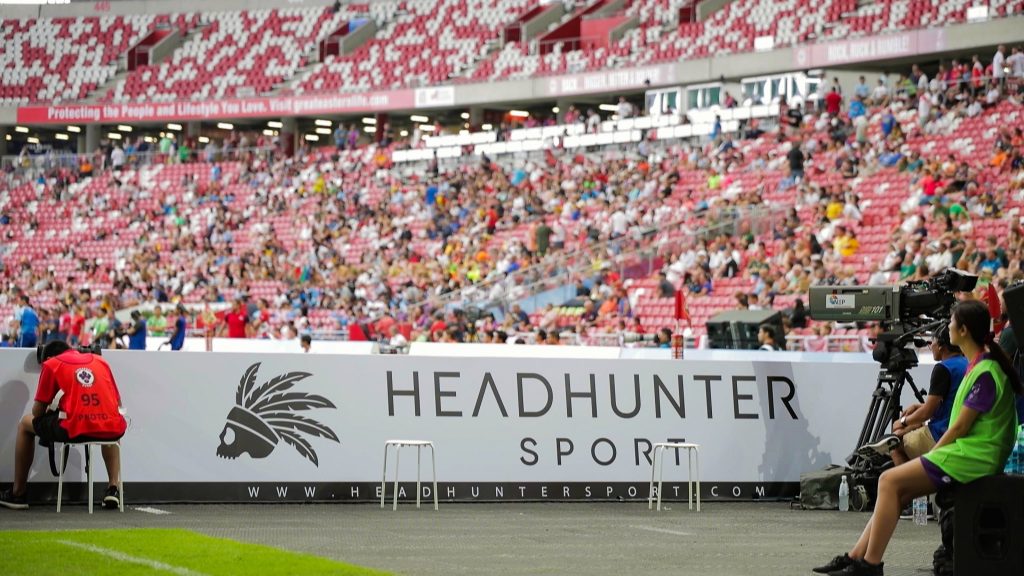 To learn more visit headhuntersport.com and follow @headhunter.sport on Instagram and Facebook for the latest updates.