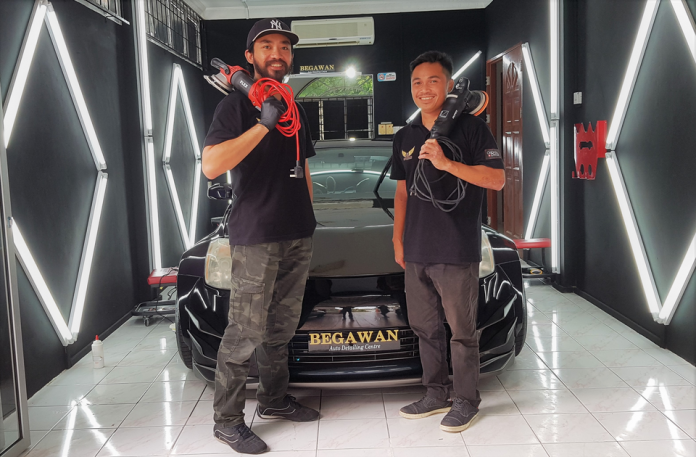 When Aimi Asmawi Haji Supri (pictured main L) left Brunei with his kids to accompany his wife to complete her Master's Degree in the UK five years ago, he left his job as an IT technician at the Berakas Power Station, presuming that he'd quickly find work upon returning to home to Tutong. He was wrong.
After nearly six months the 32-year-old called up his cousin Muhammad Fa'ez Munap (pictured main R), a self-employed handyman that did air-con and home repairs, who was also living from request to request.
While the overall job market may have been tougher, Aimi did have an alternative, courtesy of a hobby he picked up while in the UK.
"I called up Fa'ez and told him; let's try and start a car wash," said Aimi. "But we wanted to offer more than just the basic. We wanted to offer premium care with a higher value."
At the time, auto detailing – which focuses on restoring a vehicle's interior and exterior to its showroom lustre through meticulous washing, polishing and paint correction – had become a mushrooming small business for many Bruneians; tapping into the pockets of an underserved market of cars owners who wanted their car cleaned beyond the level of the $5 wash.
Tutong had yet to have a fully fledged auto detailer, and coincidentally Aimi had spent weekends in UK with one of his neighbours, staying in the same building, learning how to detail.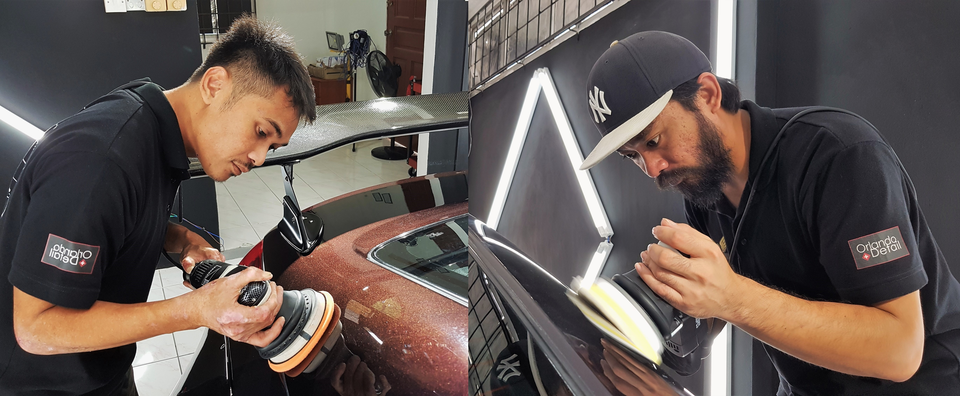 "One of the residents, we became friends after always seeing each other on the way to Manchester United games," said Aimi. "During his time off work, he would spend a lot of time cleaning cars in the compound, and I wanted to learn what it was all about."
Aimi even took on some detailing jobs, and felt confident about introducing the service back in his hometown. After their initial plan to set up a tent behind commercial shops were repeatedly rejected, the cousins ended up shelling out their savings to open at Seri Petani Jaya, located behind Pizza Hut in Tutong in February last year.
They began with four interior and exterior washes: beginning with a basic for $10 up to a premium with a sealant that provides protection and shine for up to six months at $65.
After Aimi received a detailing certification from Orlando Detailing and Fa'ez underwent training by Italian tool company Rupes, who make industry standard electric buffers and polishers, ProTouch began offering more expansive detailing and polishing packages.
They grew from just being a duo to a team with seven local employees – and after salaries, rental and others costs are deducted, the cousins consistently made a few thousand in net profit monthly.
"Because we were receiving high demand for the premium washes, we didnt have much space to do detailing work (in Tutong), so towards the end of last year we planned to open in Bandar," said Aimi. "We had saved enough, so we rented a house in Beribi with a large compound, which we've turned into a garage where we can really focus on paint correction (removing swirls and scratches) to offer full detailing service."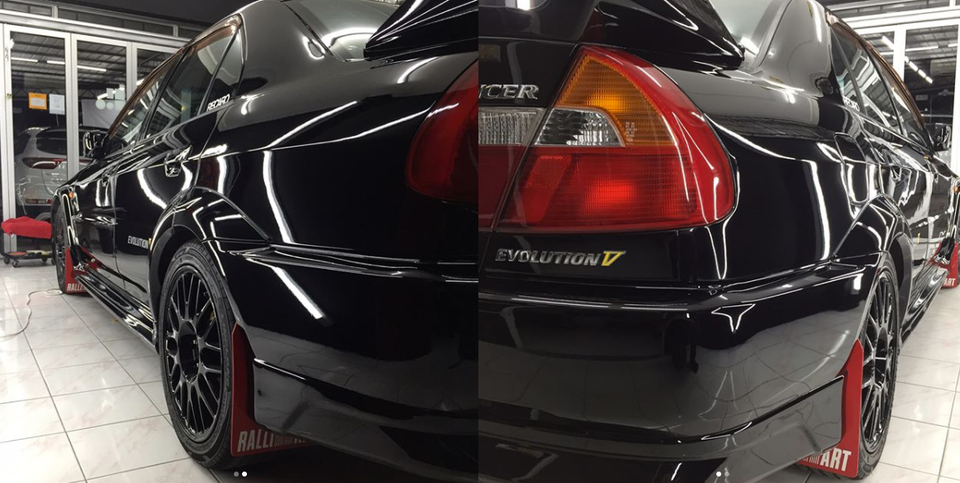 In February, a year after opening in Tutong, they opened the Begawan Auto Detailing Centre and in a surprising move that their competitors typically won't risk doing – also decided to sell the basics you need to personally detail; buffer machines, cleaning and polishing solutions, mitts and microfibre cloths.
The 32-year-old doesn't believe in restricting information or the means to detailing and believes more customers picking up the pursuit will ultimately help, not hurt the business.
"Some people might want to do the basic maintenance and cleaning themselves after they detail," says Aimi, who teaches customers how to use the tools and solutions they purchase.  "They can come to us for the whole top to bottom treatment that's more time and effort intensive."
ProTouch's washes begin at $20, $75 with wax, polishing from $200 and paint correction from $320. To check out their latest promotions or to learn more follow @protouchad on Instagram and Facebook or contact +6738399229 to get in touch directly.
ProTouch Auto Detailer is located at Ground Floor C27, Bangunan Seri Petani Jaya, Kg Sengkarai and opens from 9am to 6pm, Tuesday to Sunday, while the the Begawan Auto Detailing Centre is located at No. 23, Simpang 21, Jalan Beribi and opens from 9am to 9pm, Tuesdays to Sundays.