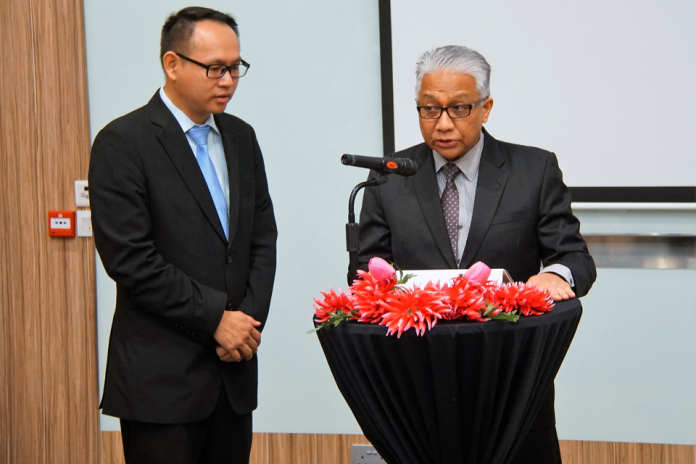 Brunei's central bank Autoriti Monetari Brunei Darussalam (AMBD) will be creating a shared 'payment hub' that will centralise Brunei's digital transactions by integrating existing and future payment systems and channels to avoid fragmentation with the Sultanate's market.
Managing Director of AMBD Yusof Hj Abd Rahman yesterday said the payment hub would establish common standards amongst payment service providers (PSPs) and integrate with regional systems to enable cross-border payments.
"A Payment Hub would provide an integrated solution to connect multiple payment systems and channels, using common standards, and avoid fragmentation of our small payment market," he said at the launch of the Digital Payment Roadmap for Brunei Darussalam 2019-2025 at the Design and Technology Building in Anggerek Desa yesterday.
"In the long run, the same payment infrastructure will serve as the conduit for cross-border integration with other ASEAN markets, so that anyone in ASEAN can make secure payments throughout the region quickly, conveniently and at low cost."
With Brunei's mobile internet penetration at 116%, the adoption of digital payments has been rapidly increasing. According to AMBD's survey of bank payment services, internet banking has increased 135% from 2016 to 2017, while card use has increase 33% to $1.98 billion over ther same period.
Head of Payment and Settlement System for AMBD Lim Shaw Fhen said the shared hub will be interoperable, enabling PSPs to connect in real-time, supporting an open, competitive market.
With digital payments in Brunei managed more efficiently through the hub, AMBD forecasts the creation of more products and services that are accessible to consumers and affordable for businesses.
Lim added that the common standards and centralised management of the hub by AMBD will ultimately help build public trust to increase their uptake.
Under the roadmap, AMDB says that secure and low-cost point-of-sales technology must become available to MSMEs and not just established retailers; citing QR codes, biometric solutions and other contactless payments seen in neighbouring markets as examples.
The Digital Payment Roadmap is the third pillar of Brunei's sustainable financial ecosystem under its Financial Sector Blueprint 2016-2025.