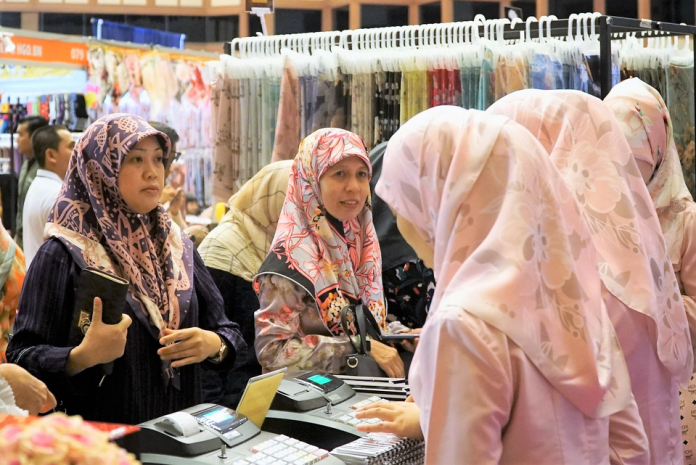 Battle Pro Marketing and Management Services are targeting to pull 70,000 visitors to their four-day sales event Letop Lebaran after drawing over 15,000 visitors after kicking off at the International Convention Centre yesterday.

This year's Letop Lebaran will run until Sunday and features a hundred vendors who are mostly selling products and services that tie into the upcoming Hari Raya festivities, including fashion, cosmetics, photography and packaged food.
Battle Pro's Hj Syed Mohd Yassin Hj Syed Anayatullah Shah said that extensive giveaways and lucky draws were being held throughout the event. Any purchase at Letop Lebaran is entitled to a draw for an Umrah package, while purchases from akumanang vendors would have a chance to win a new Ssangyong Tivoli.
"For this year's edition we are also bringing in a lot of activities to accompany the booths selling products," said Syed. "We have CarPro Empire giving free car wash coupons, Artz Production and HD studio giving free photo shoots and Enrich Tutorial and Al-Huffaz giving quizzes and games."
Letop Lebaran is now in its fourth edition and is the largest event on Battle Pro's annual calendar. Syed said has the event has grown from drawing 20,000 to over 60,000 visitors in its past two years largely through their digital marketing campaigns which utilises social media extensively.
"(Initially) a lot of the pull for Letop and our events was the public getting to buy from vendors that didn't have permanent shops so events and bazaars like these are perfect opportunity to reach thousands of people," said Syed, who added that their records show their highest selling vendor reaching six figures in sales across just a few days.
"Today, even though some of these vendors have their own shops, there are many new emerging vendors. On top of that, there is still a lot of value for the customer since they can access special discounts and promotions from over a hundred vendors under one roof."