On the morning of Hari Raya Aidilfitri, Abdul Hafiz Jawawi and his wife (pictured main) rise early to greet their parents and grandmother in STKRJ Mumong's National Housing Scheme.
As customary tradition across the country, Hafiz gets down on one knee to seek his elders' blessing and forgiveness – enjoying their company over fresh pastries baked just for the festivities.
But that's where the similarities end – because while the majority spend the first day either welcoming guests into their homes, or being the visitors themselves – Hafiz will cover some 200 kilometres from the Belait to the capital to make sure that he captures families coming together on the first day of Syawal.
Arriving at the first house in Sg Liang some 15 minutes before their 11.30am appointment, Hafiz pulls out his two strobe lights from his car's boot, as well as a back pack carrying his Canon 6D and begins to set up.
"This is my first Raya being married," says the 25-year-old former policeman smiling. His wife, Hasnizah, a hospital attendant six years his senior, helps keep track of the four customers HD has allotted for the first day of Raya – each who are entitled to an hour long photo shoot, 15 soft copy stills of their choosing and one printed 12 by 16 inch picture on a frame.
More than 40 orders have been made throughout Ramadhan for HD's house-to-house service – that's about double the number of shoots at their studio in Seria Plaza, which costs less than half. Collectively, they've helped HD gross over $10,000 during a period with very few weddings – typically a photography business' main source of income.
"The house-to-house idea came about last year when business was struggling," said Hafiz, who left the police force to become a full-time photographer in 2012, and set up his first studio in Tutong in 2014.
Disputes, mismanagement and missed deadlines amongst the partners HD had engaged to open their studio started adversely affecting business. Orders at his Tutong studio began to whittle down by the start of 2016, one month in particular where there wasn't a single wedding shoot.
Forced to close his studio, which he invested $10,000 in by selling his own car, Hafiz was left with his just camera gear in hand. His entrepreneurial vision four years ago of building a leading studio, now appeared more distant than ever.
"I had no studio, no team at that point," said Hafiz. "But I wasn't about to give up just yet. I'll just bring the studio to the customer I thought."
Branding it as Brunei's first house-to-house photography service, business began to pick up and at this critical juncture, Hafiz was able to negotiate for an affordable space at Seria Plaza, which he refurbished into Belait's first white room studio.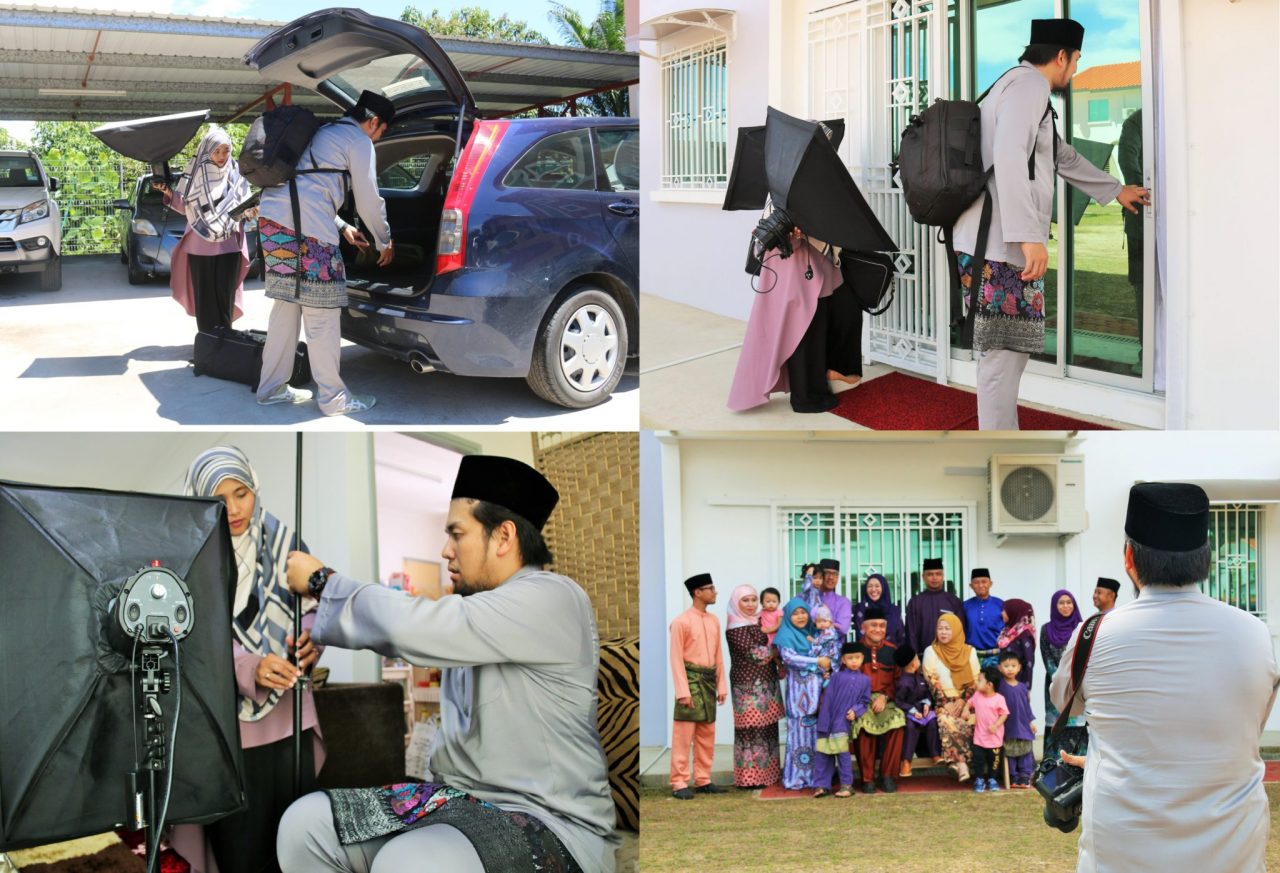 He continued the momentum with a marketing campaign offering huge discounts for weddings called murah hantap, generating more than $20,000 in sales orders and was subsequently able to build a small all Bruneian team that's now grown to seven, four who are full-time.
This year, Hafiz planned an aggressive online promotion for the house-to-house service, discounting the standard package from $220 to $173 for those who booked in April, and $199 for those who booked in May and June.
"Alhamdulilah this year's orders are almost double last years," said Hafiz. "This time we told the customer that all they need to do is make the booking. The date and time they can inform us anytime."
About a third have the photo shoot done during Ramadhan, in time for the picture frame to be up on their wall for Hari Raya. But for most, the occasion of the festivities itself is the perfect time.
"Everyone comes together for Raya," said Hafiz. "So we'll do a group family shot, then shots of the couples, father's side, mother's side, cousins and so on. Basically we set up for an hour, so they can have as many shots as they would like in that time."
After the shoot, the host family, in good spirits, warmly offer Hafiz and his wife food and drink. Hafiz asks the client to select their best 15, to be further edited later at the studio, but on this day, all three houses in Liang, Lugu and Kilanas, opt to to take every shot.
"How much extra will that be?" they ask. Depending on how many pictures were shot – typically 100 to 300 stills – it's an additional $50 to $100.
The customer then arranges for a time for the framed picture – which can be done in as quick as two days – to be delivered to their doorstep or alternatively, is free to set a meeting point of their convenience.
"It's not that we are greedy. It's just that we do not want to take things for granted," said Hafiz, as he packs up his camera and meets up with one of his photographers to hand over the strobe lights, for another evening shoot in Muara.
It's almost 8pm as he returns to Belait, in time for a visit with his family to a house or two, before catching some much needed rest. In the morning, he will resume his house-to-house shoots, beginning in Mentiri.
"It is true that the economy, the way things are now is hard. But it's up to us, to improve and level up the value that we're offering to the customer. And trust that if we are really sincere trying to bring that value, then the customers will come."
To get in touch with HD Studio contact their hotline at +6738269240. You can also stay up-to-date with their latest offers on @hdphotographystudio on Instagram or www.facebook.com/hdphotographybrunei/