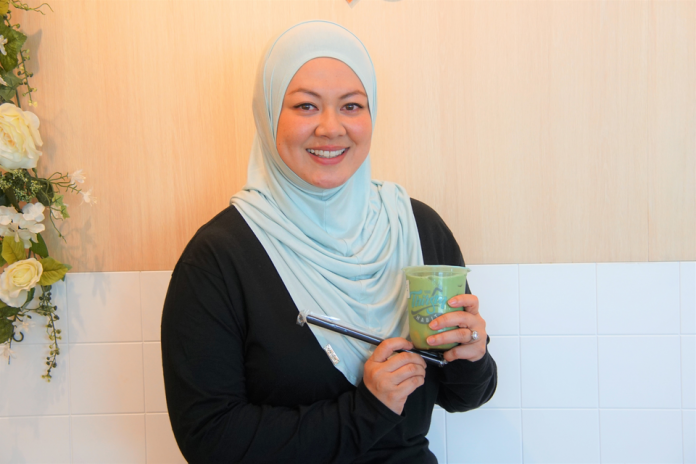 A former Chatime sub-franchisee's decision to reopen her business as a local brand called The Thirsty Habit is paying off as it pulled crowds in its opening month at the Ma'arzamala Fuel Station in Jerudong.
Owner of The Thirsty Habit Nisaa Suresh said the turnout since opening on August 6 has eclipsed traffic previously brought in by the Taiwanese bubble tea brand, which she operated out of the same location for three years.
"Although we were hoping our reopening would generate some traction (as with all new shops openings in Brunei) we did not expect this much of a response," said Nisaa.
"What's been very valuable is the feedback we've been getting. As a local brand, we're able to adjust our recipes and have more freedom in creatively coming up with drinks that the customers want."
Nisaa said the decision to formulate her own drinks brand came after her franchisee contract ended last June. Wanting to develop a new menu that was less focused on bubble teas and offered more local flavours, the 35-year-old former banker began working on a slew of new recipes.
"We have over 40 drinks on our menu now," said Nisaa. "We have milk teas and drinks using local favourites like bandung, coconut, onde-onde, Horlicks, pandan, gula melaka and Ribena. We also serve (Italian-styled) coffee."
She added that while marketing, research and development for a new brand carries a new expense, the business model no longer includes paying franchising costs. Nisaa has also maintained their partnership with Bruneian fast food brand Eat's Hot to share their space serving wings and pasta.
"Eat's Hot are well known for their spicy wings which definitely complements what The Thirsty Habit offers. It's an ideal pairing," she said. "We both (the owner of Eat's Hot) share a passion for being able to build up local brands."