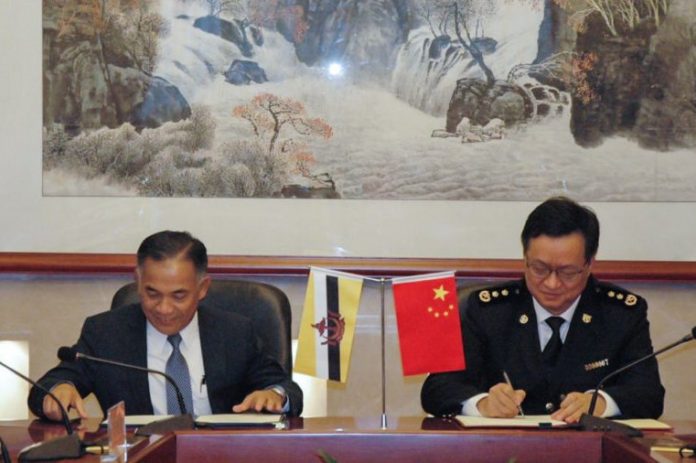 Brunei's Ministry of Primary Resources and Tourism (MPRT) is looking to China as a major market for the country's agriculture, livestock and aquaculture produce after meeting with Chinese officials in Beijing last week on export requirements.
The delegation heads MPRT Minister YB Dato Seri Setia Hj Ali Apong (L) and Deputy Minister of China's General Administration of Customs Dr Zhang Jiwen also signed a protocol agreement at Xinhui Jinjiang Hotel outlining phytosanitary requirements for Brunei's melons to be exported to China.
The agreement is expected to expedite the export of Tungku-based Superfish Growers' premium Japanese Arus muskmelons to China's biggest fruit retailer Pagoda.
MPRT added in a press statement that accessing Chinese markets would directly raise sector exports and contribute to GDP; aquaculture exports would increase from 16,000 metric tonnes (tonnes) to 20,000 tonnes annually, melon output would grow from 600 tonnes to 1,300 tonnes annually and meat-based products from PDS would increase substantially beyond the 1,300 tonnes currently exported annually.
The MPRT minister's visit from December 16 to 18 also included meetings with China's Deputy Minister of Agriculture and Rural Affairs Yu Xinrong, which covered the adoption of agricultural technologies in rice and crop production.
The minister also visited the research facilities and emerging marketplaces including online retailer J.D.com – which Brunei has its own pavilion on – and Futong China Agricultural University's experimental station for precision agriculture.
China has grown to be a key economic partner for Brunei over the past several years, with trade reaching US$1.8 billion in 2018 and Hengyi becoming the biggest FDI project in the Sultanate with the construction of the oil refinery in Pulau Muara Besar.
China's Pure Fresh has also been the biggest investor into Brunei's aquaculture sector, committing $400 million over five years to develop a "complete" supply chain for aquaculture in Brunei for export – with blue shrimp as their flagship product.