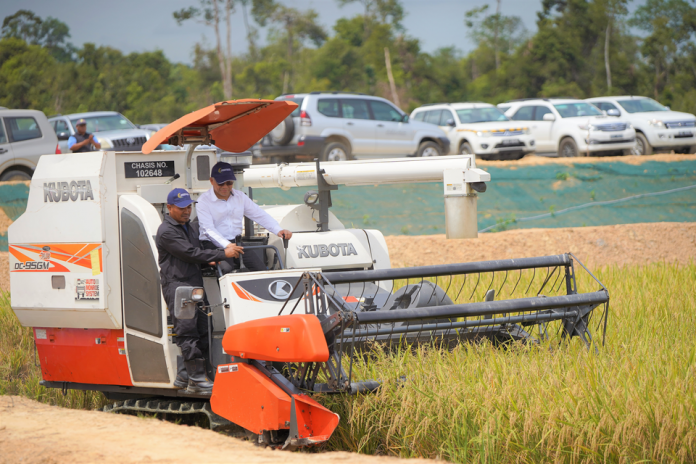 The government-owned company set up to operate the Kandol rice farm is targeting to yield three to four tonnes of paddy per hectare from the ongoing harvest of its first planting cycle.
PaddyCo General Manager Fuziah Hj Hamdan yesterday said that samples of one square feet taken from the 8.23 hectares planted are equivalent to five metric tonnes per hectare, which is significantly above their expectations.
"The sample yield will usually be higher than the actual yield; so with the sample showing five metric tonnes, we are projecting three to four (tonnes)," said Fuziah after a ceremony held to mark the first harvest of the 500-hectare Kandol – currently the largest actively developed Agricultural Development Area (KKP) for rice farming.
"Because the (farm's) ecosystem is new, it will take several planting cycles before the full productivity of the (rice planted) variety is met, as the soil (acidity and conditions) and surroundings will improve with repeated fertilisation and planting.
"The Sembada188 we planted can reach six tonnes per hectare, but for the first cycle we were only predicting half to one tonne (per hectare), so these results are good."
Fuziah said another 10 hectares of land would be ready for planting for the next cycle from March to August. The remaining 480 hectares would be developed by 2021, with full productivity between 6,000 to 8,000 metric tonnes of paddy – equivalent to 11% to 15% of Brunei's annual rice requirement – realized by 2025.
The Department of Agriculture and Agrifood (DAA) previously said that Kandol was selected through research that identified the area's composition being made up of a finer-grained fertile soil which carries alluvial sediment deposited from water flooding over.

Brunei's rice production has remained relatively unchanged over from to 2016 to 2018, staying within the range of 1,500 tonnes, which is around 5% of national rice self-sufficiency. The Sultanate continues to require over 30,000 tonnes of rice imported from its ASEAN neighbours annually.

The Minister of Primary Resources and Tourism (MPRT) YB Dato Seria Setia Hj Ali Apong previously said that self-sufficiency can increase to 10% this year by optimising the existing 1,000 hectares being actively farmed in Brunei.
This includes planting new strains and upgrading expanding the capacity of the Imang Dam which supplies water to nine rice fields in Brunei-Muara.
Yesterday's harvesting ceremony was lead by chairmen of KKP Kandol's project committees including the MPRT minister, Minister of Development YB Dato Seri Setia Ir. Awang Hj Suhaimi Hj Gafar, the Deputy Minister of Development Dato Seri Paduka Ar. Awg Hj Marzuke Hj Mohsin and the Deputy Minister of Finance and Economy Dato Seri Paduka Dr. Hj Abd Manaf Hj Metussin.