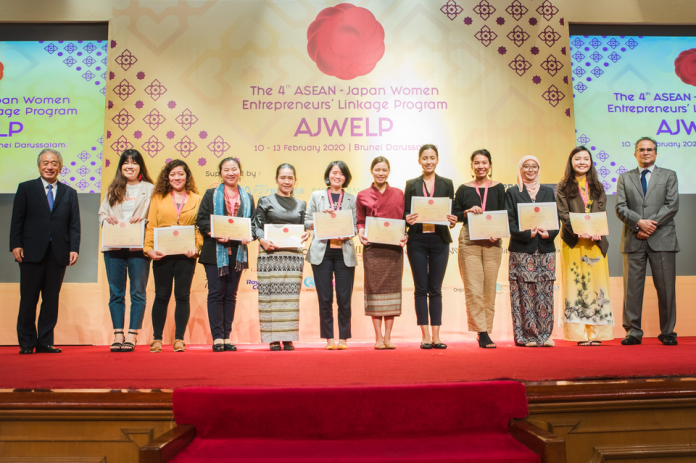 Ten promising women entrepreneurs from ASEAN received 78 linkages and pledges for support to help grow their businesses from 24 businesses and agencies at the culmination of the 4th ASEAN-Japan Women Entrepreneurs' Linkage Program (AJWELP) in Brunei.
The 10 entrepreneurs – each representing an ASEAN member state – received the support after pitching yesterday at the Rizqun International Hotel where the four-day AJWELP is being held.
As this year's host country, 21 out of 24 supporting pool of companies are based in Brunei, covering a wide range of industry sectors including logistics, food and beverage, hospitality, advertising, banking and technology.
The support provided to the women entrepreneurs – who all have a social or community development elements within their business models – includes financing, services, consultations and business opportunities.
Supporting company Battle Pro Marketing & Management Services offered all 10 entrepreneurs a fully sponsored booth at their flagship sales festival Letop Lebaran this year, worth over $15,000 cumulatively.
Brunei's representative and founder women's self-defence movement Panther Guild Nor Syariena @ Nor Diyanah Abd Rahman received support from Bank Usahawan, Battle Pro, Dart, Biz Digital, Eco Bumi Arkitek, MMW, Royal Brunei Catering and World Startup Festival and Baiduri Bank.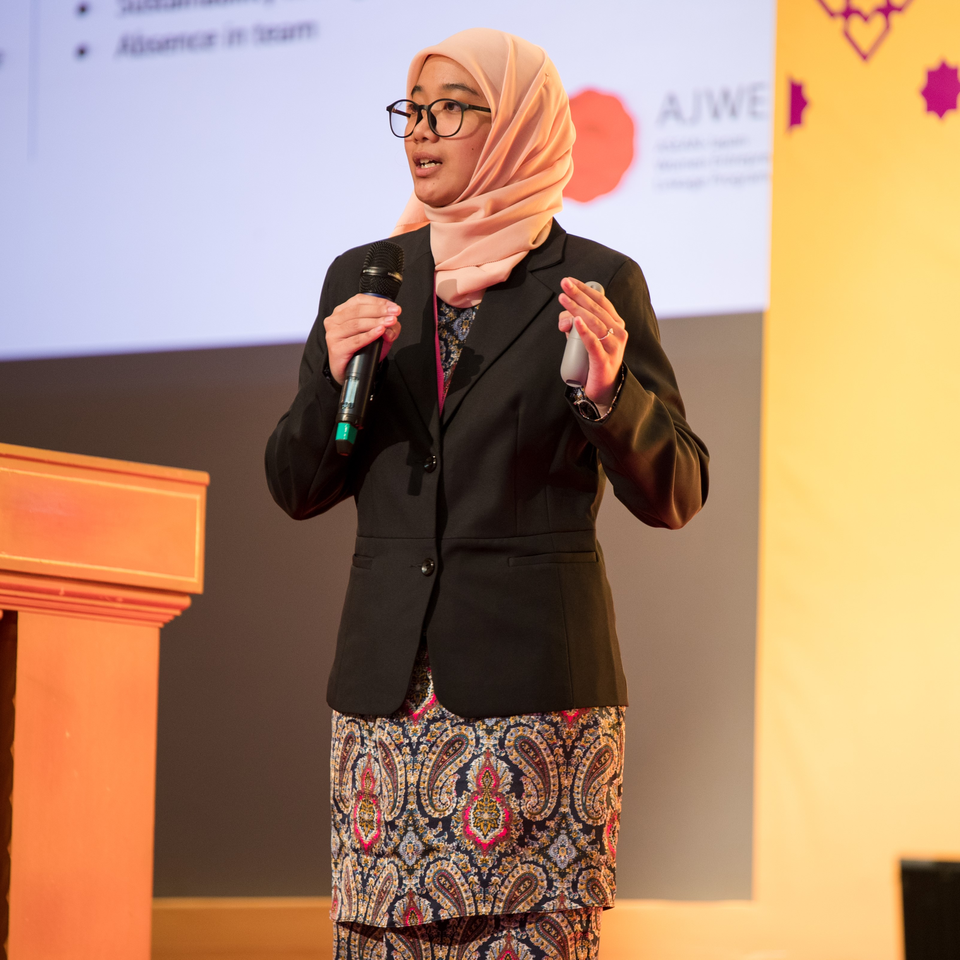 "I hope to use the support given to grow Panther Guild across Brunei (to different districts) to help women across the country be empowered and feel more safe," said Nor Syariena (R), who is an instructor and black-belt in Taekwondo.
"Harassment (of women) in Brunei is more common (than most think); according to surveys over 55% have experienced it in the workplace."
DARe CEO Javed Ahmad said the growth of social enterprises and women-led businesses in Brunei and the wider region is paving the way forward for more inclusive socio-economic development.
"The ideas presented here today were not just about making money, but looking at addressing real issues facing with region with real solutions," he said at yesterday's networking dinner.
"We are committed to work closely with relevant organizations including regional partners to not just bring best practices home but also to create opportunities and bridge network among ASEAN entrepreneurs and ecosystem drivers and beyond."
Aside from practical self-defence classes, the UBD graduate also hopes to use profits of the business to fund support groups for victims of sexual harassment and abuse.
AJWELP is an annual exchange programme organised and fully sponsored by the ASEAN-Japan Centre that looks to develop new women-led micro, small and medium enterprises (MSMEs) from the Southeast Asia region by providing a platform for them to develop their businesses through training programmes and linkages.
The other nine participants this year were: Srors Soun Hor Rokhak of Women Handicrafts (Cambodia), Anak Agung Ayu Sri Utami Linggih of CV Rosalie Kalyana Bali (Indonesia), Lee Jiaxin of Bantu (Singapore), Dalayphone Sayasithsena of SAYA Brand (Lao PDR), Suchada Kulmongkon of Fresh and Friendly Farm Co Ltd (Thailand), Chen Le Leng of Langit Collective (M) Sdn Bhd (Malaysia), Iloisa Diga of Session Groceries (the Philippines), Chaw Chaw Win Win of Together Group Co Ltd (Myanmar) and Nguyen Thi Nhu Ngoc of Wowmua (Vietnam).
Participants are selected on the basis of their business' ability to address social, environmental or economic issues their community or the region faces.
This year's programme began with a two-day workshop by World Startup Festival covering entrepreneurship, leadership and presentation skills, which readied participants for pitching on the third day. Site visits to women-led businesses Fuel'd and Tarbiyyah were held on the final day.
Local partners for this year's AJWELP were DARe as co-organiser and Le Voeu Events Company as event manager.
Supporting Brunei-based companies also included Archipelago Group, BIBD, Biz Advize, Cityneon, D'sunlit, Dynamik Technologies, Globex Global Logistics, Gongcha Brunei, Hoco Creative Company, LiveWire Brunei, MC Biotech, Mitsubishi Corporation (Brunei) and Radisson Hotel (Brunei). International supporters included Philippine's Cheers Corporation and Japan's Asia Leaders Association.