Looking to expand their reach as they bounce back from the pandemic, low-waste store Kaimana Living recently opened their second store in Kuala Belait.
Their latest branch located along Jln Bunga Rambai hopes to fulfill demand for low-waste and refillable products in the district, having already established a presence in the capital with the opening of their Mabohai store in May 2021.
Kaimana has gradually built up their stock to over a thousand different items, notably featuring their own refillable brands of teas as well as personal body care and household cleaning products.
Kaimana's founders, and cousins, Trish and Tiffany Lai said while the peak of the pandemic restrictions in late 2021 saw their sales drop by half, they were able to draw more insights about their customers while fulfilling orders through their website.
"Dealing with the second wave was very challenging because we had just opened in Mabohai for two-and-a-half months, so we were riding that opening high. We then closed our store to walk-ins and turned it into a dispatch centre where we processed all online orders to be delivered to customers," said Trisha.
"During this time we realised we were receiving regular online orders from Belait, so as the pandemic subsided we reopened our Mabohai store earlier this year and after stabilising it, we started to look for another space in Belait."
An ongoing campaign for low-waste living
While Kaimana's retail model of selling foreign products while also white labeling some of their own is fairly standard, their niche of focusing on low-waste and refillable products carries its own challenges both in sourcing and raising consumer awareness.
Conceived by Trisha when she returned to Brunei from Canada in 2020 after spending more than 15 years abroad, Kaimana began as online store in August that same year.
"Back then I realised when doing my own shopping in Brunei that there wasn't many options for low-waste products, and there definitely wasn't a one-stop shop that you could go to where you could find them," said Trisha.
"The concept of refillables or bringing your own containers to shops, especially for items like floor cleaners or shampoos, wasn't a concept I had seen here yet."
Her cousin Tiffany invested into Kaimana and left her corporate job to help Trisha manage their expansion, which included enrolling to several entrepreneurship programmes including BSM's Disrupt and DARe's Accelerate, where they placed third and second respectively.
While response to their website were initially lukewarm, their participation in physical pop ups, especially at the Mabohai Shopping Complex, drew positive responses, leading the duo to consider renting a vacant shop lot on the facility's first floor.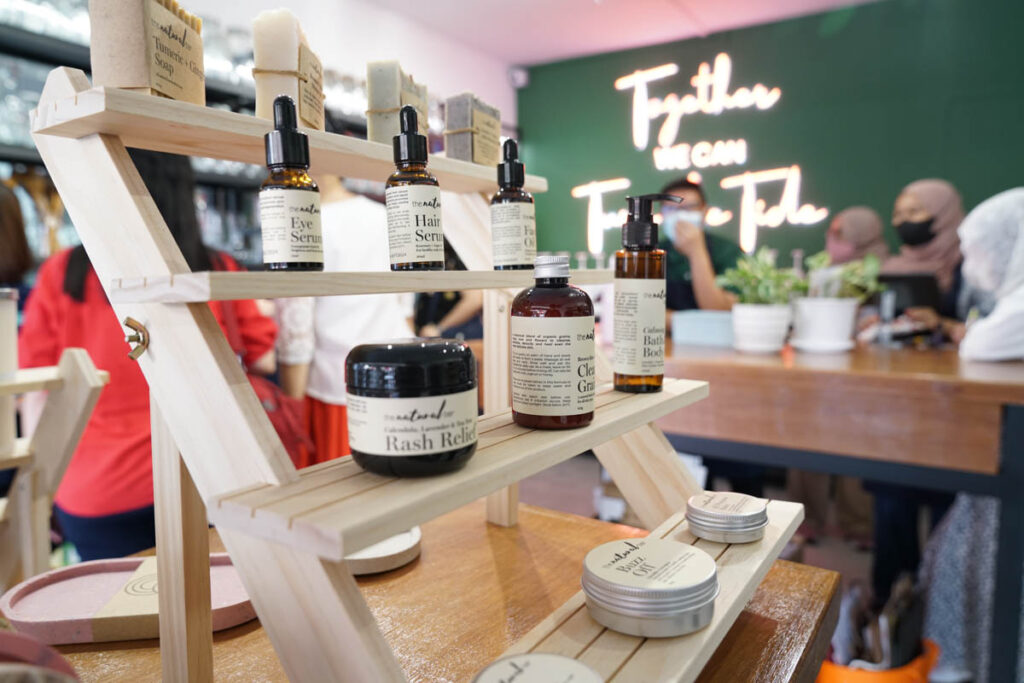 "Brunei's online selling space is a bit unusual since we learned that it's primarily driven through social media (accounts) and then selling and transacting over WhatsApp and bank transfers, which we think is why our website (transactions) didn't really take off (at first)," said Trish.
"Once we had the physical store though, and built our social media following, it was easier to convert people to buying online through our website during the second wave."
Tiffany added that the store also has to manage higher shipping costs and inflation that spiked during and after the pandemic.
"Initially a lot of our products were sourced from Western countries, but we've made an effort to source regionally as well to have more affordable options for our customers," she added.
The ceiling for Kaimana's growth will also depend on the market's overall adoption of sustainable living, an agenda Kaimana's founders want to embed more into their operations by organising educational workshops.
"We see the trend of people becoming more environmentally conscious, but there is a lot more that we can do," added Tiffany. "With COVID it was challenging to do so but we definitely want to kickstart this again as part of our mission; that together, we can turn the tide."