In a cleanly pressed, buttoned-up grey polo tee tucked into black slacks,  Muhd Nur Sallehuddin Hj Osman gets in his car past seven on a Sunday morning and heads to the capital for another round of Bandarku Ceria.
The 32-year-old dons a chef hat and a matching white waistline apron, slings on an usherette tray wrapped in red velvet fabric that carries 25 packets of freshly baked biscuits – each weighing about 100 grammes – and heads towards the Taman Haji Sir Muda Omar 'Ali Saifuddien field.
"It's the chef!" a young kid shouts out to his mom. Less than 60 minutes later, Chef Salleh has cleared out his tray.
Back in the kitchen, he's joined by his wife Lenna Norsusilanita Bahari, as they trial new recipes.
With little more than a single tray oven, and a mixer only able to hold two litres of dough, the couple look for the next combination for their Brubiscotti line.
"We've been doing oats and dark chocolate for the crispy cookies," says Salleh, who teaches pastry and confectionery courses at the Youth Development Centre (YDC) to a motley of school dropouts, unemployed graduates and single mothers.
The 32-year-old was a student himself at the centre a decade ago, before plying his trade from kitchen helper to chef around a circuit of established restaurants and hotels – including Royal Brunei Catering and Holiday Lodge – for the better part of seven years.
But when he returned to YDC three years ago after being offered a steady job, there was something still missing.
"He wanted his students to really believe that they could use what they had learned in the classroom to start their own business," said his wife. "To challenge themselves, by stepping outside their comfort zones of having to work for someone and instead to be their own boss. And whenever I would see him cook, I knew it was something he also wanted to challenge himself to do."
After the couple tied the knot at the end of last year, they soon moved into a small two bedroom unit in Kg Mata-Mata so they could have a kitchen dedicated to baking.
"We call it a 'simply cottage recipe'," says Lenna of their biscotti line, which currently carries two varieties; the chocolate crispy and a double dark chocolate or in Italian – doppio – version. "And that's because we never get too fancy with the ingredients or baking. We want to keep the cookies wholesome and fresh."
After handing out batches to family and friends, the couple debuted Chef Salleh at the start of March, taking orders on Monday, Tuesday and Wednesday with delivery and pick up on Saturday.
The same week, they joined first public event, selling out at the DPMM MatchDay carnival at the compound of the Hassanal Bolkiah National Stadium.
To ensure freshness, all batches for sale are made on the same day, with the couple taking turns to wake up as early as 3am on the weekends to bake from their portable-sized oven, one tray at a time.
"It's what separates us from the rest," says Salleh. "We want that bite of the cookie to be something you remember. Something you'll come back for."
Full chef attire intact – Salleh, together with his wife, have spent the past two days selling out at the Made in Brunei Market Fair (MIBMF).
Overall sales are modest compared to the more established names – but for a business only two months old, the early verdict is that demand for Brubiscotti is currently exceeding supply.
"We're looking to get a bigger oven. Or maybe a second one," says Salleh as he smiles at his wife.
It's been a long day for the couple, as I meet them past 9pm on a Sunday, after most of the vendors have already left the hall.
Chef Salleh has a soft spoken, almost idyllic charm as he speaks, but perhaps his full story isn't complete without a mention of the bags hanging beneath his eyes.
"Seeing other Bruneians, just starting out of their homes, now having their own stores gets us excited," he says. "There's so much more we can do."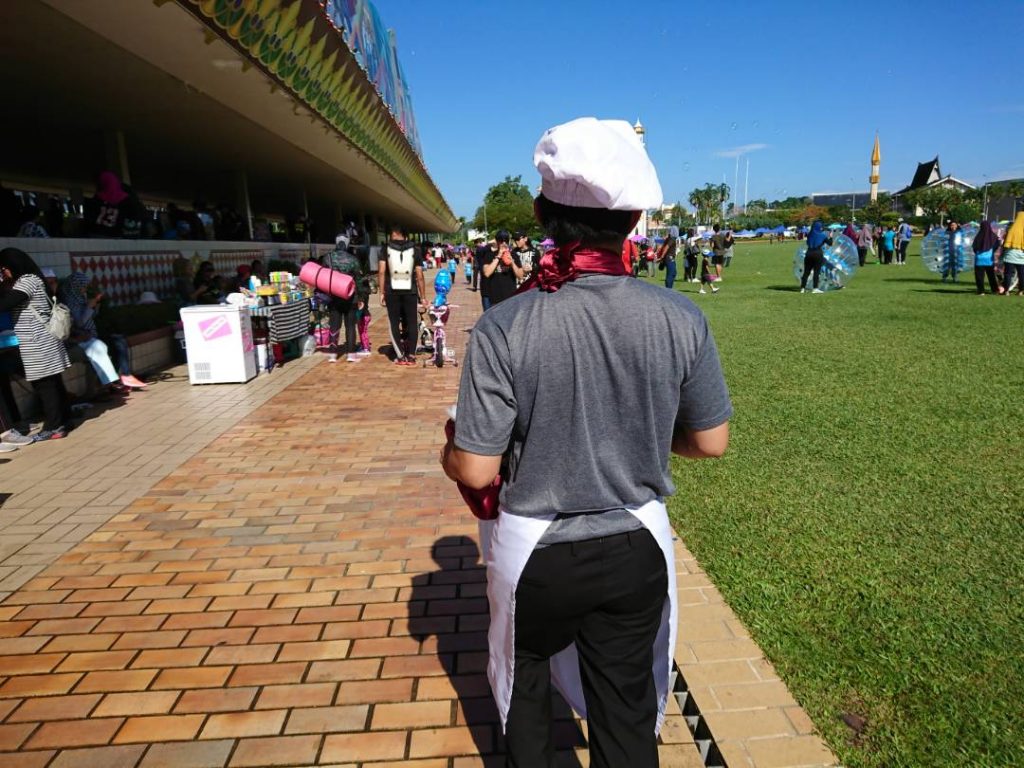 Follow chefsalleh.bn on Instagram and Facebook to learn more. You can also reach them directly at +6738287922