Five small Bruneian food and beverage businesses looking for wide-scale retail distribution pitched their packaged products to some of Brunei's biggest supermarkets earlier this week at Darussalam Enterprise (DARe).
Bakery and cafe Sweet as Sara, specialty coffee brewers TwentyFive.BN, sambal producers Rizqussalam and Aisy Berjaya/Demala who produce lemongrass drinks and powders took turns to make sales calls to the panel of retailers comprising of Hua Ho, Supa Save, Sim Kim Huat and One Station.
"We're trying to get into more established supermarkets so this is a great opportunity for us," said Rizqussalam's founder Hjh Zuhairah Hj Saidin. "We're in 23 stores, mostly smaller mini-marts – but we've recently gotten into Teguh Raya (Serusop) and Pertama Jaya (Lambak)."
Rizqussalam are currently building a new factory to increase their current home-based production of 2,000 to 4,000 packets of sambal tahai, a thick savoury paste of smoked herring, onions, garlic and tamarind that's often used as a condiment or side dish.
Their 140g packets, which are either flavoured spicy or original, retail between $3.60 and $3.90 each and garnered unanimous praise from the supermarket panel for their packaging and certifications, which include halal certification, complete nutritional profile, expiry dates and GS1 barcodes.
Coffee specialists TwentyFive are looking to be the first local company to supply "artisanal quality" ready-to-drink cold brew coffee called Chuck's on supermarket shelves, which will come in a range of four different fruit inspired coffees in 300ml bottles with a recommended retail price between $4.50 to $5.
"We're looking to supply in June with our new production facility," says TwentyFive's founder Firdaus Omar, who has experience managing the It's A Grind and Gloria Jeans franchises in Brunei. "We hoping not only to get into Brunei (shelves) but to also make this an exportable product, so this pitching session gives us an opportunity to make the right connections."
Firdaus explained that the beans imported were specialty-grade Arabica, which are then brewed cold over 12 hours, then put through a three-stage microfiltration system. The four fruit inspired "fusion" coffee flavours of Mojito, Fusion Berry, Lychee and Citrus are designed to have crossover appeal with the mainstream public, but they are also serving up two plain black cold brews for those who prefer their coffee unadulterated.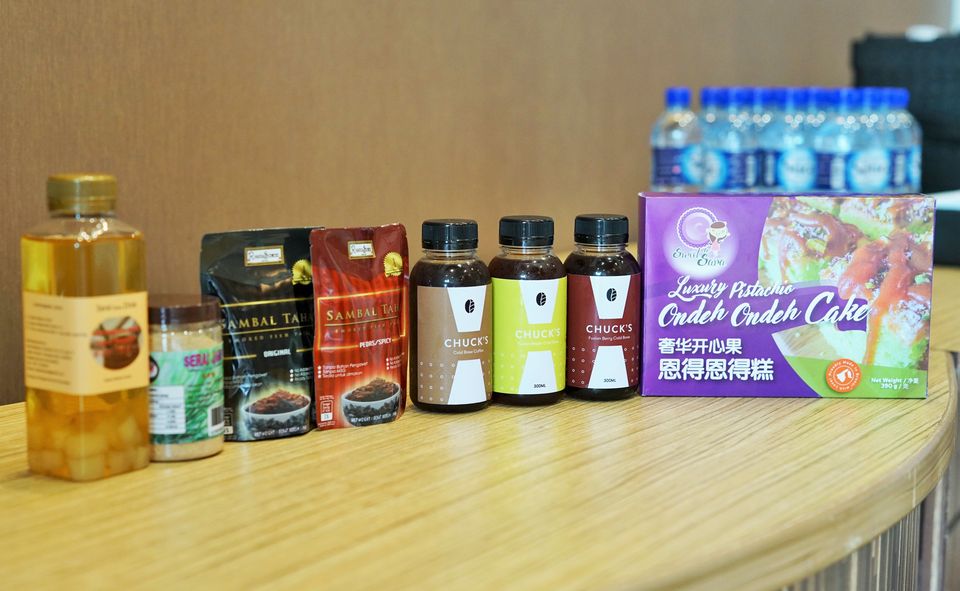 Cafe Sweet as Sara are also targeting supermarkets with a packaged, frozen version of their popular Pistachio Ondeh Ondeh cake, which will come in a box – retailing beween $6 to $7 – which will contain six smaller trays of cake.
"We've been trialing this product, getting feedback at international expos in Korea and China and the feedback has been good, we've sold out each time," said Sweet as Sara founder Sarinahayati Hj Mohd Taib. "We've also tweaked the flavour (with feedback) over time, but we've retained pistachio ondeh ondeh, instead of the traditional flavours like chocolate, because we want to compete with something different (on the shelves)."
Meanwhile, Belait based Aisy Berjaya and Demala – who are run by the same family – have developed a lemongrass powder and bottled drink, marketed as an affordable "detox" product with health benefits.
"We are currently selling the (500ml bottled) drinks for $2 and the powder for $4 (to customers)," said Norredahayati Abdullah, who makes the drinks, while her mother makes the powder. "Right now our channels are mostly through orders placed by phone or social media, so we want to see if there are supermarkets interested in picking up our products."
The supermarket pitching sessions are part of DARe's Made in Brunei initiative which seeks to help businesses with locally developed products gain market access. The initiative was launched in May 2017 through a shelf with dry local products at ten supermarkets, as well as a separate display to showcase more higher-end products at strategic locations like the Brunei International Airport and the Empire Hotel & Country Club which could then be bought online.
The initiative has since expanded to include pitching sessions to facilitate business opportunities between local businesses and supermarket representatives, with notable success including local ice-cream maker Happy Cream & Co. debuting in Supa Save.
Businesses with local products interested in getting into supermarkets can email madeinbrunei@dare.gov.bn or call +6732384839 (ext. 245) during office hours or +6738363442 outside office hours.