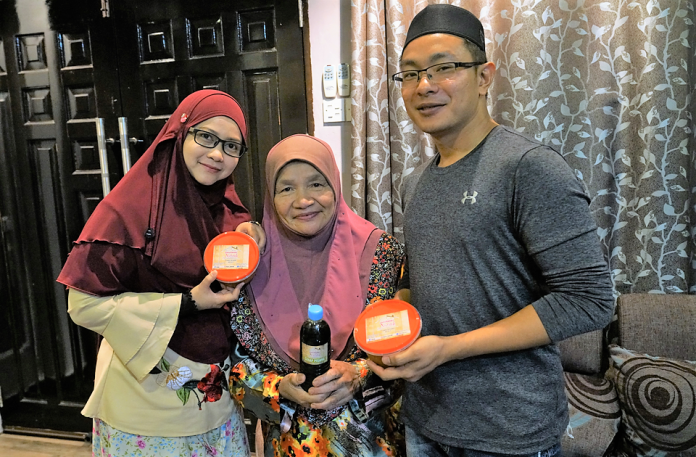 Spicy, tangy and savoury – there isn't a direct English translation for the staple base of Malay stir-fries know as tumis, a thick, reddish paste made of garlic, shallots and chilli that's thrown into the wok before frying up meat or vegetables.
The closest translation online is Malay chilli paste, but that's a bit of a disservice to the fragrant, aromatic paste that also includes ginger, lemongrass and lengkuas, also known as galangal. It's quite a handful to mimic exactly, and 70-year-old housewife Hjh Nisah Hj Amit (pictured main L) has a swift, hassle-free solution for those looking for authentically Malay cooking: instant, homemade tumis.
At $5 for a 500gramme container, Dapurbabu Nisah's instant tumis a ready-made blend – you just need to heat a wok, add oil, throw in a tablespoon or two and then your choice of protein or vegetables. If you're content then continue to lightly fry, but tumis is versatile to serve as the base for a curry paste to be added on after or for soy sauce for an ayam masak kicap.
"I started to make the tumis paste and refrigerated it after my children were married and started working," said Hjh Nisah. "I had more time on my hands and making the tumis beforehand was a way to keep me occupied. I'd also make some for close family and friends who enjoyed my cooking."
When her youngest son, Zulkifli Hj Awg Ali (pictured main R) got married, her new daughter-in-law Nurul Fauzana Hj Sabtu would often visit, learning how to cook classic Malay dishes, where tumis was always at the core.
"I wasn't much of a cook when I first married my husband so I started to learn from babu (mother)," said Fauzana. "The instant tumis was a lifesaver. We both (my husband) work full-time so it can take some time to cut and blend all the ingredients, and so babu's tumis was always a blessing."
On a Friday a few months ago, Fauzana was running late from the market and had yet to cook lunch, with her family worried that they would risk being late for prayers. With the instant tumis, Fauzana was able to whip up three dishes, and one of her sisters-in-law, impressed by how quickly she cooked, asked if she could get a few bottles of the tumis.
"I went back to babu asking her if we could make some of the tumis together," said Fauzana. "All ten we made were sold immediately, so we made another batch of 30 which quickly sold also. We started to think, maybe we can make this into a serious business."
On the evenings at Hjh Nisah's house in Jerudong, Fauzana and Zulkifli are now learning first hand from their mother what precisely goes into the tumis blend. The 70-year-old has nothing written down, the ingredients and their varying quantities are mostly committed to visual memory, which the young couple have to learn to quantify and replicate to help their mother scale the business.
Since starting in January, they've sold a modest 200 containers through pickups, and more recently sotcked a cube store in the capital, as well as churned out more of Hjh Nisah's sauces and pastes including belacan, sambal tahai and different dips – binjai, mebangan and tempoyaki to name a few. They're now looking to get halal-certified, work on improving packaging and seeing how they can finance the purchase of industrial-grade blenders, peelers and mixers so that they can ramp up production.
"We're really proud that people enjoy the recipe, and even happier when we receive feedback that it makes cooking authentic Malay food easier," says Hjh Nisah. "Hopefully we can do more to get the product out there."
You can buy Dapurbabu Nisah's instant tumis at Rumah Manis' takeaway and cube store located in the building facing Brunei Hotel along Jalan Pemancha which opens from 6am to 4.30pm Monday to Saturday. To learn more follow @dapur_babuhjh on Instagram and https://www.facebook.com/dapur.babuhjh101. To get in touch directly contact +6738301011.