A global predicament facing the farming profession is a shortage of youth keen to fill the boots of their ageing predecessors.
Brunei is not exempt from the trend – but with stiff competition for traditional corporate jobs amongst graduates and school-leavers, a small but growing number of young Bruneians are looking towards agriculture, optimistic of the promise of new technologies to usher in a new era of higher yields with lesser manpower.
Today, young Bruneians looking to learn agriculture have a multitude of options with different entry points.
Within the formal education system, the Institute of Brunei Technical Education's (IBTE) School of Agro-Technology and Applied Sciences offers the HNTec in AgroTechnology – a diploma equivalent – with an agrotechnology degree also offered by Universiti Teknologi Brunei.
More recently, Universiti Islam Sultan Sharif Ali announced the establishment of its own agriculture faculty offering bridging, degree, and post-graduate programmes.
Practical and shorter courses for aspiring and existing young farmers are routinely run by the Ministry of Primary Resources and Tourism's (MPRT) Department of Agriculture and Agrifood (DAA), who are also offering favourable land rental terms, consultancy, as well as equipment and material subsidies for farmers.
The documentation of efforts to encourage young Bruneians to start and run their own farms however, is not complete without a feature into AgroBiz – one of the most ambitious CSR projects focused on spurring agripreneurs – and how its multi-million dollar investment could lay the groundwork for new talents and best practices to emerge in the sector.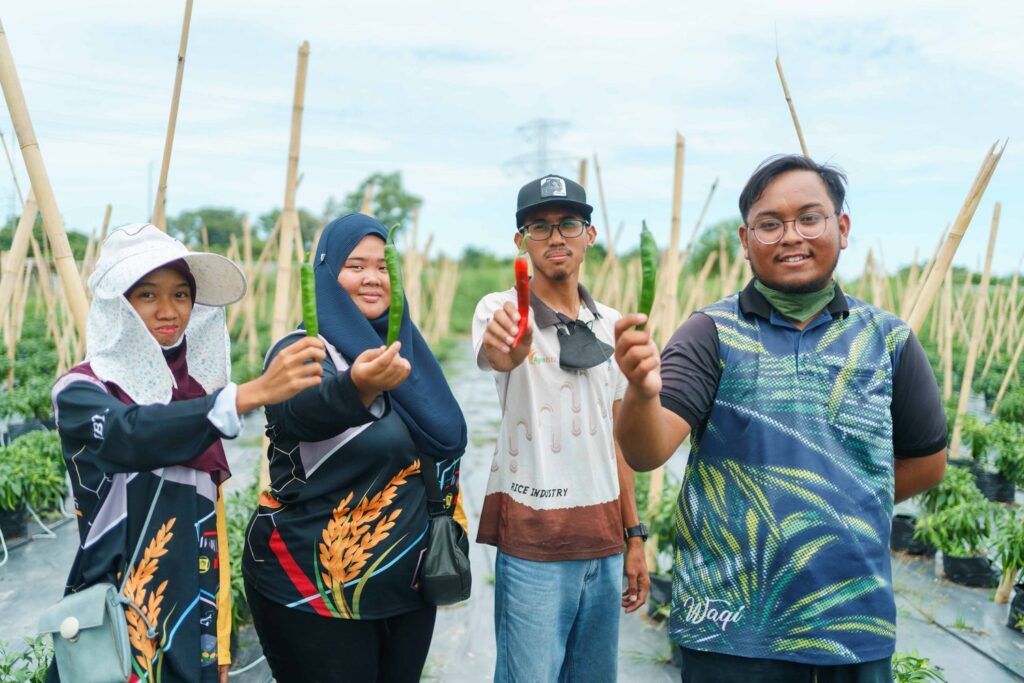 Bridging CSR, academia, and business: AgroBiz's three-year campaign
Like many that are born and raised in Belait, Md Azizan Adi Hj Md Azlan grew up with dreams of pursuing an engineering degree and finding lucrative work in the oil and gas industry.
When he failed to achieve the necessary grades at A-Levels to fulfill his aspirations, he began searching for alternative routes to further his education that still appealed to his science background.
"I was upset that I could not meet my goal (of university) but I didn't give up looking for something else that I could learn," said the 23-year-old. "I was reading and hearing a lot in the news about agriculture, and then found out about IBTE's programmes, especially their HNTec in AgroTechnology."
The two-year AgroTechnology programme offers participants five options to specialise in for their final year, including the rice industry and crop specialisation.
Azizan's enrollment into IBTE was timely – right around the one-year mark into his studies, Brunei's Shell LiveWIRE arrived on the Agro-Technology campus in Wasan to speak to students about AgroBiz, which would serve as an option for the second half the HNTec in AgroTechnology programme.
"It was explained to us that AgroBiz would bring in the latest equipment and instructors to guide us in planting commercial-scale trials for rice and other cash crops at the IBTE campus (pictured below) itself," recalls Md Azizan.
"There would also be a lot of training on how to set up and run our own businesses from LiveWIRE. We were of course very excited at the idea of having the support and knowledge to start our own operations. It was the best way we could spend our second year."
Driven by LiveWIRE Chairperson and Brunei Shell Petroleum (BSP) In-Country Value Manager Hjh Rosita Hj Hassan, AgroBiz was a three-year commitment to create agropreneurs with IBTE.
BSP's social investment arm LiveWIRE would invest over $2 million to set up a "full supply chain" for rice planting at the Agro-Technology Campus which included an on-site milling facility and the latest equipment including combine harvesters, transplanters, vertical dryers, tractors, and drones.
Ten hectares was developed for AgroBiz participants, with each student receiving their own lot to manage. The project deployed a seven-step rice production cycle from field preparation to processing and distribution, using organic fertilisers and limiting pesticides by emphasising natural solutions to mitigate pest outbreaks.
While rice was the priority, cash crops, most notably chillies and rockmelon, would also be taught and planted by students using a fertigation system.
Beginning in 2019, a total of three cohorts of AgroTechnology participated in AgroBiz: 10 graduated from the first cohort, another 13 in the second, with nine in the third and final cohort who are set to graduate at the end of the year.
With equipment considered to be amongst the most modern used to plant rice in Brunei – and close monitoring from the appointed project manager – AgroBiz's yields were above the national average; with Azizan's cohort's first planting cycle yielding 8.5 metric tonnes (MT) per hectare, which increased further to 9.6 MT in the second harvest, one of the highest recorded rates in the country.
Last year, a simpler version of the programme called AgroBiz Plus was introduced in partnership with the Ministry of Culture, Youth and Sports' Youth Development Centre to cater to those without an academic or farming background, with 13 Bruneians graduating.
A reductive analysis of AgroBiz was that it at least proved that young Bruneians, backed with the necessary expertise and resources, could grow rice effectively – considered one of the most labour intensive crops – without relying heavily on foreign manpower.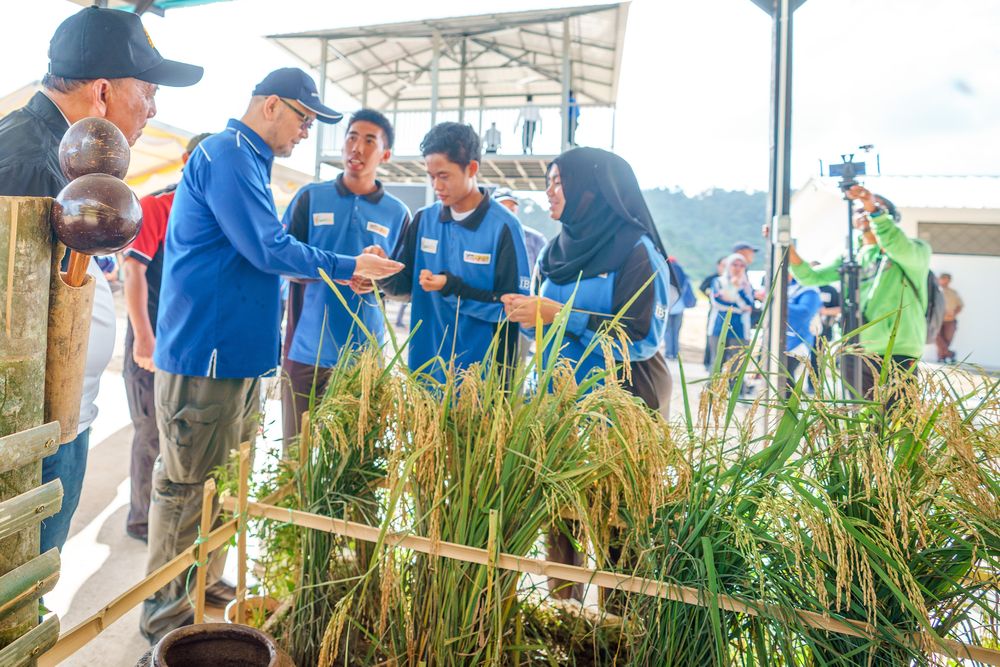 Enter AgroZid: an exception or the new trend?
High off the momentum on enrolling into AgroBiz, Azizan and three of his course mates registered their own company in their final year called AgroZid.
According to Azizan, this was to be expected – given the programme's ultimate objective of producing agripreneurs. To-date however, AgroZid is the sole active enterprise formed by AgroBiz graduates.
Excluding the quartet that formed AgroZid, 17 of the 19 remaining graduates from the main AgroBiz programme are working for farms or service providers in the agriculture industry, while another two are furthering their studies.
Equipping the industry and the companies within it with skilled, local manpower is a noteworthy feat by AgroBiz, but it still begs the question, was the formation of AgroZid an exception, or does it reflect the possibility that the other graduates may one day form their own companies?
Perhaps the more pressing question is, why do the graduates prefer to work for farms instead of starting their own?
The answer lies in AgroZid's chilli farm in Sg Liang. The 2.5 acre plot is not their own, but is being sub-leased from its original operator, Kitani Enterprise, who had ceased using it in the wake of COVID-19 which left them without foreign manpower.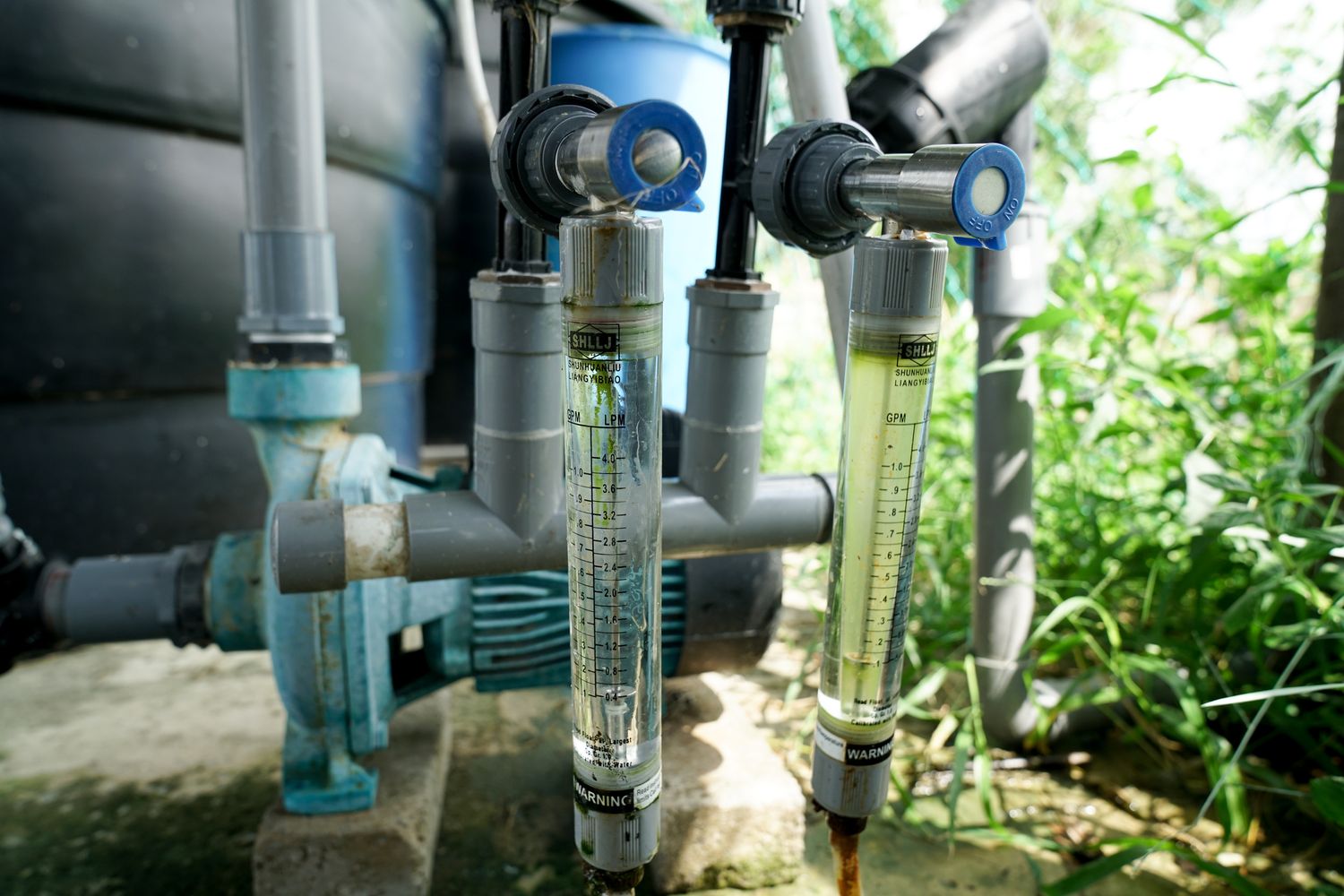 AgroBiz's appointed project manager Hj Arine Hj Budin connected AgroZid with Kitani, who agreed lease out the site on a profit-sharing arrangement with AgroZid.
Although the site was cleared when AgroZid moved in, the total cost of re-starting operations – which include buying seeds, the growing media and setting up of a fertigation system to dispense water and fertilisers to each polybag – was in the region of $10,000.
Azizan shares that they were fortunate enough to raise private seed funding for this amount. But unlike other new businesses such as those based from home making food takeaway, or whose model is based on importing and re-selling white label products – the turnover time to create a raw, agricultural product for sale is much longer in comparison, and is undoubtedly fraught with natural risk factors such as weather and pests, which are challenging to mitigate in their own right when resources are limited.
At the beginning of December last year, AgroZid began their first cycle with 1,260 polybags of chilli plants. Under optimal conditions, each plant is capable of producing upwards of two kilogrammes (kg), fetching $5 to $10 per kg on the market. Their harvest earlier in May was valued at $5,000 to $10,000.
AgroZid will surely increase their profitability with their target of planting 10,000 polybags within two years – with the site's maximum capacity estimated at 40,000 polybags. But for the average young person, the prospect of needing to raise capital, and then putting forward six months of effort before seeing any revenue is understandably daunting, which is most likely why many have preferred a steady paycheck over being self-employed.
"In the beginning, amongst us course mates, we had this idea that we would (each) set up different companies catering to different parts of the agriculture value chain; some of us focus on planting, others on processing and so on," said Azizan.
"Over time however others were able to get jobs in agriculture, but for us (four) we really wanted to see our own project through. Alhamdullilah with the support of LiveWIRE, IBTE and Hj Arine, we will be able to sustain and grow AgroZid on its own, maybe even hire more locals to join us in the future as we grow."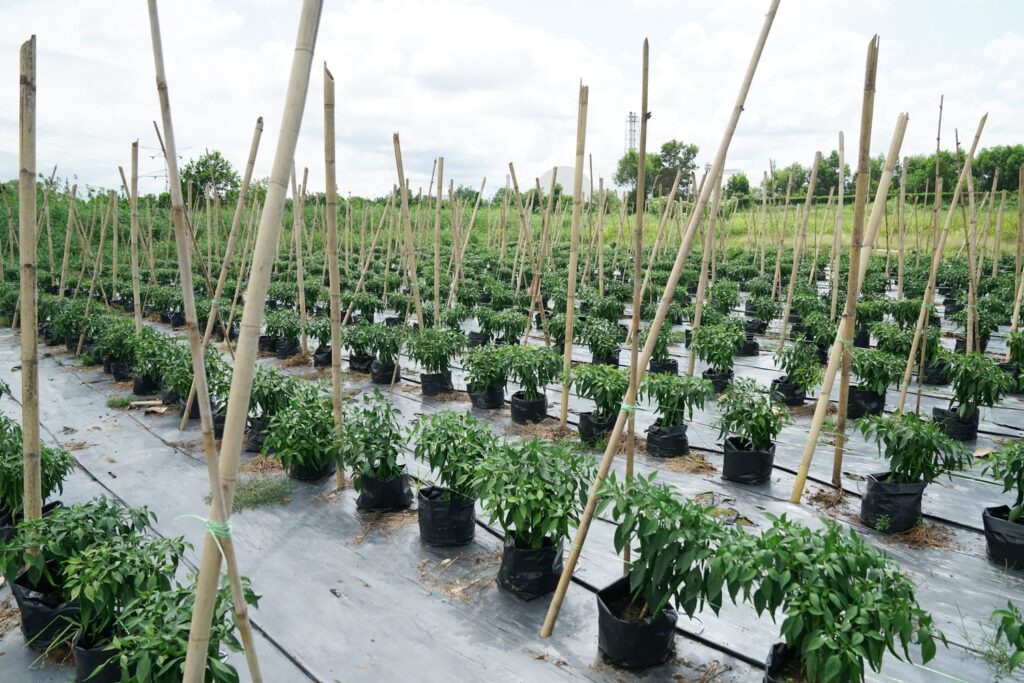 'New generation must step forward'
A civil engineer turned agripreneur, Hj Arine is Azizan's preceding generation, having left his career in BSP in 2009 while still in his 40s to start his own farming contracting and consultancy business, which operates today as LNS Trading & Construction and BINA L.N.S.
Hj Arine's over decade long stint in the agriculture industry has seen him play a role in setting up several paddy plantations across the country, including in Batong, Junjongan, Sg Lalit, and Labi.
Today, he's actively involved in developing Brunei's first home-grown hybrid rice Titih, which is also being touted as having the potential to be the highest yielding mass-planted variety.
For young agripreneurs like Azizan, Hj Arine's value extends far beyond the technical course content of the AgroBiz programme, as he now informally – but indispensably – serves them as a mentor, looking out for new opportunities for them, and willing to provide hands-on check-ins when needed.
Between the formal educational institutions which churns out graduates and the government agencies that oversee the industry, there is still a clear need for those who have established themselves in the field to mentor the up-and-coming generation. Especially in the field of agriculture, which we are intimately familiar with from the food on our plates, and yet at the same time unfamiliar with the systems and people who produce it.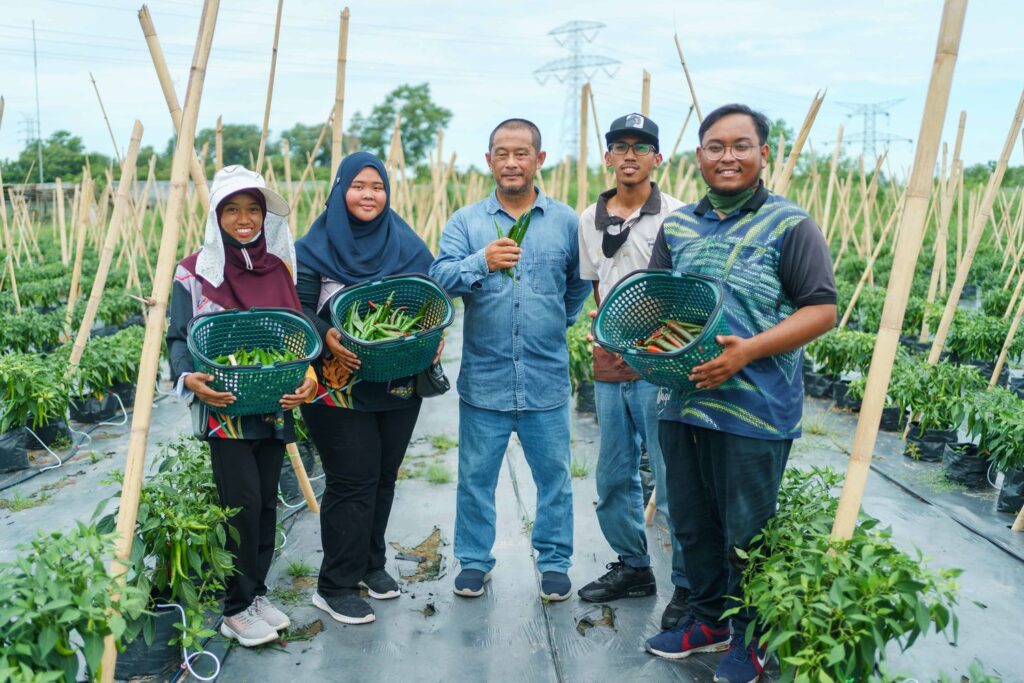 The legacy of AgroBiz will extend beyond its 40 plus graduates: IBTE will carry much of the syllabus forward into its AgroTechnology programme, especially the component of having students plant commercial-scale trial cycles, though likely on a smaller scale.
Students and research projects will continue to use the equipment invested, and harvests of students' cycles will still be sold to the public.
In the bigger picture, Brunei's agriculture industry continues on a positive trajectory, notwithstanding recent challenges including the pandemic and rising inflation.
From 2010 to 2021, agriculture output increased from $70.25 million to $107.31 million, subsequently raising the sector's contribution to GDP from 0.38% to 0.57%.
Self-sufficiency in the most popular livestock category, chicken and eggs, hovers above 99%, with tropical vegetables at 66% and tropical fruits at 42% – but rice imports are still critical, with local produce able to meet only 9% of demand.
The original theme of replacing ageing farmers may be less of a factor for smallholder farms that have transformed into corporations with proper succession plans, but for youth setting up their own ventures straight out of the education system, it is likely that they will be looking to companies like AgroZid and other self-starters for validation.
"If you consider that this is their (AgroZid) first farm, first cycle, run by themselves straight out of school, the result is beyond our expectations," said Hj Arine at their first harvesting ceremony two months ago.
"Of course there is room for improvement; with some adjustments to the irrigation, I think we can improve yield another 30% to 40% in the next cycle."
A fitting conclusion to AgroBiz is that with the majority of its young graduates working in agriculture, it marks a small, but meaningful shift in having Bruneians getting started in the sector at a much earlier age.
"In my time, a lot of the new farmers were people who recently retired. I myself was in my 40s when I started; they (AgroBiz graduates) are only in their early 20s. So their potential, their path – it's there clearly. If we have more youngsters either starting farming businesses or working in the agriculture industry from an early age then our future is very promising. But more must step forward."
The global pandemic has put the spotlight on food security, with disruptions to logistics shorting supply chains; once again drawing attention to the importance of local agriculture not just as another business activity, but as the fundamental commodity needed for survival.
As His Majesty the Sultan and Yang Di-Pertuan of Brunei Darussalam pointed out back in 2018 – there can be "no more excuses" for not developing agriculture in the country.