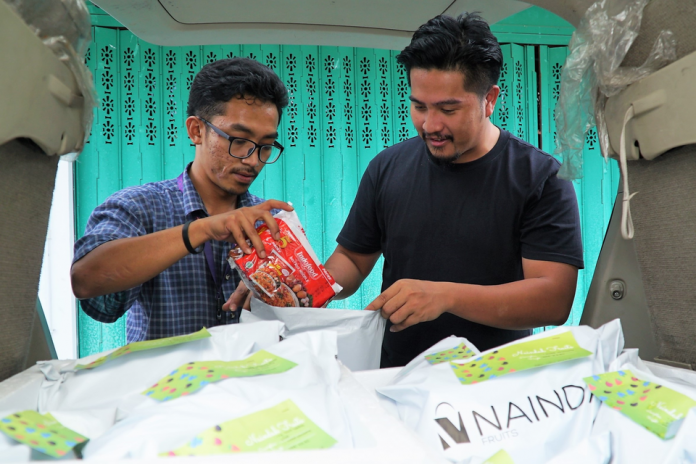 Online grocery store KadaiRuncit has introduced same day delivery while also expanding to take orders through WhatsApp and social media platforms Facebook and Instagram.
Orders made through KadaiRuncit's platforms before 12pm would carry a guarantee of being delivered to customers on the same day, with a flat rate of $5 for Brunei-Muara, $6 for Tutong and $7 for Belait.
Founder Aizuddin Fakhri says the latest changes come after assessing customers' feedback for their website which launched in May 2017.
"The flat rate allows people to order as much as they want, especially bulk deals, without having to worry about having to pay a larger (percentage) cut," said Aizuddin.
"Realizing that Bruneians really enjoy communicating through WhatsApp and social media platforms instead of logging in and creating accounts on websites, we've begun accepting orders directly from instant messages."
KadaiRuncit's business model revolves around logistics. They don't warehouse or stock products, choosing instead to procure from suppliers and supermarkets after customers have placed an order.
Aizuddin claims that they do not have any profit margins on the products listed on their platform, earning only through the $5 service (delivery) fee.
"The majority of items in bulk (packaged and non-perishable) listed on the website are from wholesalers, so our price is very competitive against supermarkets," said Aizuddin. "For smaller quantities and more perishable items, we usually just buy from the supermarket and deliver to the customer, without any markup."
With KadaiRuncit focusing on food, Aizuddin has set up another e-commerce business Naindah to cater to other consumer goods including electronics, clothes and household supplies.
Naindah functions as an online marketplace that houses items from businesses and individuals with a commission rate of 15%. Unlike KadaiRuncit, Naindah stores the majority of sellers' merchandise at their warehouse in Jerudong and carries no delivery or service fees towards the customers.
"Because we are charging a commission (for businesses selling on Naindah) there isn't any additional fees for the customer, but with KadaiRuncit there's a flat service rate because there isn't any commission or mark up on the products sold," said Aizuddin.
The 28-year-old, who owns IT company TechBru Solution, also mentioned that he's waiting for Autoriti Monetari Brunei Darussalam's approval to introduce WasapPay, a digital payment mobile app that integrates WhatsApp messaging.
The app will sync with users' Visa or Master cards, enabling businesses to generate payment links that can be listed or sent over social media.