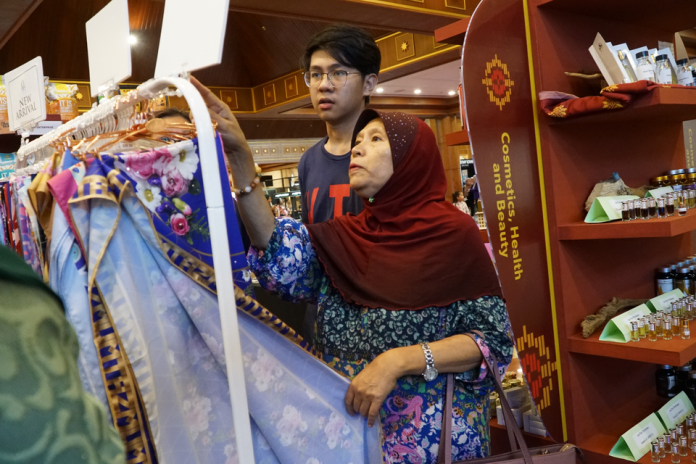 Darussalam Enterprise's (DARe) Bruneian Made initiative is showcasing over 90 different products from 12 local micro, small and medium enterprises (MSMEs) at the 24th Consumer Fair at ICC until Sunday.
The Bruneian Made booth is located at the central concourse area and brings together fashion businesses VHC Company, Mumtaz Collections, Batik Desamas and Koleksi Husna, health and beauty products from Cahaya Gaharu, Perusahaan Imanputera and BruPhar and packaged food and beverage from Amal Hadizat Enterprise, Syanisah Enterprise, Ianna Enterprise and Karup.
DARe Market Access officer Muhd Zul'izzat Hj Abd Halid said DARe is looking to use Consumer Fair as a platform to gain wider recognition for the Bruneian Made initiative and to help raise awareness on locally designed and made products.
Bruneian Made was first introduced as the 'Made in Brunei' initiative 2017, with the aim of reducing the barrier for SMEs with local brands to enter the local market.
A total of 30 MSMEs have participated in the initiative to date, which is segregated into a dedicated supermarket shelf and an 'Unexpected Treasures' display shelf for higher-end products.
The supermarket shelf can be found at the Hua Ho branches in Tanjung Bunut, Kiulap, Manggis and Tutong, Supa Save outlets in Mata-Mata and Seria as well as Sim Kim Huat at the Airport Mall. The Unexpected Treasures shelf can be found at The Empire Hotel, Mulia Hotel, Yayasan Shopping Complex and Rizqun International Hotel.
"We are continuing to search for and welcome both retailers (looking to house the shelves and local products) and MSMEs (looking to supply to shops)," said Muhd Zul'izzat. To participate or learn more about Bruneian Made visit DARe's website.