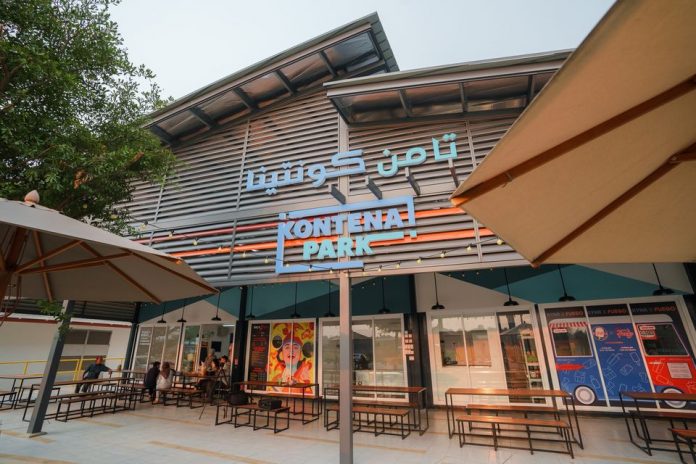 Darussalam Enterprise's (DARe) food and beverage (F&B) incubation retail space Kontena Park in Anggerek Desa is inviting local vendors to apply for its newest batch to begin occupancy this October.
Eight container-styled units are available for rent at $350 monthly. Each unit is split into two segments; a 10ft by 10ft front service area and an ABCi certified 10ft by 10ft kitchen in the rear.
Kontena Park's shaded seating area can house up to 140 customers, with free WiFi also provided for customers.
Applicants must be businesses fully owned by Brunei citizens or permanent residents and have developed their own brands. Tenancy is one year, during which vendors are required to open daily and submit monthly sales reports to DARe. Two months of advance rental is also required.
Executive Officer at DARe Khairul Azmi said that Kontena Park aims to help local F&B vendors – especially home-based businesses – gain experience operating within a commercial premise.
After their tenancy, Kontena Park's vendors are targeted to graduate to other commercial spaces and potentially establish their own retail chains or franchises.
During their tenancy at Kontena Park, Khairul said businesses would also receive business training, consultancy and marketing support from DARe.
Kontena Park is located at the end of Spg 32-37 in Anggerek Desa, behind the Design and Technology building's multi-story car park. The facility was launched in May 2017 and re-opened with all-new design in October 2019.
Business can download the application form through DARe's website. Deadline for application is July 1, 2020.