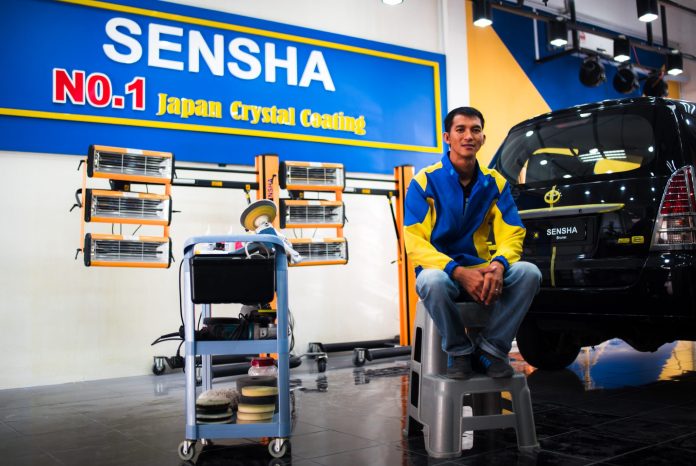 At the turn of 2012, Rejemi Hj Suhaili handed in his resignation to Brunei Shell Petroleum.
Then 28, Jimmy – as he's affectionately called by family and friends – was married and blessed with two children who had yet to begin school.
He worked diligently through the ranks to reach a position of IT supervisor; a considerable feat, having joined as a cleaner just three years prior with a formal education only up to primary five.
But Jimmy harbored a dark secret.
He had been using methamphetamine, known locally as syabu, since he was 12.
Raised in Sungai Teraban, a quiet village just before the Brunei border with Miri, Jimmy, as early as the age of 10, would wait by the riverside to trade with fishermen – helping them moving small amounts of syabu in exchange for money.
His dad relied on old age pension to raise seven children. With barely enough to go around, Jimmy dropped out in Year Five and began working odd end jobs, allowing his younger siblings to continue school.
As Jimmy grew older, he took up full-time menial work and was able to stop moving meth. But for more than a decade, Jimmy would continue to use.
On a routine day at work, narcotic authorities ambushed BSP's headquarters, cuffing Jimmy and brought him in for a urine test. It turned up negative.
They ambushed him a second time at his home; but the result was no different.
"I was taking a drug that masked my meth use," said Jimmy. "I thought I was cheating the system… but as the days turned to weeks I began to realize: I was cheating myself – out of my own future and family."
Jimmy took a crack at breaking the habit but he would last just over a week before relapsing.
"My addiction began to haunt me," he said. "No matter how I tried, I couldn't wrestle out of it."
He dropped the masking agents at the start of the year, tested positive 12 times and was admitted to the national drug rehabilitation centre Al-Islah on the 27th of March 2012.
Adding to his pains, he mistakenly assumed that his stay would be brief, believing that he was classified as a resident who voluntarily turned himself in.
"Entering I thought I would be in for six to twelve months," said Jimmy. "But since I had tested positive, the standard would be 36 months. I was devastated. I hadn't planned to be away from my children for so long."
Unfolding a clenched fist one finger at a time, Jimmy explains the four stages of rehab; red, blue, yellow and white.
By yellow, addicts would have successfully weathered the withdrawal effects, display a modicum of mental discipline and would be offered an opportunity to do a work attachment before finally leaving the institution.
Jimmy was fourth in-line to work at a car wash in Sengkurong, but he was the only one fit , willing and able to drive to work.
Earning just $200 a month, Jimmy began to pioneer a highly detailed 16 to 32 step car wash, and customers started to take notice. But with the hours long, the weather hot and his home located more than 100 kilometres away – few believed he would last.
"I blocked out all the critical voices," said Jimmy. "All I focused on were the customers. Were they happy. Did they leave satisfied. Were they returning?"
On the weekends, long lines began to form – even though there were plenty of cheaper options in the vicinity. The business had also started to use products from a leading Japanese brand Sensha, who have more than 800 outlets across the globe.
Seeing potential in the Sultanate, Sensha invited Jimmy to China for a two week course. After, they offered the business exclusive distributorship in Brunei, and in January 2015 the car wash rebranded as Sensha Brunei with Jimmy appointed as the sole supervisor.
They expanded from housing two cars to five; three for washing, one for detailing and a special air conditioned section where cars are coated with a layer thin glass that protects paint from minor scratches and imbues a deep wet gloss that has car enthusiasts raving.
Jimmy marshaled a team of six Bruneians and two foreigners for the next 18 months and business began to boom. Underneath however, trouble was brewing.
"I learned that the business was not purchasing the amount of product stipulated within our agreement," said Jimmy, who decides against disclosing further details of mismanagement. The bottom line was that Sensha delivered an ultimatum:  it would only continue in Brunei under a separately registered business and with Jimmy leading operations.
"I needed more than $70,000 to buy over the (outlet) assets as well pay for a year's minimum product supply," said Jimmy. "But I was earning a salary much less than a thousand. There was no way I could afford it."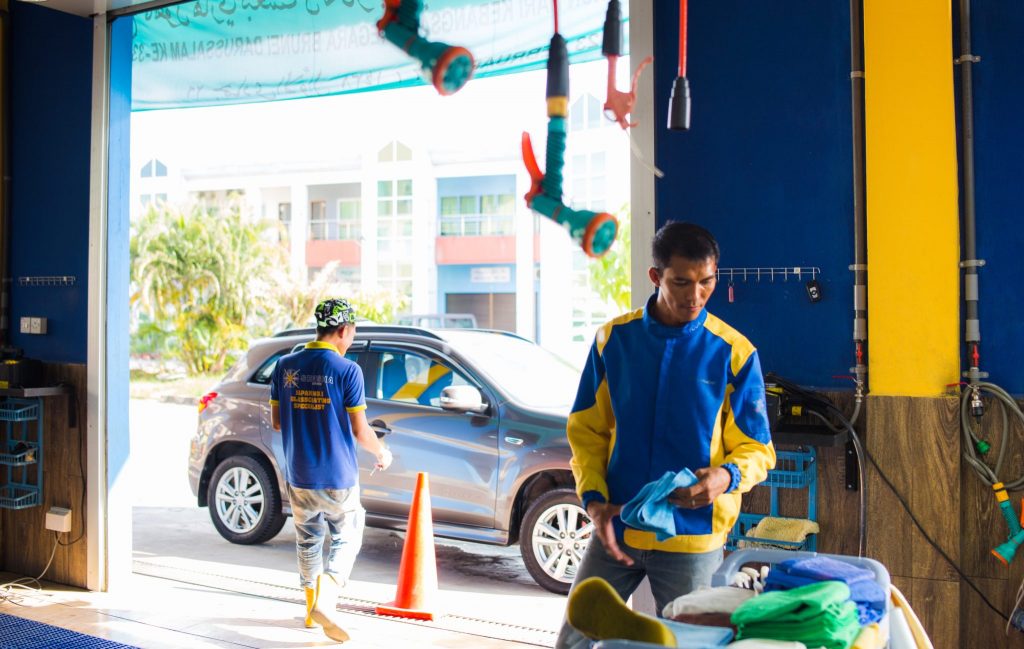 As he searched for an investor, Jimmy had to shut down the business. On a purely personal basis – he continued to hold up the warranty of car owners who had their cars glass coated.
"How could I get people to trust in me, if I couldn't deliver something we had promised them?" he said. "They spent their hard earned money on us. They had done nothing wrong."
A Bruneian investor, who happened to overhear Sensha's overtures to Jimmy whilst vacationing in Malaysia, decided to fork out for the sum and house Sensha under a newly registered business name.
"Jimmy's the man," broadly proclaims the new investor after Jimmy introduces us. "This is his show. They (Sensha) have entrusted him to do it."
Jimmy now lives in a small apartment above his car wash, and as we take the stairs up, he's excited to update me that Sensha have been awarded the franchise and distribution rights for the whole of Borneo.
"With the new investor on board we want to open branches in Kuala Belait and Muara," he says. "Next up: Miri and Sabah."
Two to three times a week, Jimmy will drive back up to see his family. He says he doesn't worry that others know about his history of drug abuse – but admits that it cuts deep when he learns that his kids are chastened about it.
Every morning, Jimmy puts on his shoes and heads downstairs to open the store. A customer will usually come within minutes of opening – and perk up at the sight of Jimmy being there to greet him.
"I would like to own a share of the business one day. But it is not my rezeki yet," said the 35-year-old. "For me the only thing that matters is that I do the best I can every day, because that is the only thing that I can do, to make up for the wrongs that I have done."