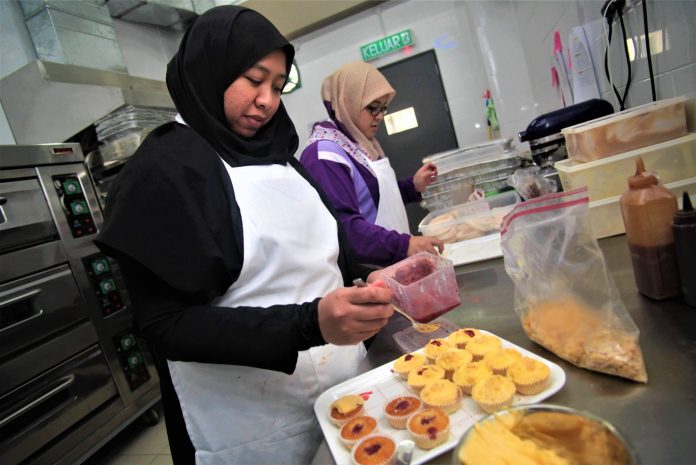 "At Sweet as Sara, we're not selling just cupcakes or desserts for that matter.. we're selling the feeling of happiness and joy. The ambience offered is meant to invoke these feelings so that families who come here can feel close," said Sarinahayati Hj Mohamad Taib (pictured) the founder of Sweet as Sara.
As I set foot in her newly opened cafe in Kiulap, that was exactly what I felt.
The first Sweet as Sara standalone outlet was officially opened early January, 2017. A horde of sweet-toothed Bruneians gathered at the venue to be among the first 1000 customers to receive their free desserts. The character of the space was livened up by the sweet aroma of freshly baked desserts, pink and purple walls, and more importantly the friendly smiles of the waitstaff.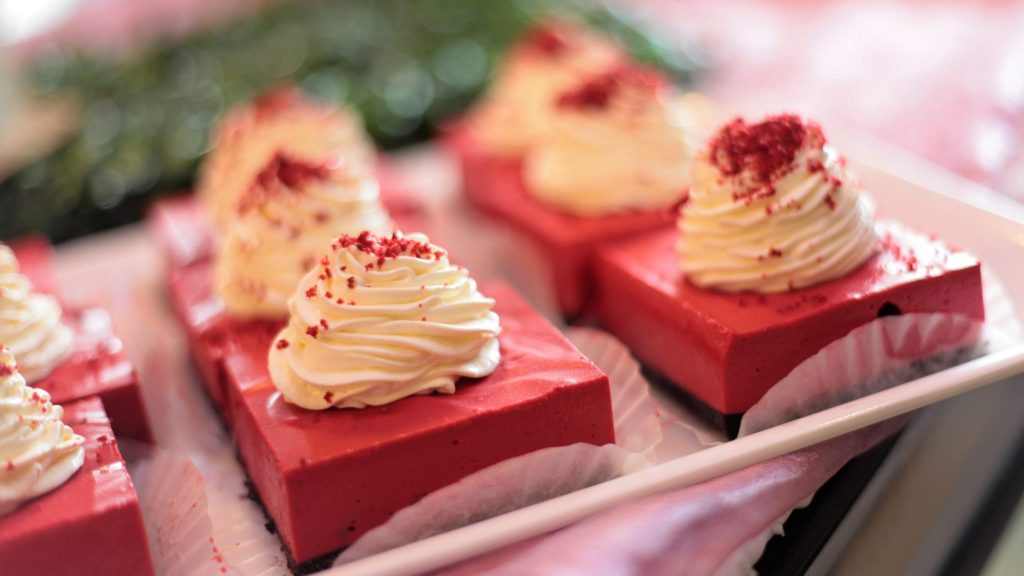 Five years ago, Sarinahayati did not expect to be destined with such fate. "It was merely a weekend hobby to appease my pregnancy cravings. Albeit being a foodie, I was not even a baker to begin with!" confessed the 36 year old mother of three. "I shared my desserts with my family mostly, it never occurred to me to capitalise this new-found hobby of mine and turn it into a business until my husband suggested the idea."
"Red Velvet, Matcha White, Watermelon Milkshake and Chocolate. Those were my first four flavours," she recalled. All of the recipes being utilised are all claimed to be her very own with the exception of the Kueh Mor, which is her mother's. While they thrive to innovate new products based on the current local trends, it is no easy feat given the varying weather conditions.
As I sat there, savouring my complimentary Matcha Latte, Sarinahayati enlightened me on the science of cupcake making: "Different places have different atmospheric conditions affecting the end-product of the dessert. The humidity of the kitchen is a significant factor. What works for my kitchen at home will most definitely not work in the kitchen that we have here."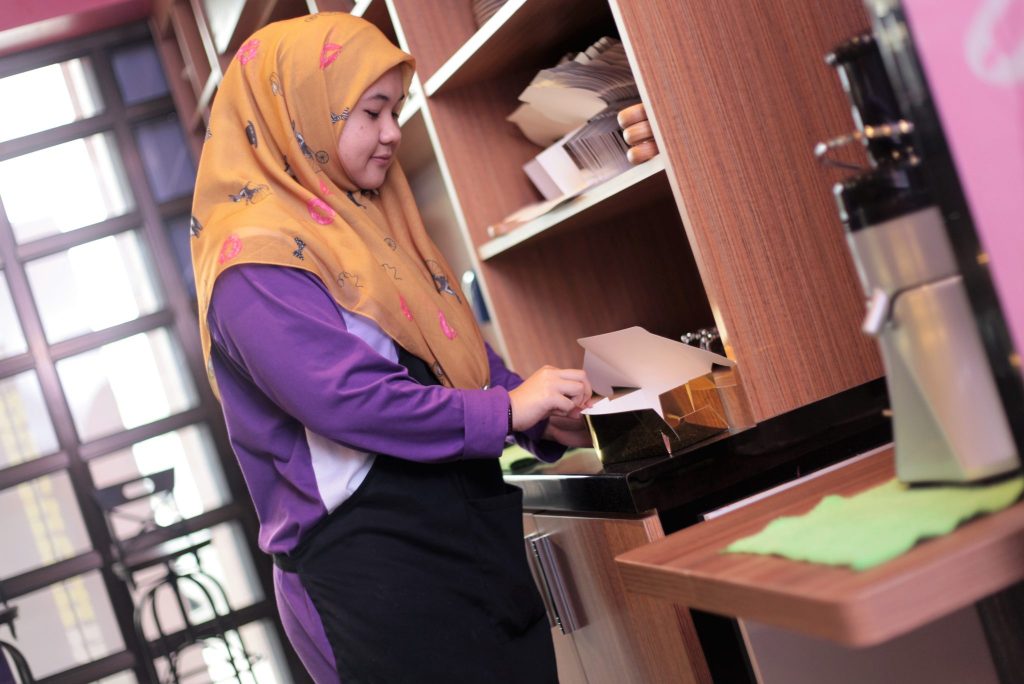 What initially started off as a weekend hobby, evolved into a part-time business and eventually, full-time; four cupcake flavours has since extended into more than forty. When she first started, she was employed at Brunei Shell Petroleum. Two years into her Sweet as Sara venture, she made the decision to resign.
In between online orders and personal life, she was actively participating in expos where the demands were extraordinarily high. During these expos, she could better gauge the demographics of her clienteles and observed that there was a need for physical presence. Online bakeries were in abundance which made her feel the need to remain prominent in the market. Therefore, the establishment of a physical shop was due.
Her first step towards this was setting up a dessert bar at Amsarra Restaurant, Airport Mall. "This saved my customers the hassle of ordering in advance and ultimately provided them the convenience of dropping by any time they like," she said.
For four years, it was a lone and exhausting journey. "It was a battle of my wanting to deliver my passion vs my resources," she let out. "I didn't learn to delegate. I couldn't. I simply could not entrust others with the diligence required to produce quality cupcakes. I still wanted control over my own business." That, she admitted, was a major setback. As the demand rocketed, she finally gave in. It was not until last year when she started hiring help to assist her in the kitchen.
Staying true to her intention to give back, Sarinahayati hired 10 locals and went against the stereotypical mindset of locals lacking work ethics.
"The key lies in a thorough recruitment process. Everyone deserves a chance, anyone can be trained as long as they possess a positive attitude and a strong will to learn," she explained, "As a business, there's a lot of contributions we can do. This includes giving help whenever and wherever possible. I wanted to make a difference in our community. With the current economic situations, I am trying to go against the odds. Otherwise how will we rise? Employing locals is one of the many ways this can be done."
"Running everything with Islamic values is the key. At the end of the day, a business will only thrive with Barakah from the Almighty," she shared, "Any issues, setbacks and challenges can be overcome if we hold on to our faith and beliefs. It's just another bump in the road."
"The company you keep is also crucial on your journey to success. It is important to surround yourself with peers who keep reminding you during your lowest moments that it is just part of the process. It's not going to be all rainbows and butterflies, ups and downs are part of the equation. Having that positive vibe will really carry you through," she concluded.
For the latest updates visit Sweet As Sara's Facebook or Instagram page. To get in touch directly contact +6738889169.