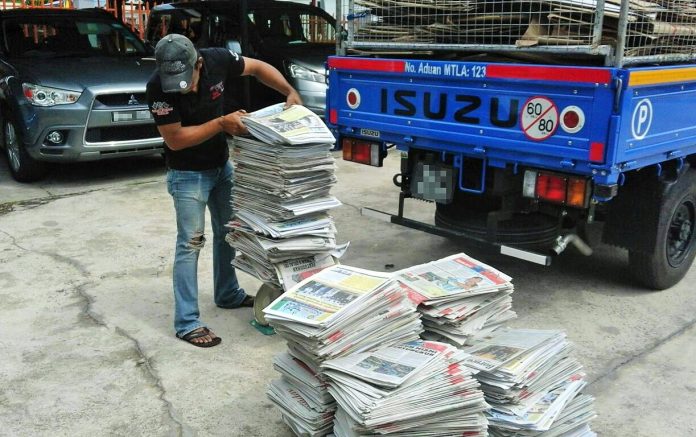 When Kelvin Bong joined A Global Green Recycle two years ago to lead operations, the company was already 14-years-old.
The business was running smoothly and had an established workflow in place: collect different types of discarded paper and boxes from large retailers and ship them out in 40 foot containers to Singapore, China and Indonesia.
A Global would pay between five and seven cents for a kilogramme of used paper and boxes. Kelvin, an optometrist by trade, thought great, but maybe there's a market we aren't capturing?
If cupcakes, supplements and clothes were already being advertised by Bruneians online – then why not waste?
And so the 33-year-old Bruneian began advertising posts on buying and selling groups on Facebook mid-last year.
"Trash to cash," it reads, accompanied by a picture of hundred dollar bills and stacks of used paper. "We do door-to-door pick-ups."
The queries came pouring in – mostly from the districts of Tutong and Belait – and almost overnight, A Global had an entirely new source of supply.
"In the past year, we have gone from collecting 100 tonnes of paper a month to 140 tonnes," said Kelvin. "That's a 40 per cent increase at least. One month, we were able to ship out 10 containers – each carrying 28 tonnes of waste."
His phone would be buzzing with inquiries: schools, families and oil and gas companies all wanted in.
Traditionally, most recycling companies in Brunei prefer customers drop off trash at their sites, and when making pick-ups, selectively target large establishments where agreements have been formally made such as malls and supermarkets.
"What changed my mind was a cleaner who asked if he could recycle," said Kelvin, who had first approached the cleaner's employer and manager to see if the company would be willing to recycle.
"They weren't interested," said Kelvin. The cleaner was of a different opinion. He quietly segregated the waste, neatly piled and packed it and called Kelvin.
"Every month he would make hundreds of dollars from the discarded paper and boxes," said Kelvin. "It had become equal to or more than his monthly pay. I realized then, there was a lot of potential that we weren't tapping into. In the business of recycling, a little goes a long way."
Today, Kelvin sends out three two-man teams, each with a truck and a minimum target 500 kilogrammes of waste paper and boxes to be collected by the day's end. Anything extra, the team splits amongst themselves as commission.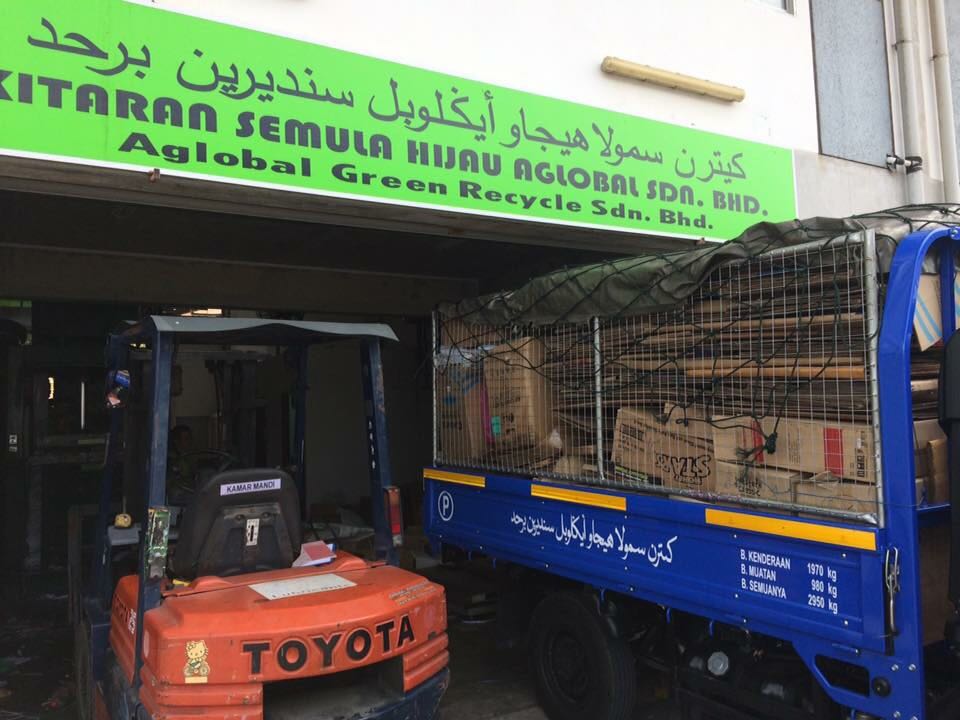 The paper collected is separated into five types: newspaper, white or lined paper, magazine paper, cardboard and other post-consumer waste paper.
Now, A Global is looking to seek out collaborations to collect waste from schools and to expand beyond paper and boxes and into tin cans and plastic.
"A school called recently after seeing us post online," he said. "When my men went to pick up there was 1,800 kilogrammes of paper. I had to ask the teachers: what normally do you do with the paper?"
The answer – whether from the school, homes or companies – is almost always the same: we just mix it in with the other trash.
If A Global is able to reach an arrangement with schools collectively, they may have enough supply to warrant doing the recycling itself in Brunei and export ready-to-use products, instead of just waste, overseas.
"Processing the tins and plastics into re-usable products can be done in the near future if we have the right supply and invest in the machinery," said the 33-year-old. "Recycling the paper in-house is more difficult, but is not out of the question."
A Global Green Recycle Sdn Bhd is located at Unit Number 19, Block B, Salambigar Industrial Estate in Brunei-Muara. For pick-ups or to learn more, contact Kelvin at 7196363.