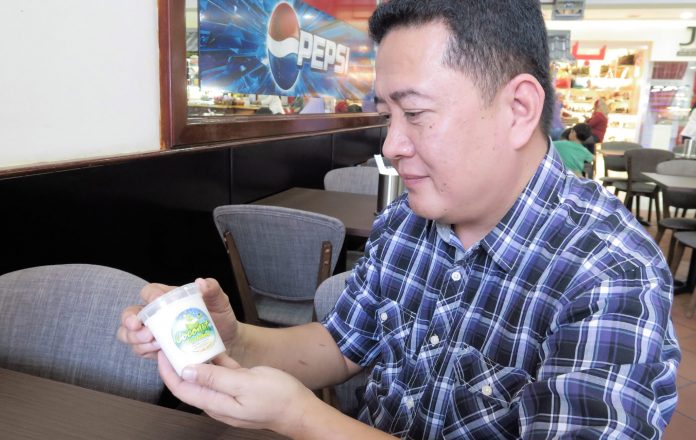 Over the past four months, a new brand of coconut pudding called Mix Coco has made its way to the refrigerated shelves of more than 10 retail stores across the Sultanate.
At just $1.50, promises a full cup of cool, smooth pudding. The label proudly brandishes Brunei Local Product at the bottom, and just slightly above, an address in Kg. Mata-Mata, presumably the site of its manufacturer Blink-Blink Enterprise.
The man behind the curtain is Roslan Hj Abdul Rahman – and while he may have an odd hand here and there to help out – he remains the sole full-time employee of his company.
Of humble demeanor, the 43-year-old former personal banker turned car sales consultant decided he had enough of both two years ago and embarked on an entrepreneurial journey.
He bought a trailer to sell food out of; serving coconut shakes and ice-cream as desserts and nasi lemak and home-made burgers as mains. The shutters would not stay open for long however; Roslan could not find anyone willing to take up the project with him long-term. "My staff would just take leave as and when they wanted to," he said.
It didn't stop him from thinking of the next step; he focused instead on what he was becoming known for – coconut desserts.
"In the Brunei community, I remember most from the older generation would drink coconut juice and eat the flesh. They knew the benefits of coconuts. From that, I could see the possibility of a (coconut) product doing well," said Roslan.
It might have taken a few tries, but business has been booming. Mix Coco made $12,000 in his starting months; selling orders of at least 100 cups to more than 10 retail outlets, four of them major supermarkets, including Hua Ho and Sim Kim Huat.
"Another 30 other stores and supermarkets have also informed that they want to take on the Mix Coco too," said the 43-year-old. "At the start though, it wasn't moving so easily. It took a great deal of convincing, to get supermarkets to take on a locally made product."
Roslan speaks forwardly about his objectives; he wants a product everyone will finish, with every spoonful being an experience worth revisiting. But when you make thousands of cups of pudding a month from home; things are neither quick nor easy.
He recalls an order of 700 cups taking about nine hours, even as he hired two extra hands to help him part-time.
"I want to have a big factory one day," he says with a smile, pausing before he says intently, "Because until when are we going to only rely on imported goods?"
While searching for a full-time team, Roslan will continue to bear the brunt, without complain. "See it through till the end," said the 43-year-old. "I don't want to start something, only to stop and then start it again."