Md Aisamuddin Hj Jeffri (pictured main L), affectionately known as Sam to family and friends, is the eldest of his three siblings, a recent graduate but have yet to be professionally employed.
The 23-year-old is like many others his age; he enjoys traveling, the outdoors and exercising, and is quite proud to have finished his diploma in Aircraft Maintenance Engineering last year from IBTE's Sultan Saiful Rijal campus.
And while he's tried, unsuccessfully so far, to get a job in the field of his study, Sam's focus has actually shifted onto something else for a while now – a little-known family recipe – that he's determined to make big.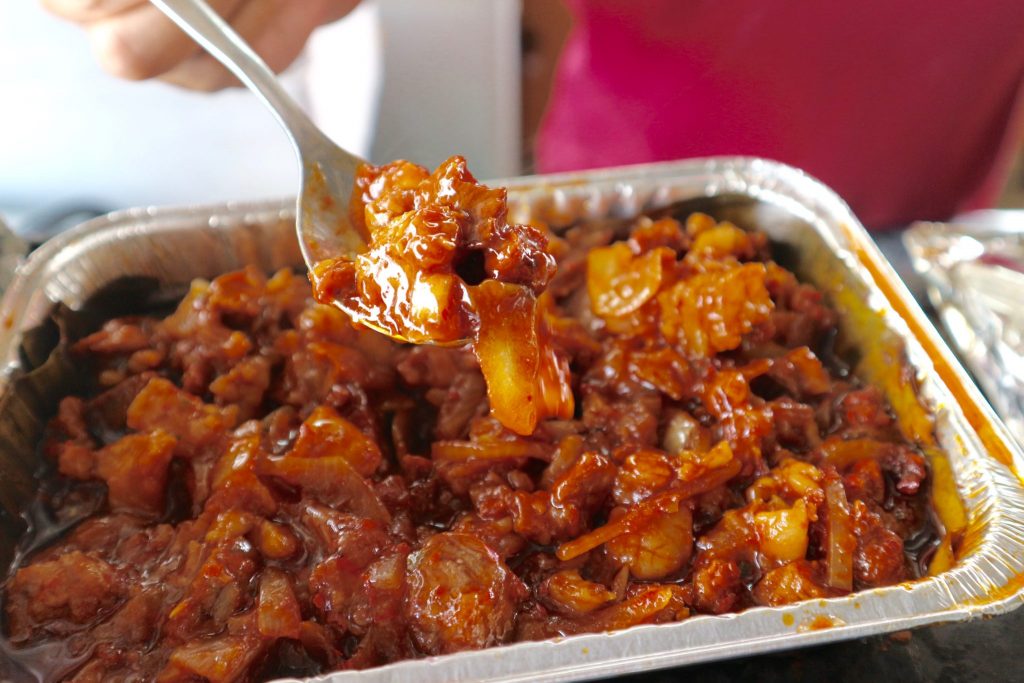 Pais Daging, a dish of small cuts of fatty beef marinated in a rich blend of chilli, diced onions, soy sauce, salt and sago, is a staple of local Bruneian cuisine. Wrapped in aluminum foil and braised over a grill, pais is a flavourful, sweet and savoury dish that's commonly eaten with a more plain carbohydrate source, like white rice or ambuyat.
A die hard pais fan may well know his favourite stall at the tamu or store to get pais, but there is still a strange shortage in local brands that have boldly branded themselves to capture the eye of the general public as being the pais stall to go to. This is what Sam hopes to change.
"Most Bruneians are quite familiar with pais," said the 23-year-old. "It's a delicacy here – but there hasn't been any particular brand that's really stood out and claimed the market."
Most vendors selling pais forgo branding it altogether, and Sam and his mother Rosnani, like to joke that they were in the same boat for almost 20 years – where they sold pais, without any specific name, and mostly on a seasonal or per order basis.
"It (our pais) was first Pais Daging Lambak when we were staying in Lambak. Then it became Pais Daging Hj Karas – a nod to my husband's nick name in the army, and then 'Pais Daging Lumapas' when we moved to the RPN (housing development scheme) in Lumapas," said Rosnani, who takes the lead on cooking the pais and learned the recipe originally from her in-laws. "Whenever my mother came around though, and saw my husband or in-laws cooking up the pais, she would always remark: 'Nyaman eh pais si Haji ani""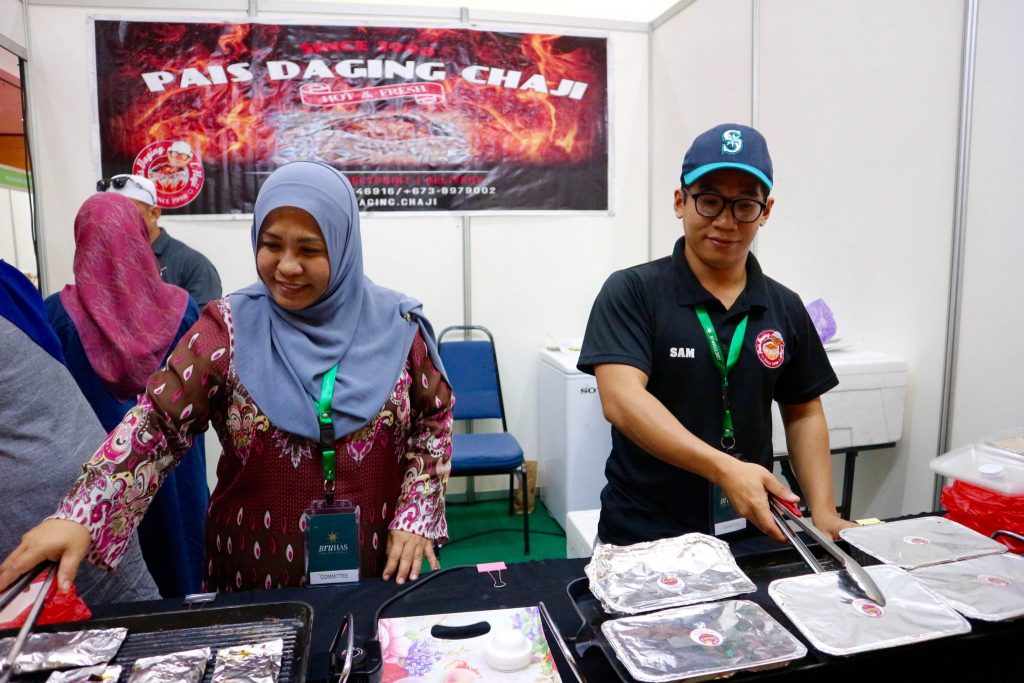 With so many selling pais, Sam urged his family to adopt a simple, catchy name that would allow the brand to stand out amongst the crowd. They decided that Pais Daging c Haji fit the bill, and Sam got to work.
"We set up social media accounts for Pais Daging c Haji, and began approaching store after store to see if they would carry our product," said the 23-year-old. The persistence paid off; Sam was able to get their product into a cube store called Rumah Manis along Jalan Pemancha and Faizee Trading grocery store in Rimba. Things began to snowball from there.
"A few months later (in May) we got the opportunity to take part in our first expo, the Made in Brunei Market Fair at Bridex (pictured below), where the public reception was really unexpected," said Sam. "Customers were flocking to our booth and were basically selling out hundreds of trays each day."
They followed up their public showing by running a month-long booth at the popular Gerai Ramadhan at the Haji Hassanal Bolkiah National Stadium. While not at expos or bazaar, Sam continued to make deliveries – even throughout Hari Raya Aidilfitri – while his mom continued to prepare the pais at home.
Last month they notched another modest milestone – opening their first, long-term physical site at the Sumbangsih Mulia Complex – and they routinely clear out the 60 plus packs, priced at $2 and $5, that they prepare daily.
"Right now we're looking at getting a cutting machine that can help us prepare the meat faster so we can produce more batches," says Rosnanie, who is relishing the prospect of taking the brand further. "We are also working on further developing pais as a frozen product, which the customers can store then easily heat at home."
Sam's 21-year-old brother Amirul, and even his girlfriend, who both were searching for jobs, are now employed in the business. Sam is also planning to partner with other local businesses to run an outlet opposite the Airport Mall at the end of the month, using an open table dining concept, where food is laid out on the centre of the table on a large platter for all to share.
"I haven't closed the door on working or having a career in what I studied yet," said Sam. "But what's more important now is that we continue to serve the customers and build the brand of Pais Daging c Haji. It's a blessing that our humble pais has been able to provide my family with income and employment."
Watch: Pais Daging C-Haji takes on Sumbangsih
For more information, follow @paisdaging.chaji on Instagram. You can also get in touch with them at +6738846916/+6738979002 or visit their storefront at #14, Sumbangsih Mulia Complex from 6am to 1pm daily.