Unassuming. Dressed in a plain white tee and jeans, with boyish curly-hair and a slender build, 24-year-old Wa'iz Maidin, a soon-to-be graduate of creative arts and technology at Universiti Brunei Darussalam (UBD) is easily lost, academically speaking, in a crowd of his peers.
In the classroom, his grades are decidedly average. He gets by as some would say, keeps to himself, and in fact should have graduated a year ago, but fell short of the necessary credits.
But there's a critical difference; this 24-year-old has already racked up five years of professional experience helping business owners transform the way customers experience their space through intelligent – and some may argue, pioneering – interior design.
"Growing up I always dreamed of becoming an architect," he says. "My dad was into construction. But my A-Levels (sixth form) results weren't good enough for me to get a scholarship (abroad to study architecture)."
Wa'iz, who was then turning 19, decided to take an apprenticeship in interior designing at SAMO Design Studio after his A-Levels instead while waiting to enroll to UBD.
It was here that he met brothers Holger (pictured R below) and Harry Hii (pictured L below), two young businessmen who commissioned him to revamp a more traditional IT, tables-and-computers office into a modern, warm and collaborative workspace.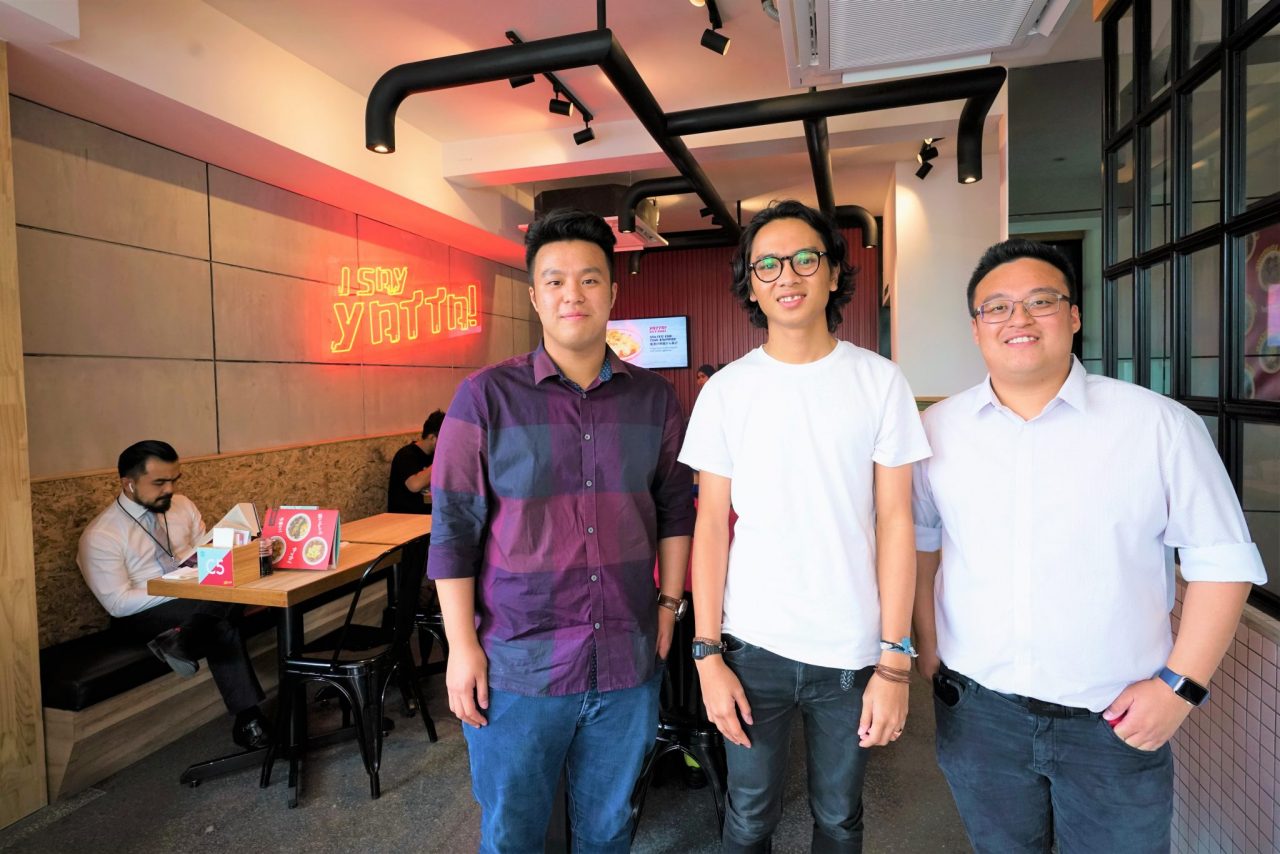 "I think we didn't really notice how young he was," jokes Holger. "What we were impressed with was his work. He was able to implement a new, unique yet practical design, that changes how you feel working at the office."
They would call up Wa'iz again for new businesses they were planning to open; from custom t-shirt printing company Letterbox to kitchen supplies store The Potters to local bubble tea brand Inifinitea.
By that time, Wa'iz had left his apprenticeship to set up his own company to do freelancing; working on Pelicana, Sate House, Nollybook, Bokitta and Tri-Ultra to name a few, and increasingly sub-contracted out the construction of his designs as he continued to refine and grow his approach.
Holger and Harry took notice and in the beginning of 2017, proposed to Wa'iz that they partner to set up a new creative company, Dimension, that would meld graphic design, marketing, branding, and interior design into holistic, complete solution for businesses to deliver to their customers.
To prove the concept could work synergistically, Wa'iz, now head of Dimension's interior design, had to deliver a locally developed, but Japanese inspired, street food brand that Holger and Harry were keen to bring to market.
"When designing the first I Say Yatta (at Regent Square, Kiulap) we were looking to bring an anime-inspired, street food, quick dining set up," said Wa'iz, whose earliest work for SAMO was characterized by the industrial, rustic look trending abroad.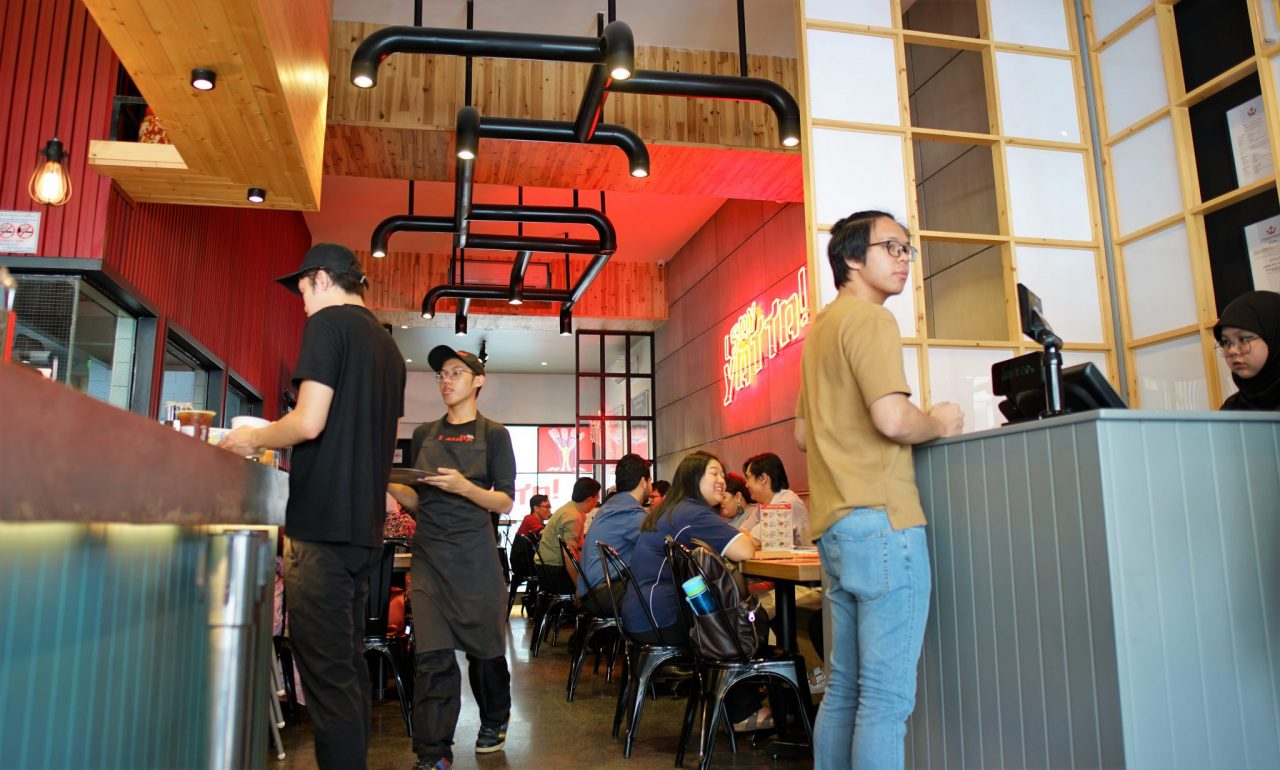 Before starting, Wa'iz must get the answers to the following: What does the client want? If it's a business, who and what are they serving? What do those customers want? What's the budget?
The design is then sketched and later rendered as a 3D model using the software SketchUp. It is then made a working drawing for an architect to verify and submit to the authorities, but not before another question is answered: Can the contractor implement this design?
"This (balance) is the most challenging part," says Wa'iz. "Technically, anyone can come up with a really ambitious, cool design – but will it be safe, will the materials be available, and will it fit the cost? A quality designer is able to take a design, meet the client's requirements, be innovative, meet regulations – and oversee its translation into reality."
Yatta's overall success after opening in March 2017, lead to the Hii brothers planning a larger branch with more seating in Serusop, which opened its doors yesterday.
Spanning two floors, Wa'iz was now working on his largest design, encompassing the exterior cladding of the building facing the road (pictured below), which he coloured in red and dark grey with open tall glass windows visible to any motorists passing by.
"Although we (generally) call it interior design (ID), we're really approaching (projects) from an overall (integrated) point of view. The interior (shop front), has to complement the interior for a truly smooth (seamless) customer experience," said Wa'iz.
"Back inside, we're also applying ID to the backend and kitchen as well. We look at how we can design to make the workflow more efficient; where and how the food should be prepared, where should the countertops be, along with the sink basin and placements of electrical sockets. The staff experience will affect the operation's efficiency which in turn affects the customer's experience."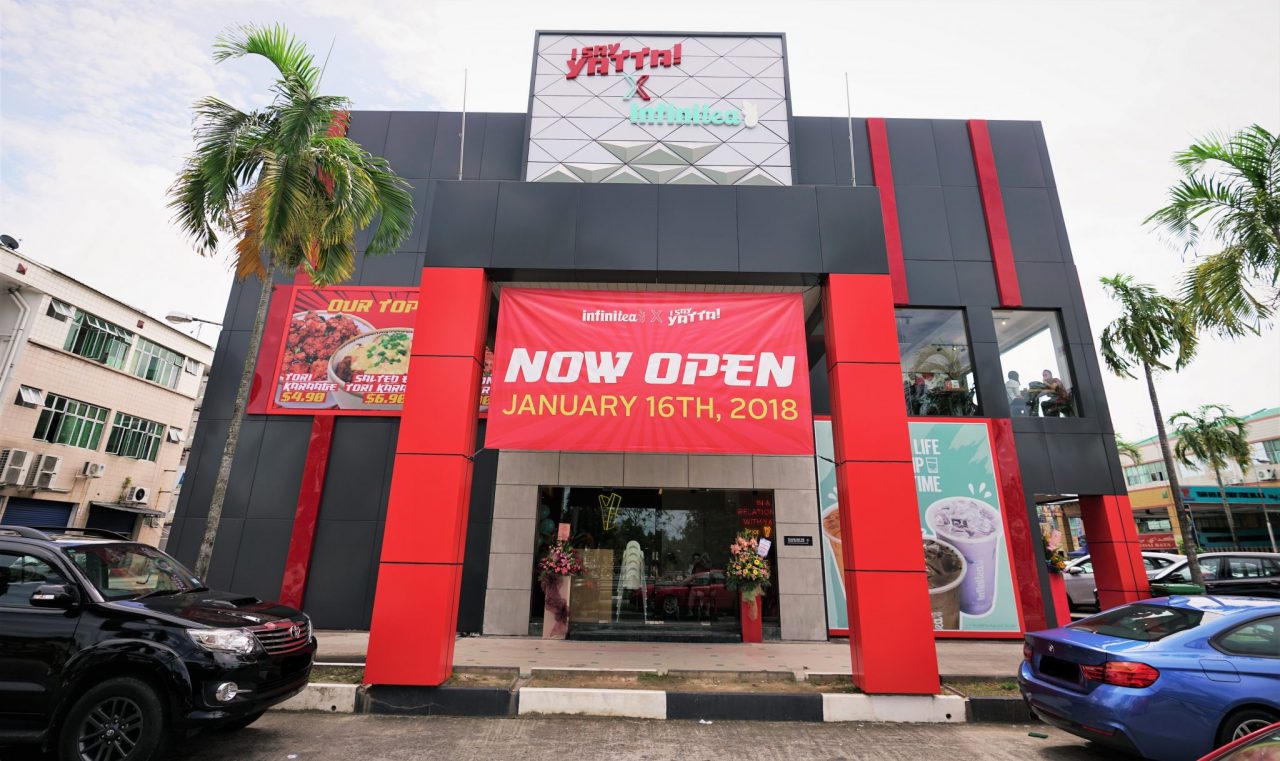 Start where you are. Use what you have. Do what you can.
It's a popular quote by the late tennis pro Arthur Ashe – and while Wa'iz may not be walking around spewing it, it's true that he's repeatedly missed the perfect start.
He didn't make good on his childhood dream to be an architect.
He wasn't trained in interior design by any formal institution.
He took on an apprenticeship, with a meager allowance, and later began full-time work – all while still in university – and as a result, almost failed his degree for poor attendance, as he worked past midnight to finish his designs.
He's not the ultra-disciplined, role model student, who exemplifies the work-study balance.
But he got started.
"I couldn't sit back, hoping someone would teach me what I wanted to learn," says Wa'iz. "And I couldn't wait until I graduated before I started what I knew I wanted to do."
To learn more visit www.dimension-company.com, or follow @dimensionbrunei on Facebook and Instagram for the latest updates. To get in touch directly contact +6732222008. Dimension is located at Unit 10, Block F, 2nd Floor, Simpang 150-17-20, Setia Kenangan 2, Kiulap and opens from 9am to 6pm, Monday to Fridays, and from 9am to 12pm on Saturday.