Good Home yesterday opened Aman Hills Shopping Centre with its second and largest branch that looks to be a "one-stop" shop for household and home improvement products.
General Manager of Good Home David Lau yesterday said that the local brand – owned by Townview – represents its parent company Goldmyne Hardware's latest expansion towards consumer retail, having originally begun in 1991 as a building material and hardware supplier in Brunei.
"We set up Good Home to be the next step towards catering to the home and living retail in Brunei," said Lau. "At first, this industry was mostly focused on selling hardware and building materials, catering more to businesses, but it has now shifted, where we also look to provide directly to homeowners and consumers by including household supplies and appliances as well as basic (DIY) furniture (like cabinets and shelves)."
Good Home's first branch was opened at Times Square last October, but its latest branch at Aman Hills is much larger, housing almost 5,000 products across 1,800 square feet. Lau said that Good Home carries its own private label brand of home supplies alongside established brands including Beger, Figo, Amercook, AOTL and Eco Breeze.

Good Home will be one of Aman Hills' anchor tenants, alongside Leong Wei Supermarket, which will open on May 9. According to Aman Hills' Marketing and Event Manager Roland Wee, the property's hotel has also opened, with its cinema slated to be open in June, bowling alley in August and ice skating rink in September.
"The (main) shopping centre has over 70 percent occupancy at the moment, and over the next few months, more stores will open," said Wee, with retail space rates between $2 to $5 per square foot.
The sprawling Aman Hills complex can generally be separated into two; its main, larger building – which houses 60 shop units (Aman Hills Shopping Centre), a hotel with 60 rooms and serviced apartments (Aman Hills Hotel) and 60 apartments for sale or rent (Aman Hills Residence).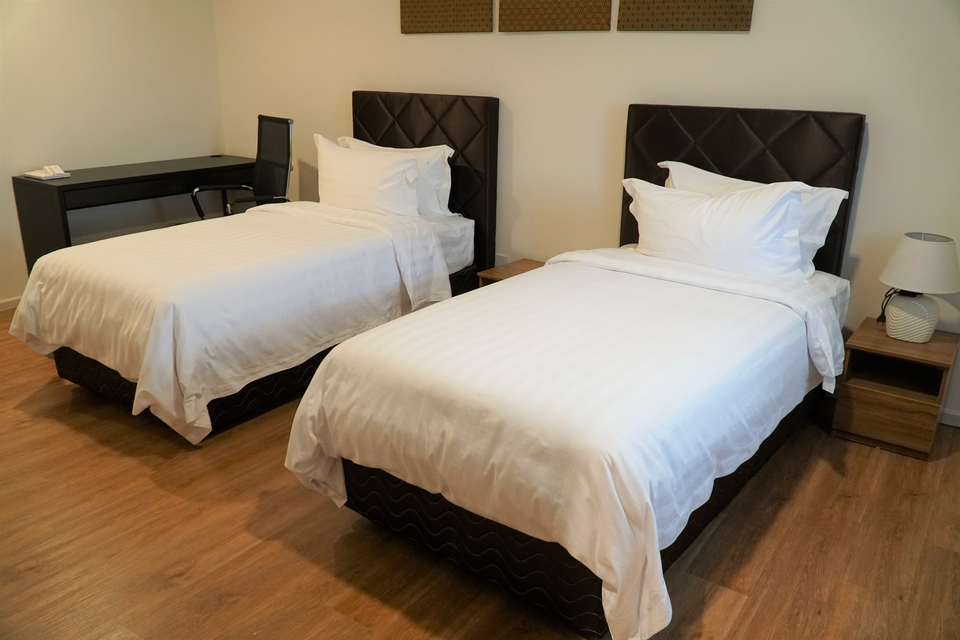 Two rows of two-storey traditional shop houses are located next to the main building, comprising of 20 separate shop units altogether.
Roland said that Aman Hills Residence – which begins at $288,000 for a two-bedroom apartment of 1,377 square feet to $428,000 for a four-bedroom unit with 2,152 square feet – will also share the hotel amenities of a pool and gym, with a guaranteed return rate of 5 percent for five years.
"For those looking to buy the property, and rent it out as an investment, we can guarantee a return of 25 percent (across five years) of the total value of the apartment," said Wee. "It will also come with free maintenance (which is valued between $250 and $250 per month)."
The Aman Hills Shopping Centre is located at Simpang 30, Jalan Aman, which you can turn into from Jalan Muara.  For the latest updates follow @amanhillsbrunei on Facebook and @amanhills_brunei and contact amanhillsmanagement@gmail.com or +6738738288 to get in touch directly.