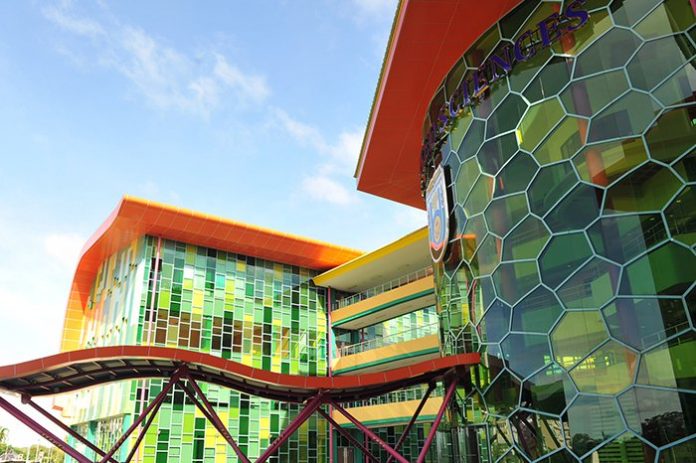 Just graduated and thinking about starting your first business but lack the know-how and best practices of building a start-up or being an entrepreneur?
If you have some time on October 25th and 26th, why not head down to the Integrated Science Building and get in on Universiti Brunei Darussalam's (UBD) first Local Entrepreneurship Day (LED).
On the first day, October 25th, there will be a Business Lean Canvas workshop conducted by Felicity Chan, from Darussalam Enterprise (DARe)'s Industry Business Academy (IBA).
For those unfamiliar with a Business Lean Canvas, created by Ash Maurya, author of Running Lean, Scaling Lean,a one-page business model that is the distilled essence of a startup that outlines the basic questions that a startup needs to answer in order to be successful and grow.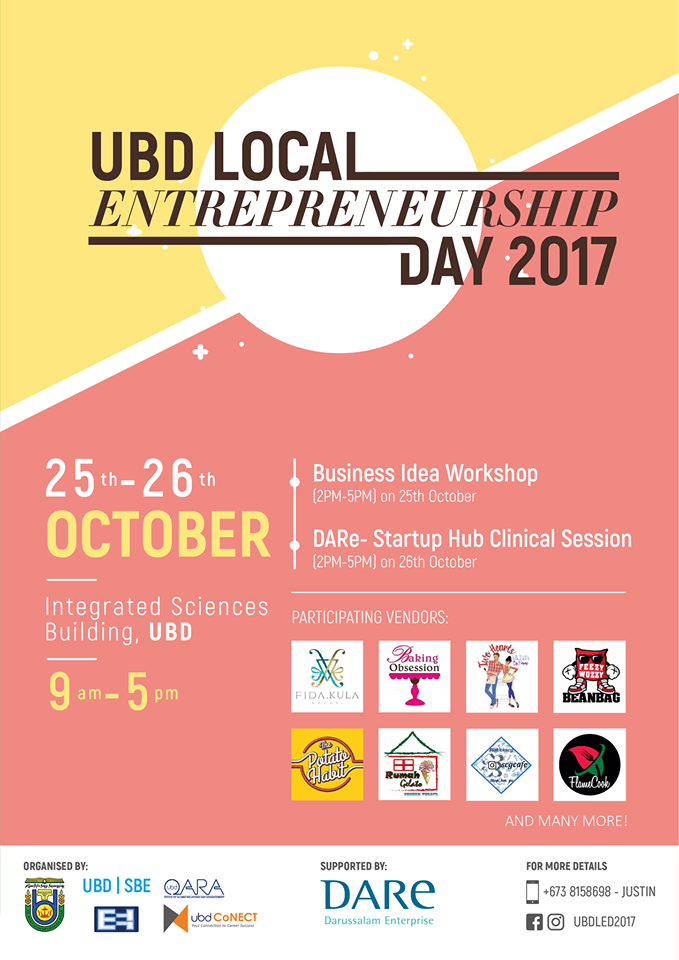 Participants of the workshop, divvied up into groups of two to five members, can then put what they have just learned from the workshop into practice by brainstorming their own business ideas, where they will gain input and shared experiences from the five mentors that will be present:
Felicity Chan from DARe, who has deep knowledge of the local landscape in terms of business from her experience working in various industries ranging from franchise retail and marketing, Oil & Gas fabrication and supply, corporate social responsibility projects, stakeholder relations management, construction project management, research grants and engagement programmes.
Azri Razak, who is also from DARe's Enterprise Programme, the go to guy on start-ups and entrepreneurship, with experience as the manager of DARe's Start Up Bootcamp, iCentre and Startup Weekend.
Dr Quentin Cheok, a lecturer and Programme leader for Systems Engineering at the Faculty of Integrated Technologies (FIT), UBD
Faezal Murni, founder and CEO from Weekend Warriors, a startup that connects physical sports to a gamified digital platform.
Loqman Hamdan, Founder and CEO of Al-Huffaz Management, a social entrepreneur that focuses on matching private Al-Quran teachers to households through an online platform.
After which, they will get to do a short 60-second pitch to the mentors on their business idea for feedback and criticism.
In the afternoon of the second day, there will be Business Clinics that will address what support, policies, procedures and opportunities are in place for running a business in Brunei.
Local Entrepreneurship Day is not just for alumni and future graduates of higher learning institutions, but also to members of the public.
"We want to create a fun and safe environment for people to come and learn about entrepreneurship together, no matter their backgrounds," said LED's organizer.
For any inquiries regarding the Workshop and Business Clinic, please e-mail UBDLED2017@outlook.com.
For more information and updates, follow the UBD Entrepreneurship Day on Instagram and Facebook at @ubdled2017. Pictures for this story are courtesy of UBD.