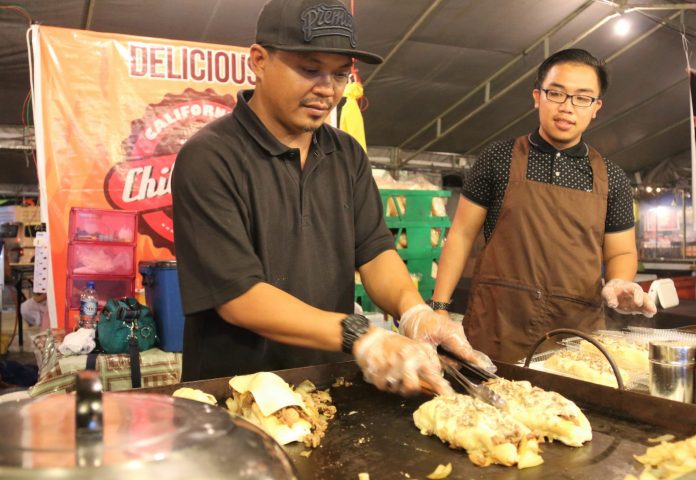 Of the hundreds of vendors filling up the parking lot opposite the Royal Regalia building in the capital in conjunction with His Majesty Sultan Haji Hassanal Bolkiah Mu'izzaddin Waddaulahs 50th anniversary on the throne, California Chilli Beef's oversized, outrageous hot dog is easily one of the most striking items on sale.
A jumbo sized sausage is wedged into a bun spread with mayonaise, then smothered with chunks of beef grilled with onions, and topped with two slices of cheese. It's then left to rest on the iron griddle, covered, for about a minute, before the lid is removed; unveiling a indulgent pile of melted cheese with beef that buries all sight of the hot dog.
Despite its namesake, its creator 39-year-old Mohd Asriny Ali and his assisting 19-year-old nephew Mohd Sazzwan Wafi Hakimi, have never actually been to California. Perhaps it's irrelevant detail; the pair will soon hit five figures in sales from the pop-up perayaan sale, and are more focused on brainstorming their next move – a permanent site for their growing brand name.
"We are receiving more and more attention and feedback to open up a (permanent) place," says Asriny. "We are still searching for a place that isn't too expensive, so that we can start and build up from there."
California Chilli Beef dates back to 2013, when Asriny, who had spent the previous five years in Negeri Sembilan, Malaysia helping his wife's family's small restaraunt, returned to Brunei.
Without professional employment, Asriny's aunt invited him to share a stall with her at the popular Gerai Ramadan in the parking lot of the Hassanal Bolkiah National Stadium. The 39-year-old jokes that he had all but a day to decide, and showed up the next day to sell chopped up, grilled beef (pictured below) in a hot dog bun.
"I didn't really have a well thought out plan," says Asriny, who had previously done clerical work in Dubai at Brunei's High Commission. "But I did have this memory from Dubai, where there were many American (inspired) businesses and franchises. I remember that any shop that bore an American name – California was definitely one of them – was always packed with people."
Borrowing the name of the Golden State, he began serving up the buns with beef with his brother, a firefighter, helping during his mandatory downtime. The sausage became an addition the following year, with his nephew, then 16 (pictured L below), joining in to help, despite having a difficult, lifelong condition where his hands shake.
Each successive stint during Ramadan was followed by participating in the perayaan in conjunction with His Majesty's birthday. The pop-up events, which typically run for a month, allowed Asriny to return home with a net profit of upwards of $5,000 – after the cost of rental, ingredients and equipment were deducted.
"When we weren't setting up (during Ramadan or His Majesty's birthday) we began to take orders online and sell or deliver from home," said Asriny, who also helps with his family's business, a tailor shop, as well as catering for small functions.
Over the years, Asriny refined his approach and preparation. He went directly to bakeries to sample buns, instead buying the store supplied variety, bought whole cuts of beef, instead of using ground or mince, and developed his own logo in bright red, printing it on a banner to distinguish his brand in a sea of anonymously designed booths that typically occupy such events.
But there is perhaps one more reason, a factor a little more intrinsic, that may prove telling if California Chilli Beef will have an edge down the line.
Yesterday, after warnings of torrential rain, California Chilli Beef was the only vendor along their row of nine, to show up.
"We believe in serving every customer. Even if there's less of them (because of the on and off raining)," said Asriny, who has only surrendered once to the weather, which has been punctuated with repeated bouts of heavy downpour, during the perayaan so far.
"We believe in being consistent. Every day is an opportunity for California Chilli Beef."
California Chilli Beef is located at stall GTA66 and serves from 6pm to 11pm. Follow @californiachillibeef on Instagram to learn more or contact +6737310689/+6738187747 to get in touch directly.