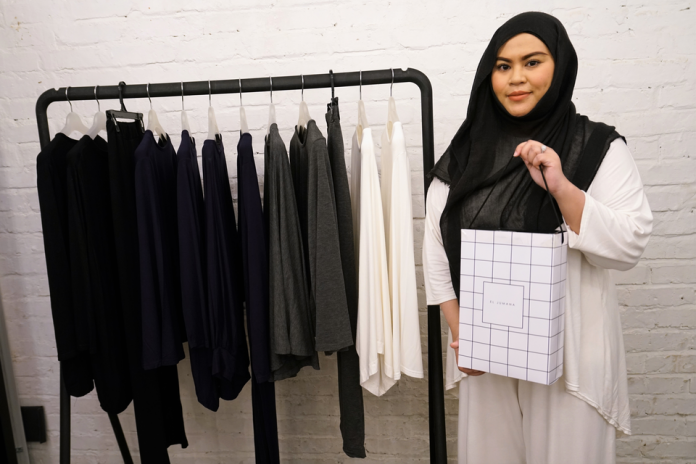 Of the first few local modest fashion brands, el Jumana (eJ) is well known for their exclusive use of rayon – a comfortable stretchable cotton-like fabric – for their garments. Emphasising minimalism and comfort, eJ began in 2013 with headscarves, followed by a clothing line of block coloured tops, skirts, dresses and pants in options of black, white and grey priced between $35 to $75.
Over the past five years, eJ's simplicity and elegance have appealed as everyday wear for the modern muslimah with periodic releases each year booked in the hundreds. Behind the brand is 33-year-old Naqiyah Ishaaq – who started eJ under trying circumstances in 2010; she was forced to leave Universiti Brunei Darussalam after failing academically.
"I don't blame anyone but myself for not handling the situation of being kicked out of uni better but it forced me to be on my toes and think," she explained. "After I stopped going to university, I panicked and thought who would want to hire me now?"
Determined not to let the situation upset her, Naqiyah forced herself to look forward and seek a solution. It came when her father sent her a news article about two women finding success in managing a muslimah fashion business.
"My father played a big part in directing me towards the modest fashion business," said Naqiyah. "I wasn't keen on the idea at first because I had no business background but he was the one who advised me to just try and pursue it."
Naqiyah carefully studied, and then curated, modest fashion wear that Bruneian women were looking for, and advertised the pieces on social media for prospecting buyers.
"I always kept in mind affordability, style and versatility," said Naqiyah. "I always asked myself if these pieces were something I could wear any day of the week, in different settings and still look fashionable."
By the end of the same year, she was processing hundreds of orders monthly and decided to rent a space in Serusop. Three years later she decided to create her own headscarves line, and then a clothing line – backed by her husband, who ran a small t-shirt company.
While customers who frequented eJ ensured that her first line would sell – her physical storefront took an unexpected detour in 2014, after the landlord wanted to use the store for another project.
"Since the brand was moving away from re-selling and towards building our own eJ line, we decided not to re-open another storefront, and just needed to focus on the backend production (outsourced to Thailand and other regional countries), logistics and selling the brand online," said Naqiyah.
eJ has since gone on to organically garner more than 12,000 followers on Instagram with consistently designed graphics and personable descriptions to customers written in first-person, and Naqiyah is now looking to branch out to offer branding and social media marketing for smaller businesses looking for a breakthrough.
"I started el Jumana from a negative situation and it has shaped me into the person I am today," she said. "I followed on my father's advice and worked on creating an opportunity for myself when I felt that there was none. In the end, it's all about narrowing your focus towards the end goal, everything else just becomes background noise."

To purchase or learn more visit www.eljumana.com or follow @eljumana on Instagram. To get in touch directly contact +673 8852725 or eljumana@gmail.com.