In Brunei Tourism's newest pamphlet on Temburong, Udang Galah – known scientifically as Macrobrachium Rosenbergii and more colloquially as the giant river prawn – takes the top spot for must-try delicacies.
You can have it grilled, deep-fried or served in stews, but it's 45-year-old primary school chef Dk Yati Pg Hj Yakub that's been serving arguably the most creative variation – the udang galah burger – for almost a decade.
Each orange-reddish prawn patty weighs in at almost 100grammes, smaller than the jumbo patties sold in supermarket freezers, but Dk Yati's burgers house no starch or flour fillers; just minced prawn, onions, salt along with some egg and breadcrumbs to firm up the patty.
"To be honest we don't even know how to use fillers," jokes Dk Yati. "So whatever burger we make – whether lamb, chicken, beef, fish or prawns – we just keep it simple and wholesome. We let the real meat (flavours) speak for itself."
Up at 6am but done by 2pm, Dk Yati's job as a chef at a primary school leaves her late afternoons and early evenings free to build up a stock of frozen burgers, while her son Muhd Hamee Irfan Hj Johari and daughter Nur Izzatul Fitriah man their stall at Tamu Aneka in Bangar.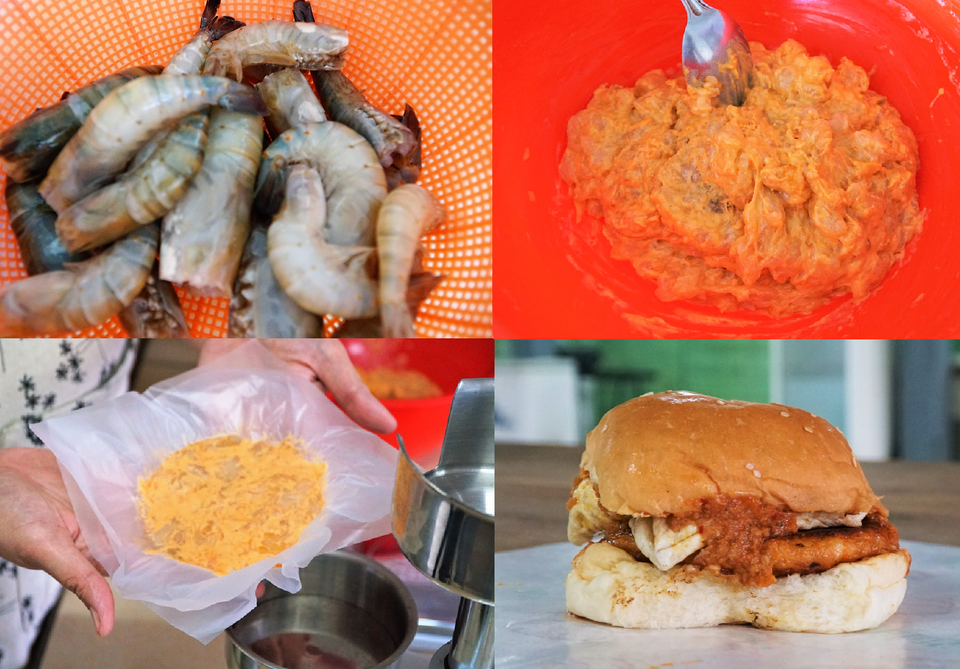 DJYF – which stands for Dk Johari (Yati's husband) Yati Family – wasn't always about homemade burgers however, and Dk Yati didn't always hold down two jobs.
"I was just a housewife most of my life," said Dk Yati. "But as the kids grew up we (my husband and I) had to find more ways to help with the family's income. I didn't know anything about business, but I knew that I wanted to try."
In 2003, DJYF began selling Pop Ice, a popular sweetened powder made into an icy slushie at Tamu Aneka, and later introduced packaged rice dishes. Three years later, Dk Yati was able to land a job as a school chef at a primary school – and while tried to continue the business simultaneously, sales began to falter.
"The cube shops began to be the more popular shops for people wanting quick takeaway food," said Dk Yati. "And since I could not make (packaged food) as much or as quicky, the business didn't do so well."
While visiting a friend in the capital, Dk Yati noticed that homemade burgers were fast becoming the latest street food craze – which carried a higher value, as consumers tastes appeared to shift beyond mass produced, store bought patties.
"When I came back (to Temburong) I wanted to try making my own burgers too," said Dk Yati. "But being in Temburong, I wanted something unique – and what better ingredient (protein) that the udang galah, which is so famous here?"
We can sign off the rest as being history for DJYF, but being in Temburong, Dk Yati faces a unique set of challenges if she wants to scale her business further. The udang galah itself is a pricey main ingredient – it typically retails between $15 to $25 a kilogramme – and supply is intermittent throughout the year, dependent on a handful of small-scale local fishermen, with no commercial operator to culture or harvest the prawn in the district.
The consumer spending power within the district is another challenge – DJYF's basic burgers begin at $2, $3, $5 and $5.50 for chicken, beef, lamb and udang galah respectively, 50 cents more if you're looking for added cheese, a few dollars more for double patties or eggs on top.
That's a modest price point for homemade burgers in the capital, but with Temburong's industry relatively underdeveloped and population hovering around 10,000 – half the population of Jerudong – there isn't a large base of customers willing to fork out several dollars for a burger on a regular basis, leaving the majority of DJYF's revenue to be from orders to Brunei-Muara which are delivered by boat.
"We try to stock up as much as we can when the udang galah is in season," says Dk Yati. "But it is still very difficult to have a consistent supply, but we make it work. I'm proud what DJYF has, but we've still got a long way to go."
DJYF is located at Tamu Aneka in the heart of Bangar, Temburong, and operates from Monday to Thrursday and Saturday from 10am to 5pm. To make an order or get in touch directly contact Dk Yati at +6737164938. For the latest updates follow @djyfcorner.