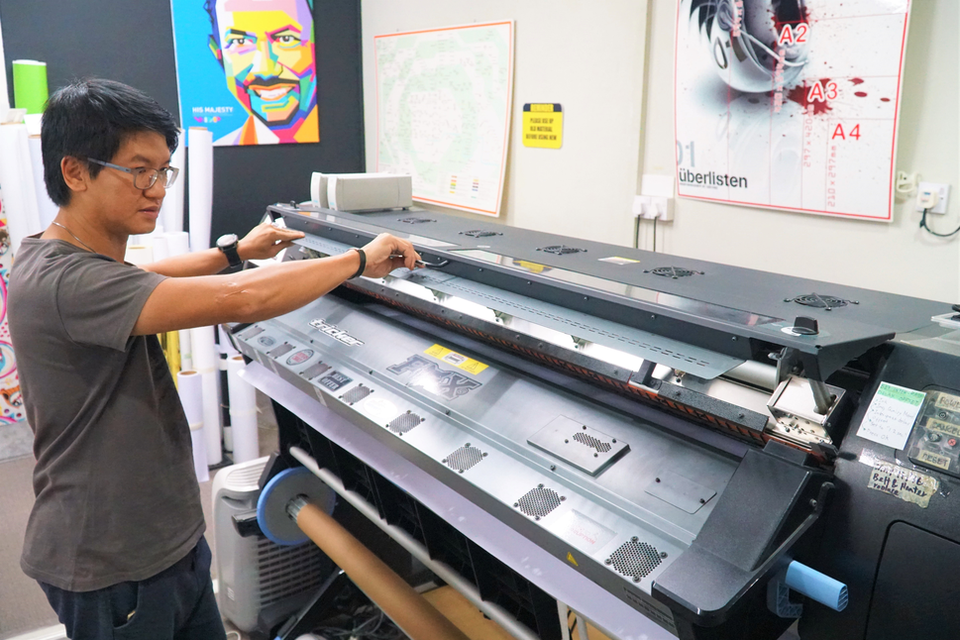 On the second floor of Q-Lap Complex, Adrian Tan shuffles around a tight office with banners, stickers, pamphlets, product containers and a large HP printer in the centre – one he jokes that he had to have a crane lift into his office from his backdoor six years ago.
"It was too big to fit through the stairway," says the 43-year-old owner of Printmartz Advertising. "So we had to find another way to make it work."
With just three employees – including himself – Adrian has run Printmartz for 16 years without much fanfare and barely any media coverage until he found himself on a stage in Manila receiving a plaque for most promising from Philippine President Rodrigo Duterte last year at the ASEAN Business Awards.
"I can't say anything other than it was completely unexpected," said Adrian, whose graphic designer Michel, made the submission. "When I saw the opening (to apply for the ASEAN Business Awards) I really pushed Adrian to give Printmartz a shot," she said. "I did not honestly think we had anything but an outside shot, but I told Adrian we had nothing to lose."
Printmartz began in 2002 when Adrian, a graduate in industrial and product design from RMIT University in Australia, decided it was time to set up his own business having worked as a designer for two firms.
"Being an employee purely in design back then, it was quite hard to have career progression within a company," said Adrian. "I had kept a small amount of savings, less than $10,000 and started Printmartz with a partner. We started mostly in design – since we couldn't afford expensive printers – but we've definitely shifted since then to focus on printing."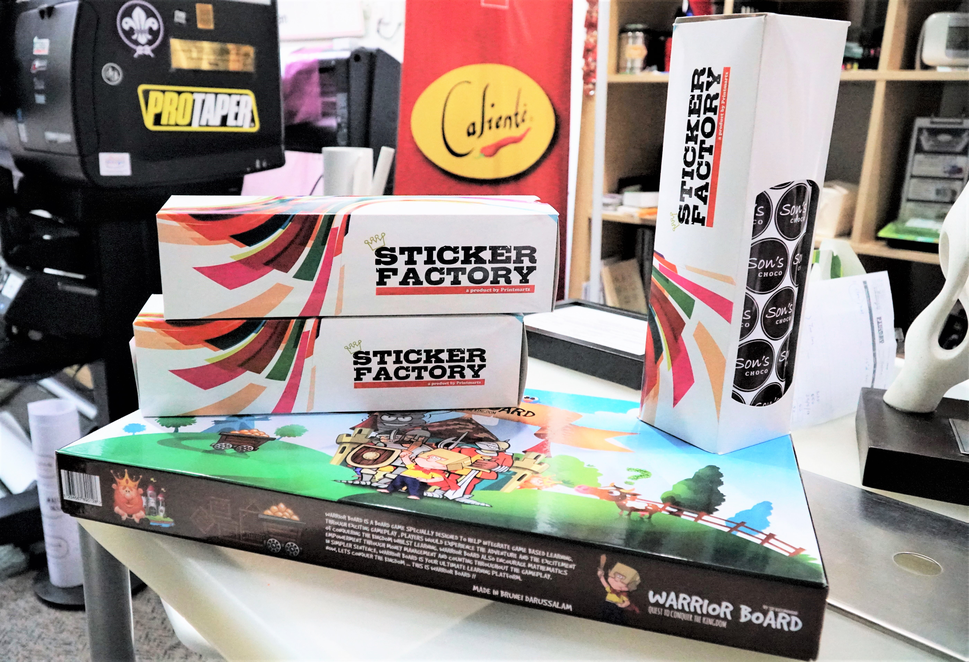 Today, Adrian envisions Printmartz as being a one-stop shop for all printing needs that's adaptable to meet the changing needs of the market; from marketing staples like banners, stickers, pamphlets, cards and tags to product packaging and even custom cardboard cutouts and pop art.
Still printing design and branding collaterals alone isn't enough to win an ASEAN award. At the first Made in Brunei Market Fair (MIBMF) in May last year, Adrian joined almost 200 other local micro, small and medium enterprises (MSMEs) in showcasing local products and services – and was able to unearth a new market.
"We had been servicing MSMEs before, but not so much in the area of product packaging," he said. "When we were at MIBMF we were exposed to a lot of MSMEs who we previously had no idea of; it seemed that there was a new rise in MSMEs pursuing locally made products – and we were able to connect with many of them."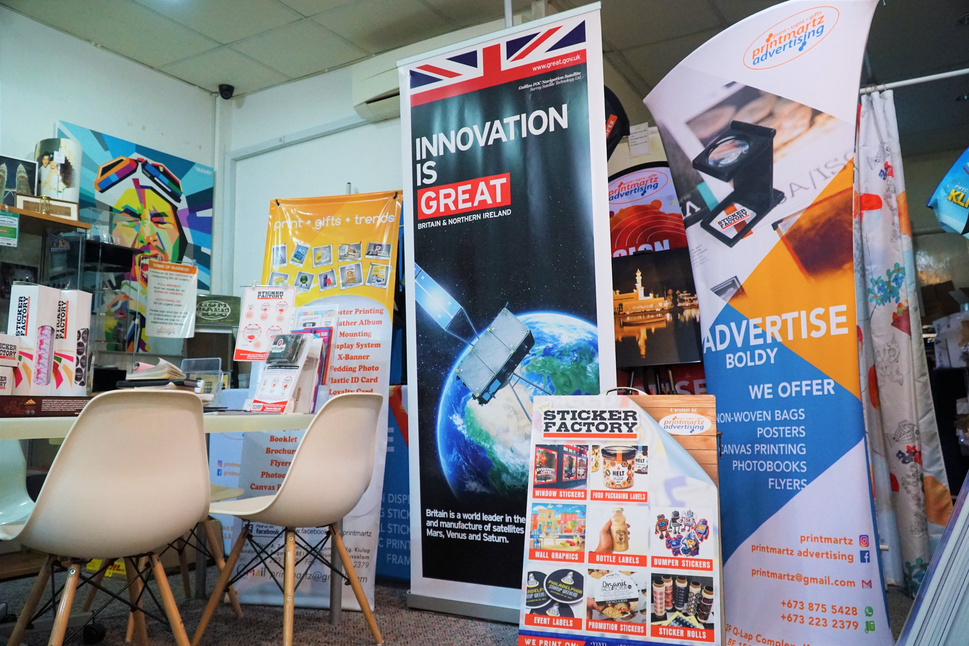 "Central to our proposal for the ASEAN Business Awards was how we would grow our business by helping other businesses grow," said Michel. "And this is what we practice that's different from other printing companies. We take odd orders on, small orders too; we work with businesses together to identify cost-effective ways that they can improve packaging and we're flexible to meet their needs."
Printzmart were also required to have their financials externally audited to be eligible for the award, and despite the business registered as a sole proprietorship – who aren't required to pay corporate tax – Adrian has always kept a tight record of operations.
"I guess you can say we are on the conservative side (in managing costs)," jokes Adrian, before making a more serious point.  "I have seen many businesses not work out because they recruited (staff) and scaled too quickly when the demand was not fully accounted for yet. We are ambitious with the business – always looking forward – yes; but we also have to be realistic when we make decisions, in order to be sustainable and profitable not just in the short-term but long-term as well."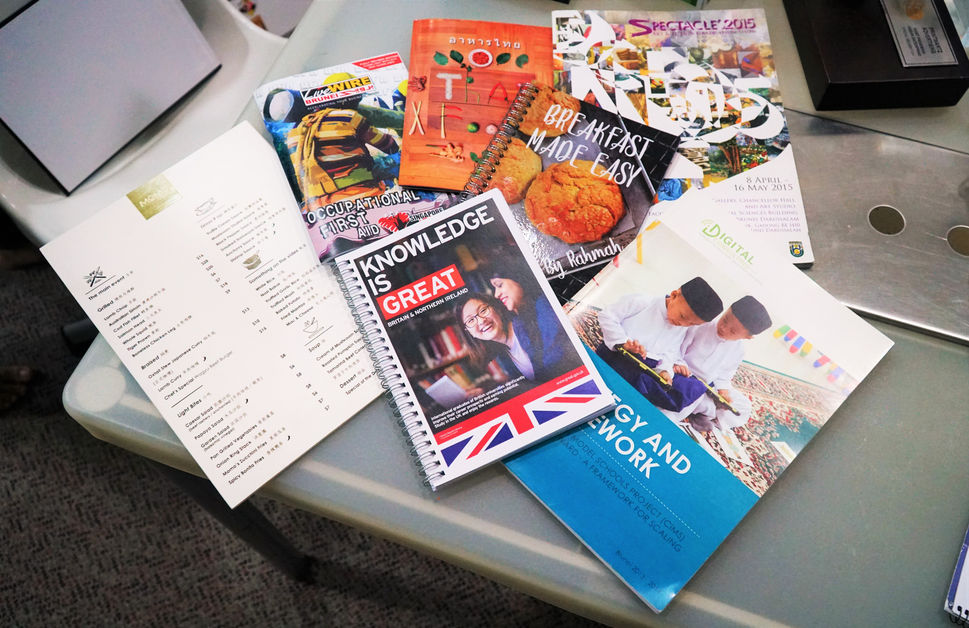 After 16 years in his Kiulap office, Adrian has purchased Printmartz's first property – a shop lot in Jangsak – which they are planning to move into by the year's end. The new location will allow the company to house a UV printer – allowing for printing on virtually any material from plastics to glass to metal – taking Printmartz closer to its vision of being a Printing Supermarket.
"It's been a long wait for us to be able to afford a bigger place – one that we can call our own," said the 43-year-old. "We are excited to be able to offer the community more."
Printmartz is located at Unit 9, Block A, 2nd Floor, Q-Lap Complex, Kiulap (same row as Netzone). To learn more follow @stickerfactorybyprintmartz on Facebook and @printmartz on Instagram. To get in touch directly contact +673 8755 428 or printmartz@gmail.com.