Most who've dealt with Muhammad Hj Mus recently know him as Brunei's first authorized distributor for Hikvision, a Chinese publicly listed company specializing in surveillance technology.
The 37-year-old's coup with Hikvision was a substantial feat for a smaller enterprise like Syarikat Muqtazza, who began selling CCTV systems to homes back in 2010.
"At that time the CCTV market for homes was largely untapped," said Muhammad. "Most of the Brunei market focused on businesses. At the time we noticed that the technology was getting more affordable for the common person during a trip to Singapore."
An unlikely agreement
Together with his wife Masharena Ahmad, who serves as Muqtazza's general manager, they began importing CCTV systems – including those from Hikvision – which they purchased from a third-party reseller on a Chinese e-commerce website.
"Hikvision contacted us when they saw us advertising their products on social media," said Muhammad. "But we didn't take the situation negatively. Instead, we provided all the sales documentation and invited them over to visit our operation in person."
With Chinese foreign investment increasing to Brunei, Hikvision – whose largest shareholder is the Chinese government – took up Muhammad's offer to visit Muqtazza's small storefront in Sengkurong.
An official distributorship agreement arrived not long after.
A chef at heart
Of tenacious character – and never one to rest on his laurels – Muhammad, dressed in a black buttoned chef coat and a tall, white hat was seen serving more than 6,000 packets of Nasi Padu at the Brunei Halal Showcase (BruHAS) two weeks ago.
Many an acquaintance of the 37-year-old were overheard saying: "Hey Muhammad, why are you selling nasi (rice)?"
"Maybe people think I'm silly or just greedy," says Muhammad jovially. "But the truth is cooking has always been my first love."
20 years ago, Muhammad was a student at Maktab Sultan Saiful Rijal Technical (MTSSR) who eagerly waited after class to board the bus headed to the capital where he worked in the kitchen of the five-star hotel Sheraton Utama as a helper in the evenings.
After he graduated he plied his trade at the Jerudong Park Polo & Country Club; while also winning the cookery category at the Brunei National Skills Competition in 2002 which earned him a place at the 4th ASEAN Skills Competitions in Indonesia where he was awarded a diploma in cookery.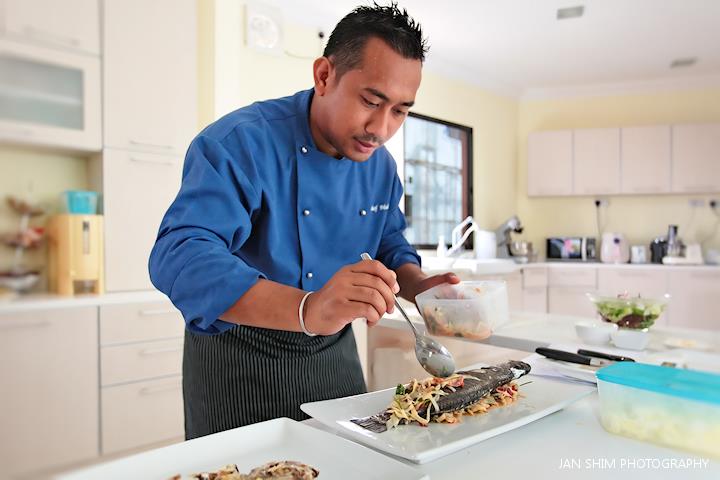 He even returned to MTSSR later on for a stint as an instructor, but all the while he never capitalized on his gleaming resume to launch his own fully fledged restaurant, instead choosing to be a consultant for several eateries – including one recently, which he also served as a partner to, which ended up closing.
"As I've gotten older I've realized that you shouldn't just jump at the first opportunity someone presents you; you have to make sure that it's not just about what business you're doing but who you're doing business with," said Muhammad, before pausing.
"I can't say much (about the previous situation). The business could have potential, could be doing well, but if things go south between the partners it will not last."
A dish to remember
Muhammad wasn't keen on another F&B venture, but when he heard over WhatsApp from Mohd Nasrul Hadi Hj Morni – an old friend who was running a makeshift food trailer in his home compound in Lambak – he decided to pay a visit.
The pair became friends over football at MTSSR while Muhammad was an instructor and Nasrul still a student.
When Nasrul (pictured below) learned that Muhammad had been consulting, he asked if they could collaborate to produce a new Bruneian dish that could be an affordable everyday staple.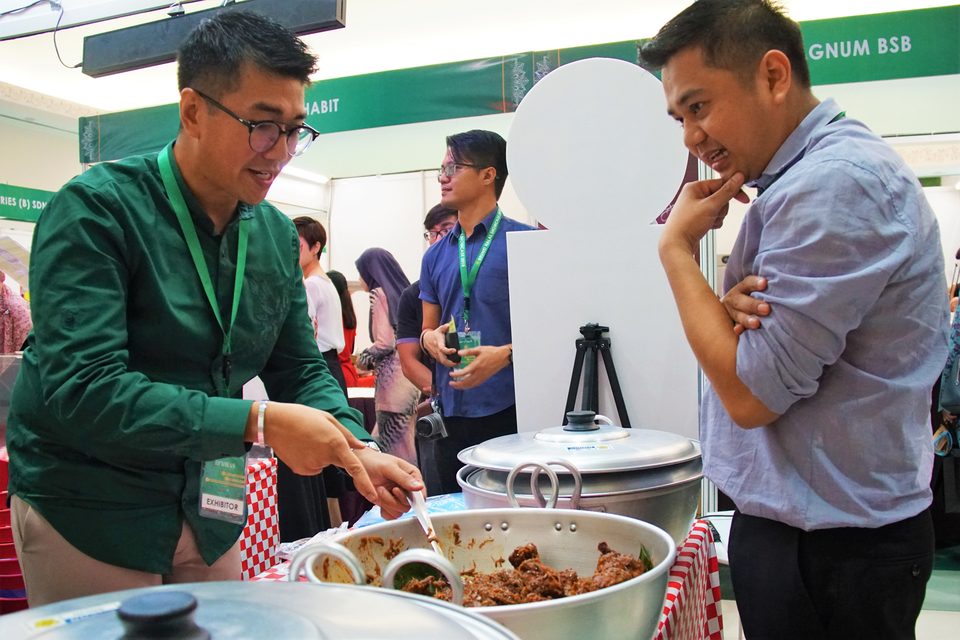 "Happy Tummy was initially more western, serving up things like burgers," said Nasrul, a civil servant by day, and a chef in his backyard at night. "The focus was always on classic styled dishes. But needed a Bruneian 'classic' menu – as well as a different business model for us to grow."
As a home-based business Happy Tummy was on paper an unlikely proposition for Muhammad, who had typically collaborated with businessmen with the means – but not necessarily the passion – for running a restaurant.
"I was wary with how muddled such 'collaborations' could become when the priorities were not clear," said Muhammad. "But Nasrul was transparent up front. You 50%, I 50%. Let's get to work and create a dish that all of Brunei will eat."
Their resulting dish Nasi Padu was a fresh take on the trusty fried chicken and rice combination, with an uncanny flair and depth despite a starting price tag of $2.
The chicken is first seasoned with a reddish paste of turmeric, chili, coriander, garlic and ginger – influenced by the Indian 'Chicken 65' recipe – then deep fried.
"The chicken is good on its own for sure," says Nasrul. "But we didn't stop there."
Leaving the fried chicken to rest, Muhammad demo's the next step at his home kitchen in Sengkurong. Using a similar range of ingredients, but adding more herbs and fragrant leaves, he creates a masla-like mix that he stir fries with a bowl of onions.
He adds in some gula melaka then browns the onions, before tossing the chicken back in.
"We call it padu because that's the best Malay word to describe the taste," says Muhammad. "Meaning solid, full, complete; you've got savoury and sweet, spicy and some tang."

A final chance
They put their padu to the test at the Gerai Ramadhan located near the Hassanal Bolkiah National Stadium, where they sold 15,000 packets in 25 days. They followed up with another strong showing at BruHAS – where they were reportedly the best-selling booth.
Muhammad and Nasrul are now setting up a central kitchen in Serusop, which will supply their marinated chicken and onion combination to three kiosks who will then fry up the ingredients to Happy Tummy's specified SOP.
"We are ready to bring to market Nasi Padu," said Muhammad. "We will start at three locations which we will announce soon."
Having delegated most of Muqtazzah's management to his wife, the 37-year-old is ready to go full tilt and leave his mark on Brunei's F&B scene.
"More than just money, we are doing this because we want to build something that lasts," he added. "I have had many ups and downs in F&B. This is my final chance."
Happy Tummy is currently selling their food at the Royal Brunei Recreational Club from 9am to 9pm daily.
Follow @happytummy.bn on Instagram for the latest updates and contact +6738343437 to palce an order or to get in touch directly.