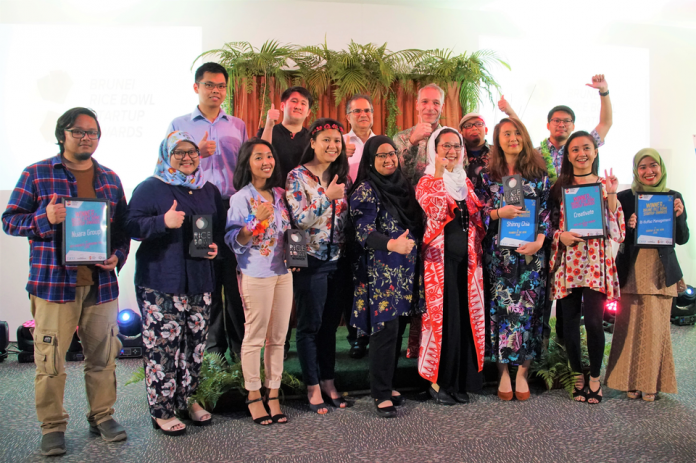 Islamic education startup Al-Huffaz Management and e-commerce website Buycour won for the second consecutive year at the second Brunei Rice Bowl Startup Awards (BRBSA) yesterday evening at Progresif's headquarters.
Fresh off representing Brunei at the ASEAN-Korea Startup Week, Al-Huffaz won Startup of the Year having connected 150 teachers – mostly Islamic jobseeking graduates – to 700 customers' homes to study the Al-Quran.
Buycour, who enable Bruneians to buy products from Tabao – China's largest online shopping website owned by Alibaba – won Best E-Commerce Startup again, having facilitated thousands of orders since starting last year.
IT company Nuara Group, who've built a proprietary enterprise resource planning (ERP) software, won Best Business Automation Tools Startup, while Creativate who focus on an innovative experiential-based learning programme for children, won Best Life Helper Startup.
Founder of the Year went to The Collective's Shinny Chia, a pioneer in Brunei's creative arts scene.
All five startups will now go onto to compete at the ASEAN Rice Bowl Startup Awards (ARBSA) this November in Bali, Indonesia – with those victorious regionally entering the Global Startup Awards.
Al-Huffaz's founder Hj Mohd Loqman Al-Hakim Hj Hamdan, who won Best Social Impact Startup last year, said they have fully digitalized their booking and matching system for students and teachers online this year by launching their website.
"Our website will also be adding new features for students, including our own syllabus to help students learn how to recite the Al-Quran with a tracking (mechanism) to monitor performance," said Loqman.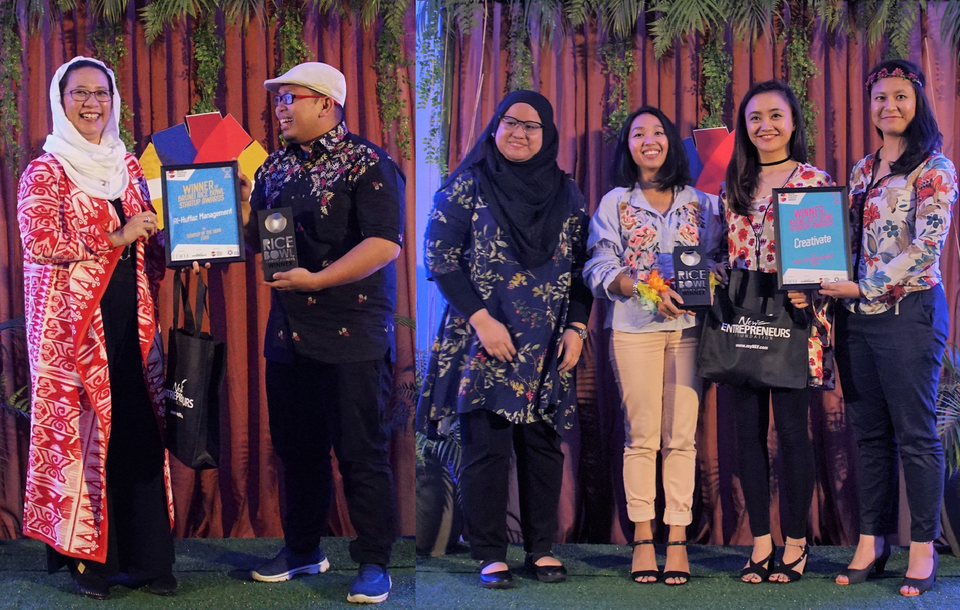 Shinny, who began hosting pop up events showcasing the handiwork of local youth, now also operates a makerspace for small creative businesses and a cafe under The Collective brand.
The 32-year-old said that she hopes the award will serve as recognition for Brunei's fledging creative arts scene and open opportunities for international collaboration.
"Winning this award is really unexpected," said Shinny, who began The Collective after returning from Australia in 2013. "I hope that through the Rice Bowl Awards in Bali we're able to push for collaboration and recognition for Brunei's creative arts scene. It's come along way in the past few years, but there's much more ahead."
Nuara's business administrator Dk Hazimah Pg Sabri said they will use the award to push for their ERP software called e² which enables organizations to integrate applications that oversee their core processes and automate back-office tasks.
"e² is different from other ERP in its affordability and customization of features," said Dk Hazimah. "We've currently got logistics and oil and gas companies using the system but we hope to expose the software outside Brunei as well."
Creativate's founders Nazurah Salleh and Dk Khairunnisa added that they had recently consolidated their content into five programmes that each focus on a different area of a child's development, including creativity, intellect and motor skills.
"We now group the programmes into camps called creative, social, active, thinker and explorer so that it's convenient for children (between four to 12-years-old) to join on the weekends and school holidays," said Nazurah. "The camps focus on children learning new skills in a fun, engaging way through different activities including art, dance, exercise and science experiments."
BRBSA's lead organizer EICO added that they rotated out the Best Social Impact and Best Newcomer categories for Best Life Helper Startup and Best Business Automation Tools Startup this year after assessing the latest developments in Brunei's startup landscape.
ARBSA is open to startups under five-years-old and has 18 categories in total, with BRBSA selecting five. The winners for BRBSA are determined by a combination of popular vote and judging.
MyNEF CEO and ARBSA chairman Lilyana Latiff said that the Rice Bowl awards began four years ago to highlight and recognize Southeast Asian startups that are looking to solve issues faced by their respective communities. Winners of ARBSA have received over USD 100 million in pledged investment.