Relocated three times across 40 years – and winning tenders with Tutong's Municipal Department at least twice – it's inconceivable to most that the enduringly popular Soto Hj Tuah may not make the cut for the newly renovated Tamu Tutong in Serambangun.
In a bungalow in front of her late father's home in Layong, Diana – Hj Tuah Raman's youngest daughter – is all smiles as she greets a steady stream of customers on the first day of Soto Hj Tuah Tutong's reopening.
She braves questions about what's happened to their decades-old stall at Tamu Tutong, which was initially built along the district's riverfront before being relocated to nearby Serambangun.
The 43-year-old remains largely measured in response, but there's still a sense of wistfulness as she shares that perhaps their time there has come to an end.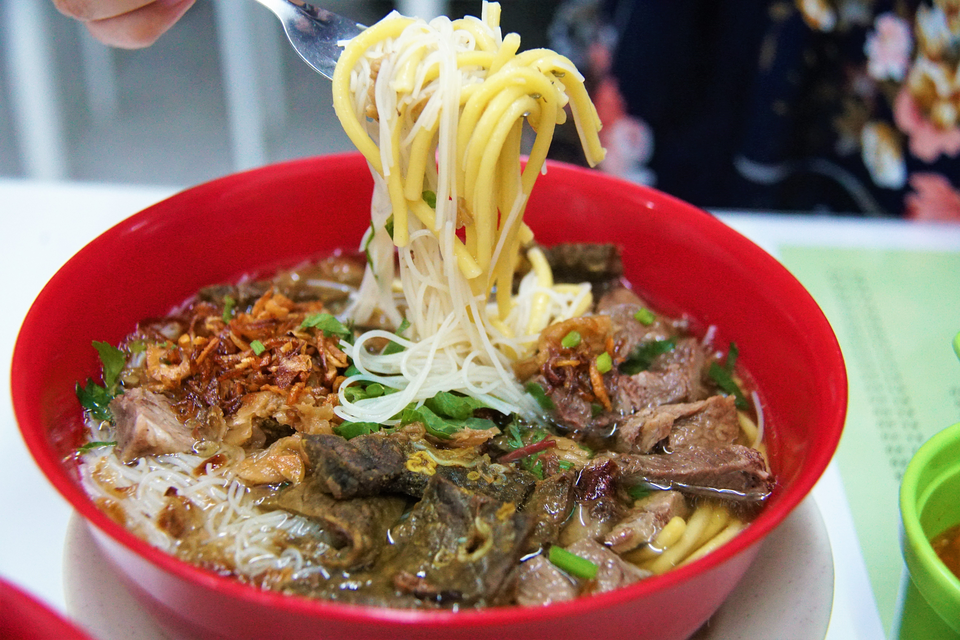 "In August we (the six tamu vendors selling freshly cooked food) were given about three day's notice to move out due to renovations," said Diana. "Around the same time we submitted our application (for the new tamu). But we haven't heard back from Municipal since."
On the grapevine, there's chatter that the new space will reopen at the beginning of November. But without a clear timeline or updates by September, Diana told her husband Norazlan – who works computing in a private firm – that they needed to find a new site to continue doing business.
"With the future uncertain, I told my husband that we should consider reviving the old bungalow at home where we once tried to run a small warong (restaurant/cafe)," said Diana. "The menu would be unchanged – especially in preparing the soto, which we always slow cook the night before."
Diana's father began serving soto in Bandar Seri Begawan in 1964, near the city's now-defunct theatre. There he fatefully met Hjh Durah Hamid, and the couple married and relocated to Durah's hometown in Tutong in the 1970s.
It's at his miniature food stall in Tamu Tutong that Hj Tuah built his legacy. He admirably kept their soto recipe private, but it was a difficult path as she shouldered the cooking almost exclusively with his wife until his children came of age.
In 2011, his daughter Siti Amah brought the brand to Brunei-Muara; first opening in Sengkurong and later at Jerudong Park's Food Court.
Unbeknownst to most, the management of Soto Hj Tuah in Tutong and Brunei-Muara are kept separate. Relations between the managing sisters are amicable, but they share different philosophies in managing the business.
Diana was the first to take up her father's mantle in Tutong and strongly believes that when it comes down to the cooking, it must be the family members who keep the broth brewing in the kitchen.
Since Hj Tuah's passing in 2013, Diana has held the line for at Tamu Tutong with a level of discipline and consistency that would surely have earned her father's respect.
Of her seven children, all but the youngest take turns to help out with the business. Most of them are still in school and college however, requiring Diana to lead for at least several more years.
"It's up to them if they want to continue making soto (in the future)," says Diana with a smile. "But it's important that they learn the skill, so that my fathers legacy will always be with them."
Soto Hj Tuah Tutong is located at No. 318, Kg Layong, Tutong (click for map directions) and opens from Monday to Wednesday and Saturday to Sunday from 8am to 8pm. On Thursdays they open from 8am to 6pm and are closed on Fridays.
For the latest updates visit @sotohjtuahtutong on Instagram and contact +6738644503 to get in touch directly.