Brunei's first dedicated pet grooming spa and boutique Si Manja has recently opened their second branch in Sengkurong and introduced a new suite of bath treatments for cats and dogs.
Located next to DZ Veterinary Clinic, Si Manja's new location hopes to expand their reach in Brunei-Muara having opened in Serusop in March 2018.
Founder Billy Lim said more has been invested to renovate and procure premium equipment for Sengkurong, which has two separate grooming galleries and waiting areas for cats and dogs as well as 13 cat boarding units.
Despite the boarding business taking a hit from the pandemic as residents are not traveling abroad, owners are spending more time with their pets, observes Lim.
"Sengkurong (and the nearby mukims) have a very large residential population which is different from the (catchment) area for our Serusop location," said Lim at the new branch. "Being next to an established vet is also strategic, as there are a lot of pet owners passing by."
Si Manja's core packages of basic and full grooming can now be complemented with two bath treatments using Japanese pet care products: an organic herb-based mud bath from Animal Ayuveda or an aromatherapy bath salt spa treatment from Pet Esthé.
The Animal Ayuveda – a combination of cassia, neem, and aloe vera – is touted to naturally moisturise, deodorise, and repel ticks and fleas, while the bath salts come in six different natural scents which help condition skin and fur. Starting prices for Ayuveda are $15 for cats and $30 for dogs, while the aromatherapy is $20 for cats and $35 for dogs.
"In addition to upholding high standards for grooming, we are looking to innovate and bring more beneficial treatments for pets here," said Lim. "The Ayuveda helps with excessive dandruff, itching, and also some fungal conditions while the aromatherapy, delivered through a bubble bath, has mineral salts from the Dead Sea which also helps relieve skin conditions."
Si Manja offers basic grooming for cats beginning at $30 and $40 for dogs, which covers a bath and blow-dry, eye and ear cleaning, paw pads and nail clipping, brushing and combing as well as sanitary area trimming.
There is also an option for a styling trim, offered as part of the full package for an additional $15 to $20 more, alongside a host of other ala carte services, including teeth brushing, de-shedding, conditioning, and moisturising.
Si Manja now has 25, air-conditioned cat boarding lofts across both branches monitored by an in-house boarding manager with an unlimited supply of Royal Canin dry food. There are two lofts; superior and premium, the latter offering more space.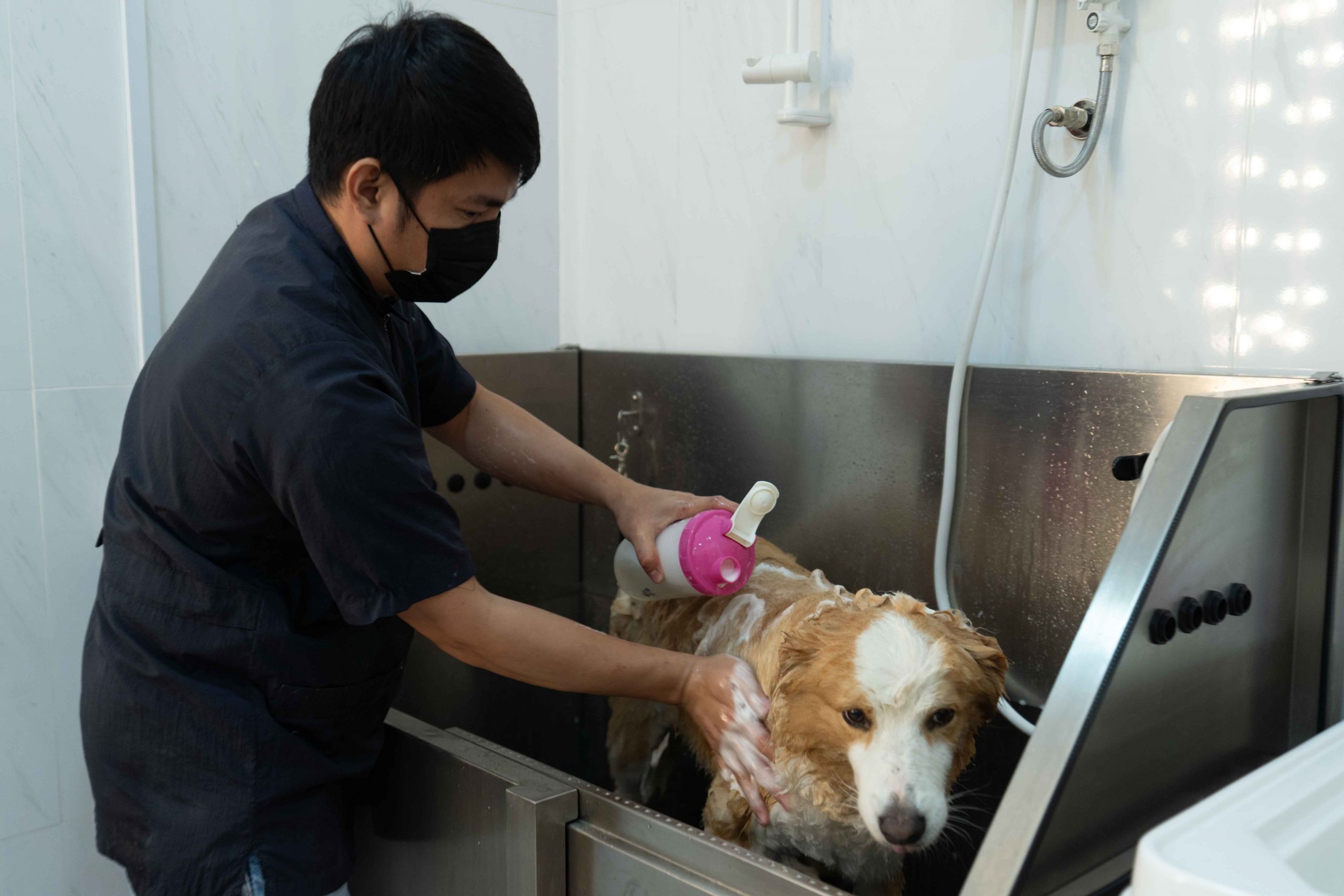 Lim added that support from national agencies has helped Si Manja expand by growing its team to 10 through the i-Ready scheme, while also undergoing business training and receiving a grant from DARe.
"Through the i-Ready scheme we recruited IBTE graduates with veterinary backgrounds who were able to apply their know-how as well as learn from our two senior (expat) groomers," said Lim.
"Our team was also able to attend (fully sponsored) training by DARe's Industry Business Academy on how to manage finances and we are also fortunate to have received the co-matching grant to help our efforts in procuring state of the art grooming equipment used by top professional groomers worldwide."
Lim added that he hopes to open more branches across the country in the future as Si Manja builds towards its vision of being Brunei's leading pet grooming service.